Lights, Camera, Action!: For This Nonstopreneur, The Restaurant Business Is Show Biz
About 20 years ago, Greg Cutchall learned a crucial lesson. An investor group he worked with forced him out of a chain of KFC restaurants in Omaha, units he had operated and helped to build. That fired him up to make things happen for himself.

Cutchall then went out and developed a chain of 12 Popeyes, which he sold in 2008. But he's not even close to thinking about retirement. Today this multi-unit, multi-tasking operator runs 10 Famous Dave's, 7 Sonics, 4 Paradise Bakerys, 3 Tin Stars, and a Burger King. He's also started a local catering company, which sells food from all of his restaurants.

"The catering part of my company is almost an entity in itself," he says. "We use it to market our brands together: a customer can call one number and get food from all the franchises. There are synergies in mixing brands. Clients don't want barbecue every day."

He also operates a 20-acre facility for company picnics and requires them to use his catering services. Not enough? "We've always had an in-house advertising agency. We've been able to cross-market with our concepts. That's been a huge contribution to our success." And along the way built up his real estate business.

Through it all, Cutchall has maintained a hands-on approach and can step in to run any of his locations any day of the week. He keeps an eagle eye on the food they serve and likes to watch his customers and see how staffers handle their work.

There have been challenges along the way, of course. He thinks he may have moved too quickly in buying some of the locations he's acquired recently--leaving him more exposed than he might like with the recessionary economy.

Does that mean he's pulling back?
Not a bit. Right now he's hunting the financial markets to find capital to grow his businesses even more. Once the money's lined up, Cutchall is eager to see how he can use the economic downturn in his favor, so that when it's over he'll be even better positioned than before.

"We are bullish about the future," says the determined franchisee, who's faced down adversity before. One maxim he lives by: "He who does not kill me will make me stronger."

Cutchall clearly relishes jumping into new ventures. It's the kind of take-charge attitude that makes for quick growth, and says he's glad that he's done it without trying to get his kids to follow in his footsteps.

"My children have never shown an interest in my business, which I think is great," he says. "I think a family business adds stress. Who needs more stress? My older children are successful in their own careers and my 6-year-old wants to be a rock star. So do I."

Name: Greg Cutchall
Title: President, CEO
Company: Cutchall Management Co.
No. of units by brand: 10 Famous Dave's, 7 Sonic, 4 Paradise Bakery, 3 Tin Star, 1 Burger King

PERSONAL
Age: 56
Family: Married to wife Molly with one child, Chase, 6, and two children, Cory and Cydney, in their 20s

Years in current position: 19
Years in franchising: 37
Key accomplishments: Creating a great opportunity for myself, my family, and my employees.

Biggest mistake: Recently, I committed to some leases for locations that I wish now I would have waited on. Cost to open has increased, the economy is bad, and financing is difficult. Last July, when 90 percent of my restaurants were coming up from last year, I agreed to acquire three more Famous Dave's. I paid too much and burned up a lot of cash to assume the seller's existing debt. Cash is king today and sales have declined. Looking back, I should have passed and preserved the cash. But if you're not making some mistakes you are not working very hard.

Smartest mistake: Buying the Sonics in Lincoln (Nebraska). It's a great brand. In a year or two I expect the Famous Dave's purchase to be a smart mistake also.

How do you spend a day, typically? I hit my in-house office at 8 a.m. and look at my e-mail. All stores report their sales to me every night. I correspond with people and then head into the office. I work to noon and try to spend lunchtime in one of my restaurants three or four times a week. Afternoons, I spend most of my time on new store development, lease negotiations, researching locations, and procuring financing. All marketing plans have to be approved by me.

Work week: 60 to 70 hours with business travel 4 to 6 days a month.

Favorite fun activities: Golf, motorcycles, and I used to race Corvettes. I love to travel to Aspen, Scottsdale, and any beach with my wife. I play Guitar Hero with my youngest son, Chase, golf with my older son Cory, and watch my daughter, Cydney, show and train horses. She is amazing.

Exercise/workout: I go in spurts. If I'm entrenched in a project, doing an opening in Omaha, or wrapping a deal in Kansas City, I use that as an excuse. I belong to a fitness center and try to get out a couple of times a week. I play golf and enjoy playing with my kid.

Favorite stuff/tech toys: I love my Blackberry and iPod.

What are you reading? Mostly trade magazines. I read all the trade magazines related to the restaurant industry. I would prefer to watch a movie rather than read a book. But I enjoy Grisham novels and plan to read the new Buffett book, The Snowball.

Do you have a favorite quote or advice you give? A recent quote I heard from Warren Buffett was good: "Be fearful when others are greedy. Be greedy when others are fearful."

Best advice you ever got: Whenever possible, own the real estate. My real estate division has helped my restaurant divisions more than once.

Formative influences/events: In different ways, my mother and father were excellent examples: my mother for her work ethic and putting the family first; my father for his drive and determination. My Uncle Bob, my brother Michael, and my best friend Willy Theisen (Godfather's Pizza founder) also had a positive impact on me. A formative event was being pushed out as president and 20 percent owner of a KFC franchise by some misguided partners. I was devastated at the time, but I see now they did me a favor. I started my own company and never looked back. Their company hit up to 70 restaurants at one time with multiple franchisees and filed bankruptcy 2 years ago.

How do you balance life and work? I have found that when I am happy at home my business excels. I have a great, supporting wife of 10 years and three children I am very proud of. I consult my wife on many major business decisions. I do not always take her advice, but there are times when I should have. She has great insight. We have date-night once a week and she travels with me once a month.

MANAGEMENT
Business philosophy: Hire the best people you can get and pay them as much as you can. Never take your eye off the customer. As we say at Paradise Bakery, "Create a culture of excellence" and "Make it better every day." And, last, a philosophy we adopted from Tin Star: "If it's not exceptional, it's unacceptable."

Are you in the franchising, real estate, or customer service business? We are a franchise development company first. We look for best-of-brand in every concept we develop. It's smart business to acquire real estate as part of that development, but at the end of the day if you fail to execute exceptional customer service nothing else will matter.

What gets you out of bed in the morning? It seems I am always working on a new project, whether it's a new concept, expanding an existing concept, or devising ways to improve the concepts we have. It is never-ending and I look forward to it every day. I need people around me to execute and follow through because I have already moved on to the next project.

What's your passion in business? Restaurant business is show business. Lights, camera, action! Nothing to me is more rewarding than to create an environment with all the right people in the right places doing the right things. I call it Restaurant Radar. Some people have it, some do not. It's about happy customers enjoying their experience and coming back time and time again. Sounds simple, but it's not. When it works, it's a rush!

Management method or style: Definitely hands-on, but I try to give my management team leeway to learn from their own mistakes. All managers are involved in profit-sharing. When times are good, I want to share it with them. And when times are tough, I want them to feel it too. I have an open door policy and all 1,500 employees know how to contact me.

Greatest challenge: Securing good people and good locations. In the last several years financing has not been an issue. But I'm in the process now of arranging a line of credit for $5 million to $10 million to develop Paradise Bakery and Famous Dave's, and the money markets are very tight now. Our national lenders are losing their competitive edge so we are working hard to develop relationships with local and regional banks. I'm not sure where the $750 billion went, but I find it much harder to get money now than I did a year ago, and my company is stronger today.

How close are you to operations? Very close for an operation of my size. Could I go in any one of my restaurants and open it and close it? Yeah. Would I be the best manager? No. I haven't operated a restaurant in years, but I know enough to go in and direct operations for the day.

Personality: I like to crack a joke and be sarcastic in a fun way. I enjoy socializing and meeting people. I'm a multi-tasker for sure. I think I do a nice job of relating with anybody.

How do others describe you? My friends tell me I am fun to hang with and keep them laughing. The people that work for me describe me as a tornado that usually creates good things at the end of the storm.

How do you hire and fire? We advertise on the web to recruit people. But I've gotten my best people by hearing of them or from them hearing about our company. We're very well-known in Omaha as a fun, fast-growing company with multiple concepts. As for firing, fortunately that does not happen very often. We had issues in Dallas with a manager we were disappointed in. I believe I lose $200,000 to $300,000 a year in employee theft. Some we catch, most we do not. We continue to remove the opportunities to steal. But I believe in karma.

How do you train and retain? All of our concepts offer excellent training programs. We have training stores certified by our franchisors. Over the years, I have developed my own concepts. The latest is Burger Star in the gourmet burger category. We opened and winged it. It was six months after we opened before I got it right. It really makes me appreciate the training offered by tried-and-true concepts. We retain people by always trying to do the right thing for our team members and creating opportunities for them to grow.

BOTTOM LINE
Annual revenue: $40 million

2009 goals: Continue to grow the brands--do it smart, finding the right locations, the right managers, and recruiting the best team members. Those will always be our biggest challenges. Working through the economic slowdown. Most of our restaurants were trending up, but that changed in the last few months. We hope to pull back up with deals, discounts, and catering.

Growth meter: How do you measure your growth? Sales are a good scorecard and so is the number of restaurants. But I measure real growth at the bottom line.

Vision meter: Where do you want to be in 5 years? 10 years? I would expect to own fewer restaurants but doing higher sales volumes. Ten restaurants doing $40 million beats 25 restaurants doing $40 million any day. I also expect to be enjoying some debt-free rental income from the properties I have acquired over the years.

How is this economic cycle affecting you, your employees, and your customers? We were skating through the economic slowdown until about August, when many of our locations went from being up for the year to double-digit declines in the third quarter. My managers feel it in profit-sharing and the staff feel it in cut hours. Families are not dining out like they used to. I will not cash my paycheck for the next few months. However, on the bright side we are a financially strong, established, 20-year-old company and we can weather this cycle. If we started this company in the last three years, the party would be over.

What are you doing differently in this economy? We are trying to think outside the box, watching every expense. We are doing guerilla marketing: deals, discounts, added value options. We are putting a hold on hiring an HR training director, but we are going to hire a catering sales manager to go out and get the business. If you sit back and wait for business to come to you today, you will be waiting in the unemployment line before long. Advertising is a must, but you have to be smart about it and give them more reasons to come in today.

Where do you find capital for expansion? The markets are tight and the terms are bad, but banks want our deposits. A year ago they competed for our business. Today, we beg them. What goes around...
Published: February 4th, 2009
Share this Feature
Recommended Reading:
Comments:
comments powered by

Disqus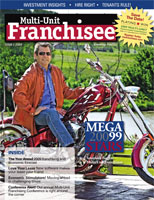 Multi-Unit Franchisee Magazine: Issue 1, 2009
Bad Ass Coffee of Hawaii brings an unforgettable brand, premium coffee products, and a proven business model to a booming coffee scene. We want...
Cash Required:
$200,000
American Freight is the leader in providing quality furniture, mattresses and appliances at low prices. The brand's "no frills, no fluff"...
Cash Required:
$200,000