Maiden Voyage: First Consumer Marketing Conference sails into San Francisco
The advent of social media has changed the rules of consumer marketing.
In a ground-breaking event this past June, the first Franchise Consumer Marketing Conference attracted marketing executives from 57 franchise brands with more than $11 billion in annual system-wide sales--all seeking better ways to connect with customers in today's digital marketing environment. CEOs, presidents, chief marketing officers, ad directors, and more gathered in San Francisco's elegant Omni Hotel for an open, intimate, in-depth examination of the latest consumer marketing techniques and strategies.
The inaugural event, hosted by Franchise Update Media Group (FUMG), is the first conference to focus exclusively on how franchise brands can more effectively reach consumers in today's rapidly evolving marketplace--and provided an unprecedented opportunity for franchise marketing executives to meet with leading marketing experts, engage with their peers, and discover new strategies for reaching consumers and maintaining brand growth. Attendees also took advantage of the networking area, where suppliers--from social media experts and agencies to mobile marketing leaders and technology innovators--explained how their solutions can help brands connect with consumers.
Treading new ground, a Conference Advisory Board of CMOs and other marketing and branding pros helped shape the content and direction of the conference. Their overall interest was twofold: 1) how brands can reach consumers today, and 2) how brands can maintain growth.
In addition, to help shape the conference agenda, Franchise Update surveyed more than 250 franchise CEOs and CMOs. The three key findings from the survey were that respondents were most interested in: 1) acquisition of customer knowledge, 2) consistent messaging in brand awareness efforts, and 3) franchisee buy-in, engagement, and execution of local marketing plans.
All of this information was included in the planning process. Session topics included Building Brand Power, Improving Social Media Success, Reputation Management, Increasing Franchisee Participation, Identifying Cost-Effective Media, Customer Acquisition and Retention, and Mobile Applications. Breakout sessions, which built on these ideas, followed three tracks: Brand Recognition, Franchisee Buy-In, and Consumer Building Programs.
Brand recognition
The event kicked off Tuesday morning with breakfast in the networking area, which provided an ideal venue for meeting new partners and suppliers, including social media experts, agencies, mobile marketing leaders, and technology innovators. This was followed by the opening general session. "Never have technology and marketing been so intertwined," said Therese Thilgen, CEO of FUMG, in her welcoming remarks. "The next digital decade will be disrupted--in fact, we already have been disrupted," she said, noting that the challenge for CMOs is how innovative and adaptive they can be in the face of rapid, ongoing change. "We're all here to connect the dots."
Next, keynote speaker and marketing consultant Rick Barrera adapted strategies from his book Overpromise and Overdeliver: The Secrets of Unshakable Customer Loyalty. In an overcrowded marketplace, "Underpromising is a one-way ticket to oblivion," he said. "What is your articulated brand promise, and how do you align everything you do and everything your franchisees do around that?"
Barrera said that creating a great customer experience requires franchisors to align three key touchpoints: product (or service), system, and human. "The product is seen in things like fast service and a focus on doing things really well. The systems are reflected in the number of locations and the POS system. The human element is manifested in employees who are smart, courteous, practical, professional, and quick," he said.
He said franchises should be selling their customers an "extraordinary customer experience," not just a product or service. "It's the alignment that creates the really 'Wow!' experience," he said. And of course, the key is execution.
"Take the time to define and articulate your overpromise. It will help you determine, internally, what to do and what not to do. The same goes for your franchisees. It's your North Star," he said. "Whether you manage it or not, brand happens."
Next was a "CMO Panel of the Pros" consisting of Susan Boresow CMO at Massage Envy, Terri Miller, vice president of marketing at Great Clips, and Greg Regian, CMO at Schlotzsky's. As the trio of pros fielded questions from FUMG President Steve Olson, and provided insights into how they are addressing consumer marketing at their brands, such as how national marketing campaigns affect local franchisees, getting franchisees to buy in to marketing initiatives, and the importance of local store marketing. "Ask every time: how many will this truly benefit?" said Regian. "If the franchisees aren't part of the national decision, the 20 percent can cause a lot of problems for the 80 percent."
Reputation management and more
The afternoon kicked off with another general session in which a CMO Panel of Pros tackled reputation management. This hot topic is being dramatically affected by social media, as consumers take on more power through their online postings, comments, and reviews of products and services.
Marketing executives Ed Waller, vice president of customer relations management at CertaPro Painters, Heather Neary, CMO at Auntie Anne's, Linda Shaub, vice president of marketing at Interim Healthcare, and Wendy Odell Magus, vice president of marketing at Kiddie Academy, stressed the importance of franchises being actively engaged online through tools like Facebook, monitoring what's being said, and having an active and engaging strategy. When it comes to reputation management, "The best defense is a good offense," said Shaub.
Sales and marketing guru Bob Phibbs (The Retail Doctor) addressed the general session late in the afternoon. His enthusiastic approach kept attendees on their toes as he explored his topic of competing without discounting. Phibbs compared the franchise business to an amusement park. "Your experience is the amusement park, your widget is the souvenir." This, he said, is how franchises should be thinking about their operations and their customers.
Roundtables followed by a cocktail reception in the networking area completed the day's events.
Franchisee buy-in
The second day of the conference kicked off with a keynote address by Rohit Bhargava, a strategy and marketing expert at Ogilvy 360 Digital Influence. His talk was based on a list he created: "10 Unexpected Social Media Lessons for Franchising."
He began his talk by asking attendees who had a social media strategy--quickly pointing out that this is not the way to think about marketing in 2011. Rather, he said, the question franchisors should be asking themselves is, "How do we socialize our business?" In other words, integrating social media into an overall branding and marketing strategy is much more effective than focusing overly much on social media and succumbing to GMOOT (get me one of those) thinking.
Bhargava said franchises should use social media not only strategically, but also in a way that is honest, engaging, and real. "Talk and act like a real human--not a corporate zombie," he said. "Solve a real need and create some utility."
Next, a "Panel of the Pros" addressed online marketing. The panel included Peter Riggs, vice president of corporate development at Pita Pit, Jayson Pearl, senior vice president of marketing at BrightStar Healthcare, and Tim Collins, senior vice president of experiential marketing at Wells Fargo. Their discussion included how to integrate social media into an overall marketing plan, customer retention, toolkits for online marketing, and whether the franchisees or franchisor should control the brand's Facebook presence.
A late-morning breakout session examined the emergence of mobile technology and its tremendous marketing potential. Since most people carry a cell phone everywhere, what better way to engage customers, said Tom Harrington, senior vice president of sales at Franchise Payments Network. He noted that more than 35 percent of U.S. adults use a wireless device for Internet access, and that 99 percent of mobile phones now are data capable. "It's another great tool for your marketing mix," said Harrington. "You can reach customers on the go in real time."
Lunch in the networking and supplier exhibit area was followed by afternoon breakout sessions before the day, and the event, ended with a late afternoon Mindshare Power Session, where attendees broke into small groups to brainstorm on selected topics and discuss their two-day experience.
That evening, a closing celebration and final networking opportunity--with a plentiful supply food and drink backed by a stunning view of San Francisco Bay at sunset--took place at the Waterfront Restaurant on San Francisco's Embarcadero.
The immediate and overwhelmingly positive feedback from attendees at this inaugural event has Franchise Update executives already busy planning next year's Franchise Consumer Marketing Conference. Stay tuned.
Published: October 24th, 2011
Share this Feature
Recommended Reading:
Comments:
comments powered by

Disqus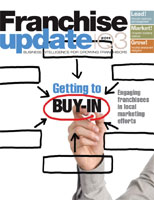 Franchise Update Magazine: Issue 3, 2011
Conferences
InterContinental, Atlanta
OCT 18-20TH, 2023
Oct. 18-20, Atlanta, GA. An exclusive event for franchisor CEOs, Presidents, COOs, CDOs and Franchise Development Executives.
April 25 - April 28, 2023, Caesars Forum, LV. The Multi-Unit Franchising Conference is the premier annual event for the country's leading...