Make It So!: Customer Growth Lessons from Amazon
Amazon founder Jeff Bezos is a Star Trek junkie. He almost named his company MakeItSo.com, based on the adventures of the USS Enterprise, when Captain Jean-Luc Picard would confirm his commands with the words, "Make it so!"

"Make it so!" may also be the ultimate personal motto for multi-unit operators trying to grow their businesses. But the practical question is, How exactly do you increase sales and business value continuously over many years?

What is the secret to Amazon's growth? Bezos answers like this: "We know customers like low prices. We know customers like big selection. We know that customers like fast delivery. And we know those things are going to be true 10 years from now. They are going to be true 20 years from now. So we can count on those things and we can put energy into them." You can sense his passionate focus on customers is founded on the kind of cool long-term thinking that characterizes great investors.

The Amazon CEO came from humble beginnings. Born to a teenaged single mom, his $30 billion fortune is self-made. He is not a warm and fuzzy guy, having graduated from Princeton University summa cum laude with degrees in computer science and electrical engineering. Bezos also had the guts to quit a great job to go into his own business. He was a rising star on Wall Street right out of college, so he is very savvy financially.

When Bezos says, "We know" what customers like, he means that Amazon's customer research shows that price, selection, and speed matter most to his customers. Data analysis confirms those are the key drivers of customer satisfaction and loyalty in the online retail business where Amazon competes. And national benchmark data from the American Customer Satisfaction Index (ACSI) show Amazon is rated highest in the online retail industry, thus supporting the connection between the customer experience, revenue growth, and ultimately, business valuation. (Amazon actually has the highest ACSI score among all companies across all industries.

)

Even though Amazon is not a franchise system and your businesses may seem much different from online retailing, you should have access--through your franchisor--to similar research proving what's most important to customers of your businesses. And you should be able to see benchmark data on your customer loyalty compared with other franchisees and with competitors.

For example, if you are a franchisee of a top-tier brand, you should be able to see real-time customer comments, sentiment analysis, and ratings that indicate how each of your locations is performing on your key drivers. For restaurants it might be taste of food, speed of service, and friendliness. You can count on those elements of the customer experience being important for a very long time, so you "can put energy into them." Over the months and years, you can compare your customer experience against competitive benchmarks to see if you're pulling ahead, slipping behind, or just treading water.
What differentiates your brand?
The customer experience Amazon creates is what distinguishes the brand. It includes every customer-facing element: from unbeatable product prices to unprecedented selection; from the algorithms that recommend items you actually want to buy to how they package them to ensure accuracy and ship them to avoid damage.
Bezos understood that when entrepreneurs put money toward winning customer loyalty, those dollars are investments that yield compounded returns over time. According to a 2011 webinar by the Harvard Business Review, companies that are loyalty leaders in their industries (like Amazon) grow at double the compound annual growth rate of average performers in their industries over the course of 20 years.
Did you know that the value of customer loyalty, plus engaged and skilled employees, and intellectual property--the intangible assets of a business--are worth more than the value of tangible assets, such as inventory, machinery, and equipment? Customer loyalty, as evidenced by a steadily increasing revenue stream, is the number-one value-creating factor in business valuation. Optimizing customer loyalty in your business--and proving it with customer and sales data--are essential to a successful exit strategy.
What the example of Amazon shows us (reminds us really, because we all know this) is that the root cause of business growth is gaining and keeping an ever-increasing number of customers. That's not just true for big, world-famous companies, either. In fact, it is even more important for emerging companies, such as multi-unit franchisee organizations, to build a future on the solid foundation of customer loyalty. Make it so!
SMG Chief Evangelist Jack Mackey helps multi-unit operators improve loyalty and drive growth. For an analysis of the customer research capabilities leading franchisors provide today, request "An Executive Critique of the Customer Experience" (either the retail or restaurant report). Contact him at 816-448-4556 or jmackey@smg.com.
Published: June 5th, 2015
Share this Feature
Recommended Reading:
Comments:
comments powered by

Disqus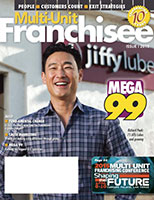 Multi-Unit Franchisee Magazine: Issue 1, 2015
Bonchon is an internationally recognized Korean Fried Chicken concept. Bonchon means "my hometown" in Korean, and represents our...
Cash Required:
$250,000
Why open a dog daycare franchise with Dogdrop? Dogdrop is a modern brand that is technology-focused, offers unparalleled support as well as ease of...
Cash Required:
$100,000