Market Research by Texting
Shared information can provide a wealth of benchmarking data

The multi-unit operators highlighted in this issue of have gained both market dominance and respect for their achievements. Wouldn't it be nice to follow in their footsteps? How does one go about doing so? Bookstores are full of how-to books on every aspect of strategic and tactical business building. Yet, ultimately, it mostly comes down to trial and error because the single biggest factor is you and the people around you in your company.

The probability of success can be enhanced considerably for any given company when you are armed with good information at key decision-making times. In tougher economic times, as we are facing for the foreseeable future, most companies turn much more strongly to operational efficiencies as a way of preserving profitability. That is natural when top-end growth is challenged by economic uncertainty.

Every business in the U.S., from Fortune 50 companies to high school part-time babysitters, faces this challenge. I mention babysitting because my daughters confront a common business issue: what's the going rate for their services? The way they solve it is to get on the phone (okay, they actually use text messaging) and ask some friends. Within minutes they have enough data to make an important business decision. So why don't we do the same thing in our businesses, whether it be pricing issues, cost issues, or operational issues such as how much training or field staff support is enough? What are the metrics that should be used for benchmarking?

The usual quick response to the above questions is that babysitting high school students aren't in direct competition with each other, so their willingness to share information is greater. My response to that is twofold. First, in the franchising community, there are 3,500 brands and about 200,000 franchisees. Are they all direct competitors? Second, let's assume you are all direct competitors at some level. Does that mean that you can't find a way to share certain types of information in a way that others can't determine the individual source? Wouldn't you love to have some of the performance metrics that this magazine's featured multi-operators use for success?

As many of you know, I have several decades of commercial and investment banking experience. I had a wonderful vantage point to observe how businesses operated. Among the business types I worked with were cooperatives (some of which are familiar to many in the franchise community, like Best Western, Ace Hardware, True Value, and multi-brand franchise purchasing cooperatives).

One of the things that struck me as odd was that while a cooperative structure was designed to have a shared sense of equality and purpose, it often stopped short when it came to sharing member data. The same is true for the franchise structure. In both cases, when it comes to information sharing they are at a significant disadvantage to businesses operating as company-owned chains. A company with 50 company-owned units has the opportunity to gather lots of decision-making data about what is working and not working in all 50 units. A company with franchisees operating 50 units all too frequently has a much more limited understanding of many of the operational and strategic issues confronting the franchisee decision-makers.

Clearly, some franchise organizations do a better job than others of sharing operational performance data. And size of organization is not an excuse. For instance, I recently talked with the president of a 6-year-old, 21-unit sub sandwich franchise brand. In their system, sharing operational data is not just encouraged, it's mandated.

He said two key things drove their ability to benchmark. First, they required a standard chart of accounts for certain operational line items so everyone was providing information on an apples-to-apples basis. Second, they showed how valuable the information was to individual franchisee performance. Nothing generates enthusiasm more than improving financial results. Rather than having competitive resistance, it led to healthy competition to be the best. Now that's the American way.

Of course, it's much easier to establish a benchmarking program if you start a brand that way. We continue to identify between 50 and 100 new brands every quarter. Are they paying attention?

However, you haven't lost out on benchmarking if you are in an established system that doesn't emphasize it now. It may be harder because of a lack of a common chart of accounts, but it isn't insurmountable. Franchise systems have lots of performance metrics for which franchisees could supply data relatively easily. There just has to be an appreciation of the value this represents and the leadership to drive it, whether from the franchisor or franchisees. It can be done with full understanding of whose data is whose or completely confidentially. It can be done internally or through a third party, which is often how we have become involved because it puts confidential data in the trusted hands of someone other than the franchisor or franchisee.

Benchmarking isn't just restricted to a single brand's own performance. There are many performance metrics that cut across brand, and even sector, lines. One of the primary purposes with this magazine and its associated conference is to bring together multi-operators who share their experiences. Isn't that just another form of benchmarking? By virtue of operating with a common business model, multi-unit franchisees have certain performance issues in common, regardless of sector, as they expand.

We are clearly in an economic period that puts greater emphasis on operational performance. Starting a benchmarking program if you don't already have one isn't just a good idea. It may become a necessity to compete with the chains that already have that advantage.

I'll end with the following thought. In good times, when you focus more on revenue growth, that next revenue dollar contributes 10 or 20 cents to the bottom line. In tough times, when you focus more on expense reduction, how much does a dollar saved affect your bottom line? Right. So what are you waiting for?

Darrell Johnson is president of FRANdata Inc., an independent research company based in Arlington, Va., that has been supplying information and analysis for the franchising sector since 1989. He can be reached at (703) 740-4701 or at www.frandata.com.
Published: February 9th, 2009
Share this Feature
Recommended Reading:
Comments:
comments powered by

Disqus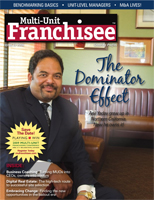 Multi-Unit Franchisee Magazine: Issue 4, 2008
Build a Future with the Computer Service Industry Pioneers. NerdsToGo is paving the way as innovators, entrepreneurs, franchisees, and successful...
Cash Required:
$70,000
Heyday is a fast-growing skincare company on a mission to provide expert skincare that empowers everyone to be their best self. Heyday is reframing...
Cash Required:
$350,000