Massage Envy's CMO Susan Boresow on Franchisee Buy-In
Susan Boresow has experience getting franchisees on board. As chief marketing officer for Massage Envy, she understands that engaging and supporting franchisees is imperative to getting them to buy in and play an active role in the brand's overall marketing efforts.
Before joining Massage Envy, she was vice president of marketing at Pump It Up and held marketing and leadership roles at Cold Stone Creamery, Godfather's Pizza, Mr. Goodcents Subs and Pastas, and McDonald's. We asked her about Massage Envy's strategy for building franchisee interest in marketing, the programs and support they offer, and what techniques work for getting franchisees on board for the brand's marketing initiatives.
How important is local-level and grassroots marketing to Massage Envy's growth and development strategy?
Local store marketing is very important in our growth strategy. We provide our franchise partners the tools and resources they need to implement a local-level campaign that will attract new clients, drive membership enrollment, establish a strong referral network, and encourage member retention. Community involvement is key to ensuring that people are aware that our services can help with overall wellness in individuals by relieving pain, stress, etc.
How do you establish franchisor and franchisee roles when it comes to marketing and getting franchisees on board?
As the franchisor, our role is to provide the tools, resources, and education to help support our regional developers and franchisees. The franchisees play a role in that they pay a percentage of their revenues to support their co-op and marketing efforts nationally and locally. Nationally, 1 percent is spent on national advertising, marketing, public relations, and social media to drive and promote the brand; locally, the franchisees spend their dollars on co-op advertising and local store marketing.
Discuss the importance of creating programs that are easy to implement.
It is essential that we provide programs that can be implemented easily at all levels. Proper execution will ensure effective communication and service to Massage Envy guests. Also, we want to provide tools and resources that the franchisee will use consistently. We are continually fine-tuning our programs to ensure the greatest ROI for our franchisees, their guests, and the brand.
What kinds of tools and support should the franchisor provide to franchisees?
The franchisor should provide tools they believe will help make their franchisees successful. Of course this can vary based on the goals and the brand. For Massage Envy, we provide marketing, training, and operational tools and training at all levels. Specifically for marketing, we provide access to such resources as an ad builder program, PR and social media guides, grand opening kit, SEO and loyalty guides, etc.
How do you monitor local franchisee marketing to ensure consistent brand messaging?
We have processes and education in place to ensure that our brand messaging is consistent. Through a variety of methods, like Google Alerts, social media monitoring tools, our PR and advertising agency partners, and a corporate approval process, we ensure brand integrity. Of course, our FDD states that only approved creative can be used. There are times when we must contact franchisees to inform them of our policies and provide approved creative materials.
What safeguards, systems, policies, and education are needed to keep franchisees in compliance?
The FDD clearly outlines these parameters for our franchisees. We evaluate systems and programs to ensure we have effective processes that are easy for our franchisees to understand and follow. Through a variety of communication and educational materials and tools, as well as our annual franchise conference, we share our branding and marketing standards and policies.
What are some examples of local-level and grassroots marketing best practices that have worked for Massage Envy?
Effective local store marketing efforts range from SEO and member communication like e-blasts and direct mail materials to PR, social media, and of course, fundraisers. Massage Envy recently launched a new digital campaign that includes new iPhone and iPad apps, a lifestyle blog, and enhanced, system-wide social media efforts. When we surveyed our members, we learned that approximately 70 percent own a smartphone. Our apps allow guests to not only request an appointment, but to specify the trouble they are experiencing so their massage can be customized before they even arrive at a center. Providing our franchisees with tools like these enables them to deliver optimal service to their guests and members.
How do you complement your national marketing campaigns and branding with local-level marketing strategies?
We provide both seasonal and year-round promotions, advertising, PR, and marketing strategies that can be used to complement the national efforts. Franchisees are provided press release templates, advertising and marketing collateral, social media ideas, and other PR tools they can use. We also provide best practices, media recommendations, creative, point-of-purchase kits, etc.--all designed to drive traffic and profitability in their centers.
Published: November 9th, 2011
Share this Feature
Recommended Reading:
Comments:
comments powered by

Disqus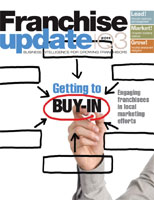 Franchise Update Magazine: Issue 3, 2011
Conferences
InterContinental, Atlanta
OCT 18-20TH, 2023
More than 15 years of passion and fascination with the franchise system. Thanks to having met many Franchisees, today I can help new ones and those...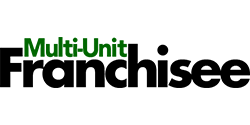 Published quarterly, Multi-Unit Franchisee Magazine is dedicated exclusively to Multi-Unit Franchisees. It delivers vital information and business...