Mastering Growth
Record turnout of multiunit franchisees and suppliers gather to learn from the masters

Amid the arid, bronze landscape of the Arizona desert, things heated up for Area Developer's 2008 Multi-Unit Franchising Conference on April 23–25 at the Hyatt Gainey Ranch Resort & Spa in Scottsdale. The annual three-day meeting of the minds, which once again set new attendance records, was packed with seminars, sessions, and speakers who provided multiple opportunities for personal and professional growth for multiunit franchise operators of all size and scope.

In-depth workshops kicked off the first day on Wednesday morning. Attendees chose from topics as diverse as growth and expansion, loss prevention strategies, real estate, and personnel. Each session was led by experienced facilitators who left ample time for questions. After breaking for lunch, the crowd reconvened for afternoon sessions.

Dean Zuccarello of the Cypress Group moderated an afternoon panel discussion that dealt with a variety topics related to franchise mergers and acquisitions. Zuccarello said the M&A market is experiencing significant growth right now because of "the prohibitive cost of new development." He said it's more cost-effective for multiunit franchisees to snatch up existing units and have an instant cash flow than to start from scratch with a new location.

Panelist Bill Welter, who operates (and is preparing to sell) Buffalo Wild Wings franchises in the Las Vegas market, added: "The market is growing because third-generation franchisees are looking to grow bigger than grandpa did." The session examined the key areas of buying and selling, including making the decision to sell, planning exit strategies, marketing and finding buyers, proper valuation, negotiations, and due diligence.

An informal happy hour (franchisees only), Mixing with the Masters, followed outside under the big blue—and quickly cooling—Arizona sky. That gave way to the opening reception in the Expo Hall.

The hall was packed with more vendors than ever before as multiunit franchisees, area developers, reps, and others made their way from booth to booth in search of information and new opportunities. "The quality of the franchisees here is just tremendous," said Gary Bieberich, of Sell4Free Real Estate System.

Multiunit operators came from as far away as Honduras in search of new concepts that could work for their organization and in their markets. Roberto Larach came from Honduras, where he is general director for Corinsa, which operates Pizza Huts and KFCs in Honduras and elsewhere in Central America. "We're looking at expanding and adding some new concepts," he said. "So we're here to check out some of the opportunities."

The Expo Hall reopened early Thursday morning with breakfast and more mixing before segueing into the general session and a keynote from economist Barry Asmus. In a funny, sometimes exaggerated way, Asmus compared the economic and market conditions in the United States to other parts of the world and opined that things were not as dire in the U.S. as some would lead us to believe. "Because of entrepreneurship in the U.S., the best is yet to come," he said.

A multiunit franchisee power panel followed the general session. Three operators—Charles Smithgall (Aaron's), Eric Werner (Subway), and Guillermo Perales (Popeyes, Golden Corral, Burger King)—who oversee nearly 300 units combined, fielded questions about how they've built their organizations. Each spoke in candid detail about how they procured startup capital, fundamentals of operations, and how they've dealt with growth. Diversity, vision, and passion were recurring themes in their responses.

Darrell Johnson, president and CEO of FRANdata, then delivered a sharply focused presentation detailing the state of franchising. He said the current economic crisis is partly the result of "households and government not living within their means." Declining consumer confidence and tougher credit markets, he said, will have a negative impact on multiunit operators. However, he noted that current market forces have created "less competition from newbie franchisees, and that there are more sectors and concepts to choose from when seeking expansion."

A keynote address on multiunit managers (MUMs) completed the morning activities. Author and researcher Jim Sullivan presented findings from his three-year study on MUMs in franchising. He noted seven characteristics of these high performers, who he called "managers of managers" and "regional CEOs." They are: brand ambassador, talent scout, servant leader, head coach, marketing guru, synergist, and goal-getter—a rare, and valuable combination.

The Expo Hall doors were opened once again for lunch and a final round of mixing and mingling among the booths. This busy center of commerce was a hotbed of activity throughout the three-day event.

With a matter-of-fact style and biting sense of humor, author Larry Winget ("The Pitbull of Personal Development") brought his analysis of human nature and behavior to the group for the afternoon keynote session. His talk began with the theme that "It's not about passion. Excellence and hard work carry you through." He encouraged the crowd to live lives characterized by responsibility, flexibility, lightening up and having fun, and serving others. And working hard.

Thursday afternoon was capped off by a final round of breakout sessions that examined topics such as customer loyalty, financing growth, and reporting metrics. Once again, there was a lively back-and-forth between panelists, speakers, and attendees.
After a couple of hours of free time, attendees gathered outside under the Southwest evening sky, this time for "Drinks in the Desert," before drifting back inside for the final dinner event, the "Southwest Soiree." A splendid dinner setup, topped off by a daredevil juggler-acrobat-comedian who also dispensed sage advice about overcoming fear, made for a satisfying end to an exhilarating day.

A quick leadership program Friday morning gave way to lunch and a golf tournament out on the links of the beautiful Gainey Ranch Golf Club.

The next big conference event from Franchise Update Media Group is our Franchise Update Leadership & Development Conference at the Drake Hotel in Chicago, September 24–26. And don't forget to mark your calendars for the 2009 Multi-Unit Franchising Conference, April 15–18, at the Bellagio Hotel in Las Vegas.
Published: September 22nd, 2008
Share this Feature
Recommended Reading:
Comments:
comments powered by

Disqus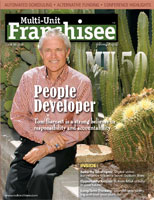 Multi-Unit Franchisee Magazine: Issue 3, 2008
Brain Balance has 80 centers nationwide and continues to grow with global expansion on the horizon. Brain Balance offers a drug-free program designed...
Cash Required:
$125,000
Another Broken Egg is an upscale breakfast, brunch and lunch restaurant that specializes in Southern-inspired menu options and signature cocktails....
Cash Required:
$250,000