Measure for Measure: Unit Economics Plays a Leading Role on Today's Economic Stage
The most fundamental business strategy calls for black numbers on the bottom line. In simplest terms, it's proof the business is generating more cash than it is spending.

All too often, though, entrepreneurs get involved in businesses without employing a proper system to help them keep a watchful eye on what they're earning and what they're spending. Managing day-to-day operations can be so time-consuming that it leaves little room for financial analysis. Or perhaps key individuals lack a basic understanding of how to read and interpret financial statements. Combine these factors with the down economy, and you'll likely wind up with a troubled business.

Today, more and more multi-unit franchisees are realizing the importance of keeping their eyes focused firmly on the bottom line, and they are putting in the time to understand and continually analyze their financial statements. They're taking a hard look at their unit economics.

Many franchisors are now encouraging their franchisees to evaluate their unit economics as a part of their daily operations. Some are offering their franchisees the tools to manage their expenses and revenue in a manner that benefits not only the franchisees but ultimately the franchise brand. As they say, "You can't manage what you don't measure."
Managing by the books
Measuring unit performance and profitability is exactly what multi-unit franchisee Todd Pulley does routinely. He operates four PuroClean locations in New Jersey and Delaware. After 15 years, he has developed and refined his own system for measuring his unit economics.

Pulley manages all four units from a central office and keeps separate books for each location, using QuickBooks Pro. He keeps tabs on his units' performance by examining the daily, weekly, monthly, and yearly financial reports he generates. He calls them his key performance indicators. "We look at key factors such as revenue, gross and net profitability, and revenue per employee, per day, and per crew," he says. "Each of my units has operational and financial standards."

Brian Klaubert operates two Christian Brothers Automotive locations in the Greater Atlanta area and is scheduled to open a third early this year. In his business, labor and parts costs can eat up profits very quickly. He also has to manage other critical expenses, such as insurance and property taxes.

"Execution and control are imperative for us to create and maintain acceptable levels of profitability," says Klaubert. He says it's critical for him to watch his parts margins. "We have to stay on top of what we buy and sell for," he says, and also relies on technology systems to record and analyze all his financial data.

"If there's one thing the recent economy has taught, it's that it's more important than ever to pay attention to costs during tough times," agrees Neal Faulkner, a Boston-area Dunkin' Donuts franchisee with 17 locations open and two more on the way. "I say if you're still operating today the same way you were three years ago, you're either out of business or on your way there."

He says the concept of unit profitability is really pretty simple. "It's what's at the bottom line at the end of the day." For Faulkner, that's a function of food costs, labor, and sales. Today he's looking to maximize dollars from the point of distribution to the kitchen, and ultimately to the customer.

Tracking financials and profitability is something Greg Jones knows all about. He's the CEO of Bookkeeping Express franchise, and a franchisee with five locations of Five Guys Burger and Fries in Florida. As a franchisor, his company's franchisees provide all kinds of financial and accounting services to businesses. And with that firsthand knowledge, he knows how to keep a watchful eye on his own Fives Guys units.

"You cannot run an effective business without paying attention to your financials," he says. One of the nice things about the franchise model, says Jones, is that franchisors have a general idea of what unit profitability should look like based on historic trends. He says that helps significantly with franchisees new to the world of financial reports and unit economics.

Strong unit-level economics are critical to investment organization Roark Capital Group in Atlanta, which owns and operates 15 different franchise brands. "We look at how individual stores are performing," says Steve Romaniello, managing director at Roark, and chair of Focus Brands (Carvel, Cinnabon, Schlotzsky's, Moe's Southwest Grill, and Seattle's Best Coffee in limited markets), now under the wing of Roark. "We look at the ROI, the cost to enter the system, and how the unit performs."
Basic training
As a rule, franchisors should provide their franchisees with some kind of financial training and resources (computers, software, standard chart of accounts, etc.). The net result benefits all parties. What's more, when franchisors don't take the lead in helping their franchisees better understand costs and revenue, they're only asking for trouble from franchisees who most likely will be under-performers, which in turn will lead to poor validation and slower system growth.

Before starting a career in franchising, Klaubert spent 19 years as an engineer. As a result, he had very little financial background or understanding. "The franchisor provided the initial basic training for me and, really, the basics came pretty easy," he says. But he's quick to add that "It was easy to get to the break-even point. The real trick is getting to profitability." That took some time, he says.

Klaubert says his franchisor provides a work order management system in every franchised location--a key tool for helping franchisees manage and analyze their expenses.

Pulley also had no prior financial background before becoming a franchisee. He says PuroClean has always encouraged its franchisees to "measure what we're doing." He's heeded the advice, put systems into place, and has reaped the rewards.
Others, like Faulkner, bring an advantage to the table. He has an undergraduate degree in business and has an MBA. He also worked for the Dunkin' Donuts corporate office for six years before becoming a franchisee.

"Dunkin' provides many of the tools we need, like regular sales reports," he says. "And the register systems in the stores track all kinds of data for us," which allows him to do many types of analysis and comparisons.

From a franchisee support standpoint, Roark Capital's franchise brands are very active in training franchisee operators to read and understand financial reports, says Romaniello. "We try not to go into business with partners that don't understand how to read financial statements."

Romaniello says Roark Capital holds franchise summits for its franchise executives each year that cover such topics as IT, franchise sales, and real estate development. "This past year, for the first time, we devoted a CEO breakout at the conference to the subject of unit-level economics," he says.
Benefits of measurement
Tracking financials and managing unit economics are all part of a growing sophistication within franchising.

"Your financials are your reality check, and your crystal ball. They tell you where things stand--positive or negative--and what you need to do to change from negative to positive," says Jones. He says it's impossible to run an effective business without paying attention to financials. "I regularly review my P&L, balance sheet, accounts receivable, and accounts payable."

"I use a standardized chart of accounts through QuickBooks to do month-to-month analysis," says Klaubert. But his real key is his work order management system at each location, which measures all his parts and labor expenses, gross sales, and gross profits. "This is where I can really see what my margins are." For example, by closely monitoring his parts expenses, he routinely finds $200 to $700 in overcharges from parts vendors each month.

Among all the data he examines, Klaubert considers a core of three areas most important. "We look at weekly costs, which are our annual expenses divided by 52 weeks; our net profit, which is our gross profit minus weekly costs; and basic labor, cost of technicians, insurance and uniforms, social security taxes."

Pulley says he looks at certain numbers daily, others weekly and monthly, and some only annually. "Every day we're looking at production goals," he says, "and every crew member knows the percentage of revenue goal." He evaluates his invoices weekly and holds a departmental meeting every Monday.

"That's a time for comparison of things like examining the total dollars of invoices from the previous two weeks and identifying the number of invoices going out and how rapidly they are being processed." He reviews his P&L and balance sheet on a monthly basis, and he looks at revenue forecasting and planning annually. "By doing things this way we are managing processes and not people," he says.

Measuring unit profitability can help strategically, too. For example, Pulley says his units used to do mostly repair business, but that has changed. "By collecting and monitoring our data I was able to determine that we could increase our cash flow and profitability by decreasing the percentage of repair business we were doing and increasing the amount of restoration business we did," he says. Doing this involved reducing the number of employees and shifting his business focus, but over a period of two years Pulley was able pull it off successfully. "Without the data I had, I could never have convinced anybody in the organization that the change would work."

Another way Pulley has used unit economics data is to set up a bonus system for employees. "We incentivize them based upon the numbers that we know are good. This helps the bottom line, and it promotes healthy competition among the employees," he says. Faulkner has done the same, freezing salaries, but allowing for bigger bonuses depending on increased revenue numbers.

For Faulkner, one of the ways unit economics measures come into play is through tracking food costs and labor in relation to sales at his 17 Dunkin' Donuts stores. "By looking at our reports we can see exactly where costs are," he says. "If we saw food costs edging up near 50 percent, then we would have a problem and quickly address it." Because he keeps a careful eye on his financial data, Faulkner says, he hasn't had to raise his prices in three years.

He also watches his labor costs carefully. "It's easy to track this, and it's easy to cut back here, but you don't want to over cut and harm customer service," he says. That's why he constantly monitors "bandwidth" at his stores and determines which need more or fewer employee hours.

Interestingly, Faulkner has discovered that by meticulously tracking all of his costs and revenue, he has been able to cut back on employee theft. "In a tough economy, employees don't only take money out of the registers, they will even take food home. You have to run a tight ship to counter this kind of behavior."
Benchmarking and scorecards
Some franchisees have taken to boiling down the most essential cost and revenue numbers into a one-page "scorecard" report that helps them--and their team members--manage at a glance.

"Our scorecard lists customer count, payroll numbers, food costs, and guest satisfaction survey results," says Faulkner. He holds monthly meetings with all his managers to review the information.

He also tracks the numbers at all 17 locations to determine averages for food costs, labor, and sales. "Over the course of four to five years, I learned where the sweet spot was for strong performers." He likes to bring attention to the stores that are leading in each category and use them as a benchmark for all the stores.

Like Faulkner, Pulley uses his scorecard--which he says was "created out of necessity"--in strategic monthly meetings with his managers. They review variables such as cash flow, gross profit, net profit, and bad debt. "It's a time when we compare actual to budget numbers, and we establish and revise goals and objectives," he says.

Pulley goes a step further in his benchmarking efforts by getting together informally with a few other franchisees he knows to discuss and compare operational data. Faulkner does the same with his fellow franchisees.

Klaubert shares his scorecard with his service managers every week, and each manager sees what his unit contributed to the bottom line. They see net profit, number of orders processed, labor and parts margins, and average ticket price. "It's a great tool for motivating the managers, because they get to see firsthand what they did," he says.
He also receives weekly sales figures from the franchisor for all franchisee operations, with expense reports and profitability data ranking all franchisees system-wide. This allows individual operators to compare critical numbers such as gross profit and parts margins, says Klaubert. "And we're not afraid to call each other and ask 'How did you get those numbers?'"

Romaniello says his franchisees essentially use the P&L statement as a scorecard. "It's a reflection of how people and units are performing and it helps identify those who are struggling and get help there quickly. No doubt about it," he says, "benchmarking leads to improvements."

Jones says he uses a scorecard because in today's market, "there's only so much you can do to move the needle." The scorecard helps him set targets that enable him to gauge the performance of each unit. "We benchmark for all units and hold them accountable to the financial scorecard."
Take it to the bank
Considering the state of franchise lending during the past 18 months, unit economics reporting is not just a concept for better management of your franchise locations and improved profitability--it's something your friends at the bank want to see, too, if you have any hope of borrowing money these days.

With strong unit profitability numbers, franchisees reduce their risk as measured by lending institutions, says Romaniello.

"When you talk unit performance numbers the bankers' eyes just light up," says Pulley. "You're speaking their language." He says the numbers are a direct reflection on you as a businessperson, and it shows them you know what's going on in your business. He encourages these practices even if you already have a strong relationship with the banks.

Jones agrees that bankers today want to see unit economics numbers. "It's a part of the equation for lenders," he says. "They also put a lot of emphasis on how long the unit has been open and what's available for collateral." But tracking and presenting your numbers is critical.

Faulkner also says lenders want to deal with experienced operators in strong markets. "Banks just need to understand that this business is about cash, not property," he says. "In a tough economy when food costs go up, cash flow typically goes down. But if you're really minding the store, then you'll have good numbers that the banks want to see."

Klaubert says he wants to be in good order financially and be able to show lenders evidence of a successful business. "Then, when we walk into the bank with that data they say 'Wow, you're in great shape. Let's talk!'" he says.

Tracking and measuring unit profitability is an essential part of running a successful multi-unit franchise operation, Pulley agrees. "You don't want to wake up one day and ask, 'How did this happen? How did we get here?'"

"This business can get away from you quickly if you're not watching the numbers," says Faulkner. "But if you're paying attention to the details, you'll be fine."
Six Steps to a Better Bottom Line
Improve your performance with these financial tools

Successful multi-unit franchisees are always looking for ways to improve their operations. Increased competition and a sluggish economy have wreaked havoc on many businesses during the past 18 months. However, by measuring unit profitability and keeping a close watch on expenses and revenue, franchisees can gain an edge--both internally and on their competition.

Here, courtesy of Steve LeFever, chair and founder of Business Resource Services (BRS), is a checklist of financial tools you should be using to boost unit performance. BRS is a Seattle-based consulting firm that provides financial management education training, network benchmarking, performance group facilitation, and bookkeeping services to the franchise community through its Profit Mastery program.
Chart of accounts
A standard chart of accounts is essential for every franchisee. Work with your franchisor to get one or create one. It's worth it because a consistent recordkeeping format keeps everyone "on the same page" and paves the way for productive comparative analysis.
Financial statements and bookkeeping
You should be keeping your books in order--either internally or by outsourcing to a qualified financial accounting firm. Without timely, accurate data, no organization knows its status, and sharing data is impossible.
Create a performance "scorecard"
A one-page financial report card that tracks key profit and cash drivers is the most effective action step you have to introduce and maintain focus and accountability. You and your managers should all understand how to read it and use it--and be held accountable. Together you can measure--and improve--performance.
Benchmarking
Every network of businesses should benchmark itself. You can do this among all of your existing units, or by examining system-wide benchmarks if the franchisor provides them. These profiles of both median and top performers not only create yardsticks of performance, but can also produce a "best practices" environment that is extremely effective in creating a culture of accountability and performance.
Know your costs
In this tight economy, it is an absolute must for franchisees to know their costs. A break-even analysis is absolutely the most valuable financial management tool available. Make sure your managers and any other key people know how to calculate and use a comprehensive break-even analysis. When it comes to cost analysis, you must be able to trim with a scalpel, not a hatchet.
Franchisor support
Ask for--and use--whatever financial assistance tools your franchisor supplies. Train your managers in financial analysis and expect them to be able to use all the tools listed above to assist each unit in performing a strategic assessment of the business.


(Editor's Note: Hear Steve LeFever in person at the 2010 Multi-Unit Franchising Conference in Las Vegas at the Mandalay Bay Hotel. March 24-26.)
Published: March 8th, 2010
Share this Feature
Recommended Reading:
Comments:
comments powered by

Disqus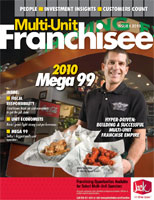 Multi-Unit Franchisee Magazine: Issue 1, 2010
RockBox Fitness is a state-of-the-art boxing, kickboxing, and functional strength training studio which features group fitness, full-body workouts...
Cash Required:
$60,000
With more than 250 locations (and more on the way!), MY SALON Suite is the #1 salon suites franchise opportunity in North America.
Cash Required:
$500,000