Mentored by Giants: Do Ray Kroc, Bill Parcells, And Gen. Norman Schwarzkopf Ring A Bell?
Dennis Hitzeman has had some legendary mentors in his life.

First there was McDonald's founder Ray Kroc, who hired the 16-year-old Hitzeman as a crew member for his third location. Later, as a West Point Cadet, he played football for assistant coach Bill Parcells and studied under Gen. Norman Schwarzkopf, Jr.

"So much of what I learned at West Point is helpful in my business," says Hitzeman. "The biggest single thing is the value of building strong teams. Then of course there are all the things you learn at West Point: integrity and management and organizational skills. They are all critical to running a business. I probably learned more about business at West Point than I did at business school."

Hitzeman has always enjoyed learning from people, including Jack Cowin, Australia's Burger King master franchisee (it's called Hungry Jack's down under), or during lunch with best-selling author Clive Cussler.

Hitzeman and his partner, Tom McDonald, have put those lessons to good use building a franchise empire of 59 Burger Kings in Dallas, Phoenix, Las Vegas, and Atlanta.

The two entrepreneurs also have been opening up a string of their own high-end restaurants called Donovan's Steak and Chop House. "One of our partners in the past started it and we invested in it," says Hitzeman. "We call ourselves America's finest steakhouses and we've opened in San Diego, La Jolla, Phoenix, and now in Salt Lake City."

They've also opened two Panera Bread bakery-cafés, and over the next four years plan to add three more per year. "About four years ago we were going to develop the southern half of Arizona for Panera, but they decided to buy Paradise Bakery rather than fight the competition," says Hitzeman. "That's why they gave us the northern half of Orange County, which was going to be a corporate territory." And it's turned out to be a great opportunity, he says.

Hitzeman's education in franchising stretches back nearly half a century. "When I was in high school in '62 I went to work for Ray Kroc the day I turned 16," he says. "I worked for Ray for two years as a crew member and I really got to know the business."
After that, he attended West Point and spent 10 years in the Army. "For 15 years I was in uniform, and I went on to get an MBA at the University of Miami." After he left the Army, he started working with Burger King.

"I sold restaurant equipment to Burger King from 1978 to '81. That's when I learned about franchising inside out," he says. "I was very impressed with the lifestyle of the franchisees, how excited they were about the business, and how anxious they were to open more restaurants. I met a bunch of dedicated, hardworking, and happy people and it drew me to that type of opportunity."

McDonald, a friend from high school days, has been an ideal partner, says Hitzeman, and they've had some adventures together in franchising. "We've had eight different franchise restaurant concepts, from T.G.I. Friday's to Godfather's Pizza to Baskin-Robbins and Haagen-Dazs. We were going to do Krispy Kremes with a partner in Australia, but that didn't pan out. We had Fazoli's in Dallas. So we've really been around the block."

Name: Dennis Hitzeman
Title: CEO and Chair
No. of units by brand: Burger Kings, 59; Panera Bread, 2; Donovan's Steak and Chop House, 4
PERSONAL
Age: 62
Family: Widower with three children, three grandchildren, and a new grandchild just arrived.

Years in current position: 30
Years in franchising: 30

Key accomplishments: Building a strong team would be number one.

Biggest mistake: Fazoli's. We needed to get to 20 outlets to have enough marketing dollars to make a dent. Even though we saw things go south after opening our fourth and fifth locations, we continued longer than we should have. We ended up with five bad stores instead of two or three. The lesson: Cut your losses rather than stay and fight.

Smartest mistake: Not getting approved to develop Krispy Kremes in Australia. And you know the history of Krispy Kreme.

How do you spend a day, typically? My son Shane handles the day-to-day operations of the business. I've taken more of an oversight role, spending time with Shane, mentoring him and overseeing the different businesses. And I focus on the Donovan's.

Work week: Most weeks I'll get up at 6 and work to 1 or 2 in the afternoon on the phone or computer. The rest of the day I spend relaxing.

Favorite fun activities: I love horse racing. I love yachting. I've had a small yacht for 25 years. I love sports in general.

Exercise/workout: I have a personal trainer and work out three days a week.

Favorite stuff/tech toys: I just got a new iPhone and it's kind of fun. I'm learning how to use it. I'm not usually a pioneer in this stuff.

What are you reading? I love adventure and escapism. Clive Cussler is my favorite author. He's a charming man. I'm reading The Chase, his latest novel. I am into finance and investing. I watch CNBC six to eight hours a day while I'm doing my work. I read several papers, the Wall Street Journal, and the local paper.

Do you have a favorite quote or advice you give? George Patton said, "Never tell people how to do things. Tell them what to do and they will surprise you with their ingenuity."

Best advice you ever got: Jack Cowin, who runs Hungry Jack's (Burger King), KFC, and Domino's in Australia told me something. He said 99 percent of all new ideas fail. So find a concept that works and take it somewhere it needs to go. Don't go out and reinvent the wheel. Take a winner and bring it somewhere it isn't.

Formative influences/events: I commanded an infantry company in Vietnam. That was a big influence on my leadership skills. During my four years at West Point I interacted with some great leaders, like Norm Schwarzkopf and Bill Parcells. And I learned this business from Ray Kroc and Jim McLamore, founders of McDonald's and Burger King.

How do you balance life and work? The key ingredient to happiness is not how much money you have. It's faith in something bigger than yourself. And friends and family--I'm very family-oriented.
MANAGEMENT
Business philosophy: I think it's all about value. That value is a fine line between what's good for you and what is good for your customer. There's one price that the customer wants from you--and top of mind is the Whopper. What price is attractive enough for a customer to want to drive by a competitor to come to you at a price that gives you a good return on your investment?

Would you say you are in the franchising, real estate, or customer service business? Why? The customer service business for sure. It's really all about people.

What gets you out of bed in the morning? New opportunities to compete and survive the challenges of being in business. The losses and the wins. The wins are wonderful but you learn from the losses.

What's your passion in business? I would say the same thing. And seeing my son Shane mature and grow in the business, and the wonderful things he brings to it. It's so good for us and our family.

Management method or style: I'm a strong believer in ownership. The key to success in this business is making people who work for you participate in the ownership. A lot of people ask me: How do you operate in Atlanta and Dallas and live in Phoenix? The key is ownership. At the top of everything are people who have equity in the business, and that's not common at all. Most people just can't part with ownership. They feel that they're the ones that put in the sweat and tears and capital, and they're very stingy with spreading the wealth. I have half a dozen junior partners who got their equity through sweat.

Greatest challenge: Surviving the consequences of bad decisions by our governments. That's my greatest challenge and fear.

How close are you to operations? Now that my son is running the business I'm not as close as I was before.

Personality: I am a magnanimous people person. I have a lot of friends and I cherish my friends and do my best to work on my friendships. Friends are second most important to family.

How do others describe you? I think they would describe me as a really nice guy who they enjoy being with.

How do you hire and fire? I'm not doing that anymore.

How do you train and retain? It's an ongoing effort. We have training specialists and it's an integral part of our business because of turnover. It's a continuing operation. It never stops.
BOTTOM LINE
Annual revenue: About $90 million

2009 goals: A new Donovan's in Salt Lake City, two or three new Paneras in Orange County, and focusing on profitability at Burger King. It's hard to grow in places like Phoenix, where growth and housing are trending negatively.

Growth meter: How do you measure your growth? Locations. Those locations stay around while dollars come and go.

Vision meter: Where do you want to be in 5 years? 10 years? In five years I would like to have 6 or 8 Donovan's, 12 to 14 Paneras, and I would like to continue to see my son learn and grow the business. In 10 years, the same thing. I'd be 72, playing a smaller role than I do today, though I'll never stop.

How is this economic cycle affecting you, your employees, and your customers? Phoenix has been especially hard hit since we are so dependent on growth. Our state legislators have also made many anti-business laws over the past few years that are making life tough on entrepreneurs in our industry.

What are you doing differently in this economy? We just put in the new Duke broilers, which are required in all Burger Kings by the end of this year. We were so excited by the opportunity and attributes of Duke broilers we did it a year early. It's wonderful to cook new products that Burger King has never dreamed of before. They offer great energy savings and incredibly improved product taste.

Where do you find capital for expansion? It's a real challenge. The banks have been very difficult. The bigger the bank, the harder it has been. Operations like us are dependent on Bank of America, GE Capital, and so on. And they're too busy with bigger opportunities, like buying Merrill Lynch and Countrywide. We have become far less significant. We're now looking to local banks for expansion financing.
Published: June 1st, 2009
Share this Feature
Recommended Reading:
Comments:
comments powered by

Disqus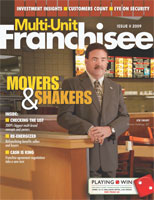 Multi-Unit Franchisee Magazine: Issue 2, 2009
Invest in a legacy brand with 40 years of experience serving up crave-able food in a fun environment. Here's all you need to know
Cash Required:
$1,500,000
Our nostalgic dining experience transports customer to a 1920's garage. Our menu drives broad guest appeal with hand-crafted America fare. Ford's...
Cash Required:
$1,750,000