Moving Targets: Franchisees Respond to Changing Markets
When retired Air Force Lieutenant Colonel Tim Hershberger signed on as a franchisee with Dickey's Barbecue Pit in Florida, the 30-year military veteran was already focused on the customers he knew best. And his military ties have helped jump-start his first nongovernmental venture.
His first Dickey's, in Pensacola, is one of three planned restaurants that will cater to current and former military members in the Florida Panhandle, home to Naval Air Station Pensacola and Eglin Air Force Base in nearby Fort Walton Beach. Military customers will receive a 15 percent discount, and catering orders are delivered to the bases free of charge.
"We will continue to refine our strategies to get better at what we do," he says. "We will always cater to the military because I believe what they do is vital to the safety of our nation. We also honor all first responders (police, fire, EMTs). As a retired military member, both enlisted and officer, I know what sacrifices these folks make and feel they deserve to be treated with honor and respect."
Hershberger, who took advantage of the brand's incentives for veterans, is one of three Dickey's operators who have opened the Texas-style barbecue brand in or near a military base. Marketing to the military is just one of many strategies franchisees are cooking up to build business in a world where mass branding is dying out and fragmentation has become the norm.
More than ever, interests, opinions, and social profile data are influencing target markets once defined by more traditional data such as age, income, and education. "Marketing is not demographics any more," says Doug Koegeboehn, chief marketing officer for Wienerschnitzel. "We are going after specific mindsets, attitudes, and behaviors."
The changing face of marketing is presenting franchisees with opportunities for growth if they are successful in selecting the right strategies to connect with the customers they want. Segmentation may trump demographics in defining a brand's target market, but generational and cultural shifts are driving where and how franchisees communicate with customers, whether women, men, veterans, seniors--or, for many brands, Millennials, the much-targeted, much-coveted 18-to-34 age group that makes up 25 percent of the population and has an estimated annual buying power of $200 billion.
Mexican pizza
Dallas-based Pizza Patrón has refined its focus from Hispanics in general to Mexican-Americans, who compose the majority of Hispanics in the U.S. Company founder and restaurant veteran Antonio Swad (who created and sold Wingstop) says he simply was striving to serve the heavily Hispanic community near his first restaurant in Dallas when he discovered the brand's target market.
Known for its innovative marketing, such as "Pizza por Pesos" (accepting Mexican pesos at its restaurants) and a trademark of "friendly, bicultural service," Pizza Patrón recently wrapped up a new, customer-centric "Nueva Tradición" renovation in 81 of its 95 Texas locations. The remodeling process, launched in 2013 when the company's first franchise agreements began coming up for renewal, features vibrant colors, original commissioned art, and an enhanced storefront with a custom-made "old school" glass neon signage. Franchisees also hope to drive sales with new promotions, such as a black bean pizza sauce.
After taking a break from franchise development, completely halting franchise recruitment in 2013 and closing 20 underperforming stores, the Mexican pizza chain is back on the growth fast track expanding with existing franchisees--many of them Latino. Swad has said the brand can sustain 1,000-plus units nationwide, with limitless possibilities outside the continental U.S.
Perros calientes
Wienerschnitzel uses a demographic profile and information culled from customer segmentation studies to develop communication strategies for specific marketplaces, which are then coordinated with co-op ad agencies and franchisees, says CMO Koegeboehn.
Most recently, the brand carried out promotion-specific testing in El Paso, Tucson, and Los Angeles to help the world's largest hot dog chain better understand Hispanic audiences, who vary widely in areas such as acculturation, identity, language, and country of origin. The "5 for $5.95" value-oriented promotion for corn dogs was featured on Spanish television in the Texas and Arizona markets. In Los Angeles, a cross-channel marketing effort included Spanish blogger parties and radio remotes at stores, and sponsorships of local soccer tournaments.
Whether offering free chili dogs to veterans on Nov. 11, sponsoring a professional motocross team, or touting 99-cent, all-you-can-eat chili cheese fries on the first-ever Wiener Wednesday this past November 25, the appeal is in the details. The chili cheese fries offer, for example, was available with a coupon downloaded from the brand's Facebook page; the offer was repeated on January 1, no coupon necessary.
Koegeboehn, who joined Wienerschnitzel in 2015 after serving as the long-time account director for the brand at DGWB Advertising, encourages franchisees to look for as many varied communication avenues available to localize the marketing message at the store level. "I'm looking at the entire population around my restaurants. I'm only going after 20 percent of my audience that I know wants to come in and eat and using media vehicles and marketing messages that they engage in," says Koegeboehn.
"Don't look at it as shotgunning, where you are doing all different types of initiatives," he says. "If you look at each one of these initiatives, we are going for the same audience. It is the exact profile. I am just going to places where they are and speaking to them in a language that is appropriate. Spanish language or off-road racing language or any other group--they are all intertwined across the same audience."
Targeting Millennials
Pancheros Mexican Grill, with 65 locations in 17 states, joins many franchises looking to appeal to a younger set. A rebranding effort launched two years ago has the fast casual chain, known for its made-to-order burritos, salads, and bowls, getting back to its roots.
Founder and CEO Rodney Anderson opened the first Pancheros on the University of Iowa campus in 1992, keeping his doors open until 3 a.m. to feed hungry students, whether they were burning the midnight oil studying or looking for a meal after the bars closed. Anderson stuck with the concept, expanding to other college campuses in the Midwest and in 2003 began franchising.
The rebranding effort, which includes quirky slogans, packaging "that pops," and brand-driven social media campaigns, has gone a long way to help Iowa franchisee Dan Sacco communicate a fresh message locally. Employees from his Davenport and Dubuque restaurants step out weekly to give out food samples and cards for free Chips & Queso at community events, appealing to young potential customers who "love free stuff," says Sacco. He also targets his audience with hip music inside his restaurants and strategic ad placement in movie theaters during box office hits and on such shows as "The Walking Dead" and "MTV Video Music Awards."
"We need to remind Millennials that we are here and keep Pancheros on the top of their minds," says Sacco. "For other customers, we give them value for the money and food that is good every time."
Best in class
Vietnamese refugees Lisa and Hao Lam grew Seattle-based Best in Class from a local tutoring company as licensees adding enrichment programs and test preparation services before buying, renaming, and franchising the company. The enterprising couple plan to have 100 centers open in the next 5 years.
Tanmoy Kumar and Veronica Reyna, the first multi-unit franchisees of the renamed Best in Class Education Center, are busy crunching the marketing numbers to target clients for their education enrichment brand. The married couple, both college professors, opened the first of four stores planned for the Northwest Houston region. Initial marketing will focus on school, festivals, community organizations, and events to promote the business, which relies heavily on word of mouth, says Kumar.
Born and raised in India, Kumar is a mechanical engineer for an oil company and an adjunct professor at the University of Houston. He hopes to reach lower- and middle-income families interested in supplemental learning with price points below those of other education centers, which typically target upper-middle-income families.
"From the opening, we will cater to students who cannot afford a private education or just want to be challenged above and beyond our public schools," says Kumar. "Eventually we would like to make it affordable and be able to serve the underserved in the communities in the lower income groups."
Trucks to bricks
The Halal Guys built a cult-like following for their food carts over 25 years of doing business on the streets of New York City serving up platters of chicken, gyros, and rice topped with a proprietary white sauce. Now The Halal Guys are taking their brand indoors--and global--in a fast casual, quick-serve format. In their first year of franchising, the company announced deals for 225 franchised units.
The brand has partnered with Fransmart (the people who brought you Five Guys Burgers & Fries) to zero in on top real estate opportunities in mass-gathering areas such as airports, train stations, malls, and neighborhoods with significant late night demand. Development territories include Houston, Austin, Washington, D.C., Virginia, Connecticut, and the entire state of California, which sold out within the first months of franchising. International locations are planned for the Philippines, Malaysia, and Indonesia.
Ranked as a top 10 "most Yelped" restaurant in the U.S., The Halal Guys have even inspired a specialty sneaker from Reebok. "You just look at the lines, and it's people from all walks of life. That right there is a franchise," said Fransmart founder Dan Rowe in 2014.
Hiring for Engagement
While some companies have recruited franchisees who mirror their market and customers, franchisees are also finding it makes good business sense to do the same when hiring employees.
Liberty Tax Service is targeting a slice of the lucrative Hispanic market with specialized services. In 2014, the national tax preparation franchise launched SiempreTax+ as an independent brand under the Liberty Tax umbrella. Franchisees offer tax preparation for Spanish-speaking customers, along with a wide array of services in English or Spanish, including driver's licenses, immigration, and state and federal applications for benefits and services.
At his Best in Class Education Center, Houston-area franchisee Tanmoy Kumar says he is not only looking for tutors who will engage students, but also who mirror the markets and customers he's trying to capture.
The first person Tim Hershberger hired to work at his Dickey's Barbecue Pit was the daughter of an Air Force member. In a recent job search advertisement he included the phrase "military spouses and family members encouraged to apply." Hershberger also is working to get approval for a small sandwich shop in the NAS Pensacola flight line area to serve the large number of personnel in that area, who include flight training squadrons such as the Blue Angels and maintenance personnel who must drive 2 miles or more for food. "If we establish a location on one of the bases we will attempt to hire military members or members of their family," says Hershberger. "Generally, we know military family members are dependable, and most have a unique outlook on life that make them flexible and/or adaptable."
Iowa-based Pancheros franchisee Dan Sacco says he looks to hire high school and college-age employees and has had great success by offering bounties to his workers when they refer a friend who is successfully hired. Customers can also make a go of it behind the counter. "We hired a young college freshman and he was so easy to train," Sacco says. "He knew what to do because he's been coming through the line five times a week."
Published: April 28th, 2016
Share this Feature
Recommended Reading:
Comments:
comments powered by

Disqus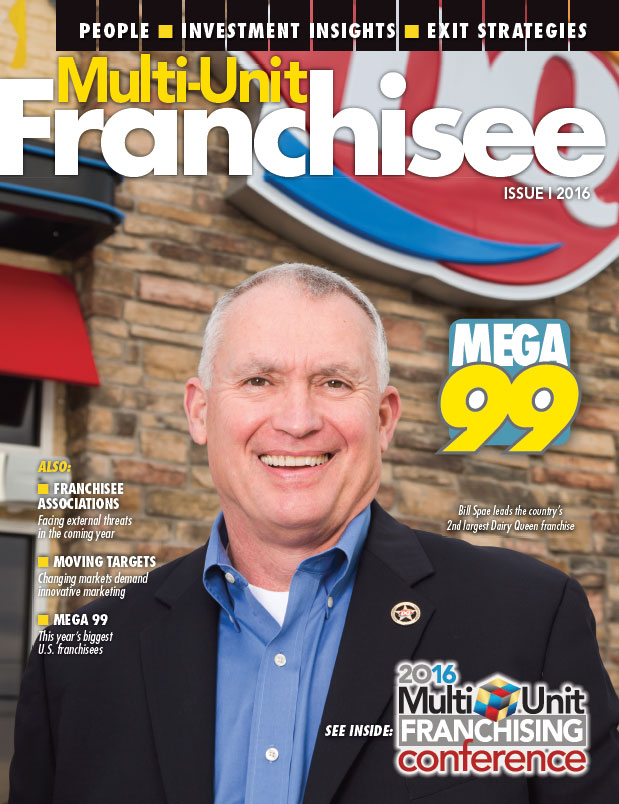 Multi-Unit Franchisee Magazine: Issue 1, 2016
With 5 locations currently open and several in the development pipeline, Bobby's Burgers by Bobby Flay has launched its full-scale U.S. and...
Cash Required:
$500,000
Shakeaway is a unique global company with stores popping up all over the world! Get involved in this fun, fast growing and profitable franchise now...