MVP Awards Honor 2012 Winners: Recognizing Superstars In Six New Categories
They work hard to build businesses that provide for their families. They create jobs and give back to their communities. They're innovators unafraid to do things differently, often on a large scale. They are among the superstars of franchising, and Multi-Unit Franchisee is honored to recognize six of these winners with our 2012 MVP Awards.
Cathy Amato
Role Model Award
For providing an example for others to follow in franchisee success
Cathy Amato's got her first job at 14, busing tables and washing dishes at the Highway Cafe in La Vernia, Texas. Today she and her partners operate 55 Subway restaurants in San Antonio and Austin, and since 1992 she has worked for the Subway development office for South Central Texas. In 2011, she became a development agent for Mooyah Burgers & Fries, also for South Central Texas, and hopes to have 50 locations open by 2020. In addition to the MVP, she has been featured on the cover of San Antonio Woman and Nside magazines for her accomplishments and was honored in 2011 by La Prensa for Outstanding Women in San Antonio in the restaurant category.
Charlie & Judy Divita
Innovation Award
For bringing a new and unique contribution to their brand
They could have retired, but after one bite of a Firehouse Subs sandwich they just had to become franchisees. One example of their innovations is the software they developed to feed both visiting and home sports teams playing at the University of South Carolina. Their passion is showcased in their 100 percent dedication to the Firehouse Subs Public Safety Foundation, raising $16,000 last year for first responders. And, after a tragic fire took the lives of local students, they rallied the town and university and made one of the largest donations to two fire stations.
Atour Eyvazian
Noble Cause Award
For his passionate, unwavering support for those in need
Atour Eyvazian led his multi-unit franchise team to great heights in a relatively short time, transforming himself from a 19-year-old refugee from Iran into Jack in the Box's largest individual franchisee, where he has consistently demonstrated outstanding performance and impressive growth. But it's the time he dedicates to less fortunate individuals through the H.E.A.R.T. Program--a local charity that provides education, training, housing, and employment to adults with mental and physical developmental disabilities--that makes him really shine.
Ed Doherty
Spirit of Franchising Leadership Award
For extraordinary and enduring performance, growth, and community giving
Ed Doherty grew up as an only child to a single mother. He worked his way into franchise ownership with 19 Roy Rogers restaurants, successfully navigated his through Wendy's and eventually into Applebee's and Panera Bread, and now has two brands of his own. Those early years were turbulent, but his passion and mission have never wavered: "We want to wow our guests every time. We want to wow our employees and our suppliers. And an okay is not a wow," he says. With almost 100 restaurants across five brands, his more than 6,600 Doherty Enterprises team members make huge charitable contributions to their communities. One example: since 1998, they have raised more than $2.7 million for the U.S. Marine Corp's Toys for Tots program.
Kevin Osterfeld
Influencer Award
For demonstrating the path to success to other franchisees
When Kevin Osterfeld's dream job as a stockbroker didn't turn out so dreamy, he decided to switch things up. "I knew nothing about the restaurant business. I knew nothing about franchising. I didn't really even know how it worked, but I was young and reckless and thought I'd figure it out." Twenty-five years later, he operates 18 Penn Station East Coast Subs and has become a mentor to those entering the system today. His team has a long history of excellent operations, local marketing, and business practices that have made them the "go to" organization for developing best practices for other franchisees to follow. And his High School Athlete of the Month Scholarship Program has helped many young Dayton, Ohio athletes realize their own dreams.
Edwin Sarkissian
American Dream Award
For achieving remarkable success in his new country
Edwin Sarkissian emigrated to the U.S. from Iran as a young teen in search of the American Dream--and through hard work and determination, he has found it at age 28. After working at a McDonald's and building out hotel franchises, he knew he wanted a business of his own. Starting with Best Western and Fantastic Sams, he understood the importance of following the system and promoting the brand. In fact, he started promoting his first hair salon long before it opened by branding anything that stood still long enough, with cars, trucks, and trailers driving around town advertising "Fantastic Sams Hair Salon Coming Soon." And yes, the grand opening was a smashing success. "At the end of the day, we have a nice, comfortable bed and a nice meal and we get up in the morning and do it again. Fifty percent of the world doesn't get to do that. It's important to appreciate that."
2012 Multi-Unit 50 Rankings
Looking for a new brand? Don't miss this year's "Multi-Unit 50" lists, ranking brands by (1) greatest number, and (2) percentage of multi-unit franchisees in their system.
Published: July 3rd, 2012
Share this Feature
Recommended Reading:
Comments:
comments powered by

Disqus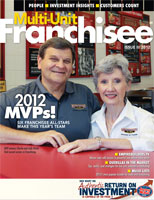 Multi-Unit Franchisee Magazine: Issue 3, 2012
Owning your own Pancheros restaurant is a chance to start a business without starting from scratch.
Cash Required:
$250,000
Make your mark on the billion-dollar esports industry while making a positive impact as a franchise owner!
Cash Required:
$50,000