MVP Barrett McNabb Plays by the Book: 2020 Veteran Entrepreneurship Award recipient
Name: Barrett McNabb
Title: CEO
Company: Consolidated Wellness Management Group
Units: 4 The Joint Chiropractic (3 more in construction) and 2 Modern Acupuncture clinics
Age: 46
Family: Wife Kimberly McNabb, 37; son Cade McNabb, 4; daughter Scarlett McNabb, 2
Years in franchising: 5
Years in current position: 5
Barrett McNabb is the 2020 Veteran Entrepreneurship Award MVP (Most Valuable Performer).
You might say McNabb has always had America's back: first as a U.S. Army Officer (Major, Ret.) protecting our country, and now as a multi-brand franchisee with The Joint Chiropractic and Modern Acupuncture clinics helping to change patients' lives.
Before franchising, McNabb had a decorated military career where he served as a paratrooper in the 82nd Airborne Division and took part the initial invasion of Iraq in 2003. He was an embedded military advisor in Afghanistan in 2006, and then the top military analyst in the Middle East.
McNabb first discovered The Joint Chiropractic after his wife was in an automobile accident that required ongoing chiropractic treatment. He says they were "blown away by the simplicity of the model, from its affordable pricing to the flexibility it offered with no appointments." So when he retired from the military in 2015, he knew what he wanted to do next as a civilian living in Houston.
As an entrepreneur, Barrett leans on his military experience to run an effective business. He says the lessons he learned as a U.S. Army officer align well with the businesses he has chosen. In 2016, when The Joint wanted to develop a military appreciation program, Barrett was instrumental in bringing that to life. His extensive military background played an integral role in tailoring the program and messaging to be geared toward veterans and active military members. When Hurricane Harvey devastated Houston, Barrett pushed The Joint Chiropractic to extend the military discount to first responders and the National Guard, offering unlimited chiropractic care for a four-week period in the hurricane's aftermath. His work with the Military Appreciation Program earned him the brand's Franchisee of the Year Award in 2017 and Regional Developer of the Year in 2018.
McNabb embodies the Army values of loyalty, duty, respect, selfless service, honor, integrity, and personal courage. From the battlefield to the clinic, he is an inspiration to all who cross his path, and a testament to one person's ability to make a positive impact in the world.
PERSONAL
Formative influences/events: My mother, Barbot McNabb, taught me the value of having a strong work ethic. And the U.S. Army taught me how to lead and how to conduct predictive analysis along with resource management.
Key accomplishments: The Joint Chiropractic Franchisee of the Year 2017, Regional Developer of the Year 2018, National Franchise License Sales award 2018 and 2020.
Next big goal: To create multiple manufacturing businesses focusing on new technologies while using my franchising business as cash flow funding.
Hardest lesson learned: No plan survives first contact with the enemy.
Best advice you ever got: Care more about your soldiers than you care about yourself and they will follow you to hell and back… twice. The same principles apply to your employees.
What are you reading/favorite business books? The Ascent of Money: A Financial History of the World by Niall Ferguson. A Message to Garcia by Elbert Hubbard, Start with Why: How Great Leaders Inspire Everyone To Take Action by Simon Sinek, and Selling with Noble Purpose: How To Create a Tribe of True Believers by Lisa Earle McLeod.
What's your passion in business? Helping people. It is absolutely amazing when I see someone get out of their vehicle limping—and after their chiropractic adjustment they do a rendition of "Singing in the Rain" back to their car. Eighty percent of the time it is immediate effects, which is very satisfying!
MANAGEMENT
Business philosophy: To improve the quality of life through routine and affordable chiropractic care. Taking pride in initiative and character by doing the right thing, even when no one else is around.
Management method or style: To lead by example, be technically competent, and empathetic to the needs of my employees. I use precise actions and precise words… precisely… to convey my intent.
Greatest challenge: I purchased two existing clinic locations and built out four, but the two I purchased had a massive culture deficit. Morale was low and the employees were unsure of themselves. I re-engaged previous rock star employees and enticed them to come back, and I met with every employee and asked for the good, bad, and ugly while prompting them for how to improve the business. Seeing their suggestions being implemented led to a positive outcome, giving them a feeling of ownership. Within 6 months, I increased the valuation of the two existing locations by $400,000.
How close are you to operations? Extremely close, as I see that having granular vision is of utmost importance—as is the 50,000-foot view for strategic marketing. You must do both.
How do you hire and fire, train and retain? I retain employees by being the preferred employer of choice, offering competitive salaries, health and retirement benefits, and a favorable work/life balance. I hire with a telephone interview followed by a live interview focused on favorable character attributes and empathy for our patients, as well as the ability to grasp simple concepts focused on sales. I terminate through a multi-step counseling process to identify opportunities for improvement through coaching documents. Anything that is unethical, immoral, or illegal is an immediate termination with multiple management present during the action.
COVID-19
What have been the biggest impacts of Covid-19 on your business? We had some membership cancellations and had a dip in revenue, but The Joint Chiropractic did not have to close in Texas. The governor declared chiropractic care an essential medical service, which allowed us to maintain and even grow sales during the period.
MVP QUESTIONS
Why do you think you were recognized with this award? This was a really difficult question to answer. I think it's my ability to directly translate my military training into business skills, coupled with my desire to lift everyone up—employees, customers, and the business. However, as veterans, we all won by serving our country and transitioning our leadership and knowledge into the business world.
How have you raised the bar in your own company? I've created a corporate culture of collaboration and pride in the organization. I accept nothing less than the standard, and I reward excellence.
What innovations have you created and used to build your company? We have designed an intranet for our organization, creating a hub for revenue, key performance metrics, maintenance issues, and HR issue monitoring and reporting. This allows employees to report issues with other co-workers, issues with repairs within the clinic, supply status, and individual clinic performance and created a one-stop shop for management, creating a high level of situational awareness.
What core values do you think helped you win this award? The same seven core values I learned in the U.S. Army: loyalty, duty, respect, selfless service, honor, integrity, and personal courage (LDRSHIP).
How important is community involvement to you and your company? Community involvement is the bedrock of our organization. Veterans of Foreign Wars, American Legion, local youth teams, local restaurants, golf courses, tragic events affecting individual persons—we invest in all of them.
What leadership qualities are most important to you and your organization? Integrity, initiative, and investment. Do the right thing, always. Never wait to be told what to do. Own everything that you do (the successes and the opportunities).
BOTTOM LINE
Annual revenue: $2.4 million across all brands with a 30% EBITDA.
2022 goals: $3.5 million across all brands.
Growth meter: How do you measure your growth? The three KPIs I really dial down on are 1) new patients (customers) counts, 2) conversions of patients into recurring memberships, and 3) reducing attrition of existing patients. The business has enjoyed double-digit YOY comp growth for the past 5 years.
Vision meter: Where do you want to be in 5 years? 10 years? I've been leveraging my profits from my franchising businesses into additional start-up businesses that focus on product design and additive manufacturing (3D printing in metal). I think additive manufacturing is the future; one can engineer and produce intricate designs that traditional CNC machines can't do.
What are you doing to take care of your employees? Even as a fairly small business with under 50 employees, I make sure to provide as many benefits as I can: 401(k) with matching funds, health care along with dental and vision, continuing education support, paid time off, and I am adding a student loan repayment program—everything to recruit and retain top talent.
What kind of exit strategy do you have in place? It is definitely conditions-based and not time-based. I think realistically, an 8x annual EBITDA offer would get the conversation started.
Published: December 4th, 2021
Share this Feature
Recommended Reading:
Comments:
comments powered by

Disqus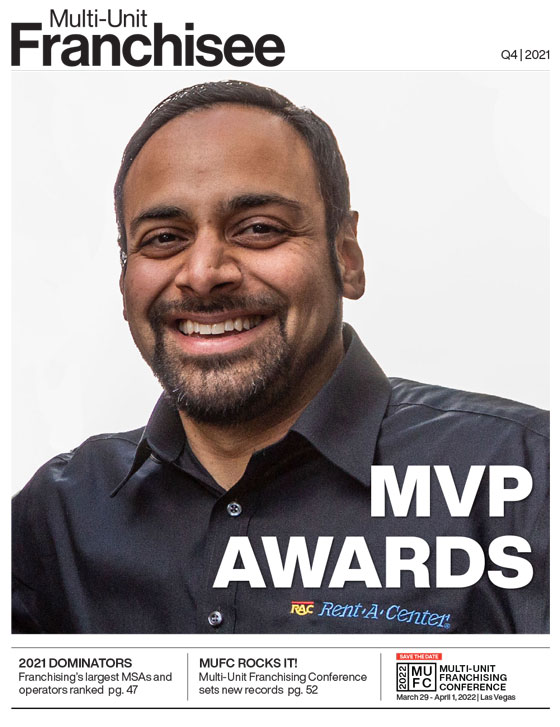 Multi-Unit Franchisee Magazine: Issue 4, 2021
Big Frog's proven-and-tested business model allows you to take charge of your financial future with a business concept that offers unlimited revenue...
Cash Required:
$50,000
Class 101 college planning franchise helps high school students get into better colleges and qualify for higher amounts of scholarships and financial...
Cash Required:
$50,000