MVP Chris Olexa Inspires Success: 2020 Spirit of Franchising Award recipient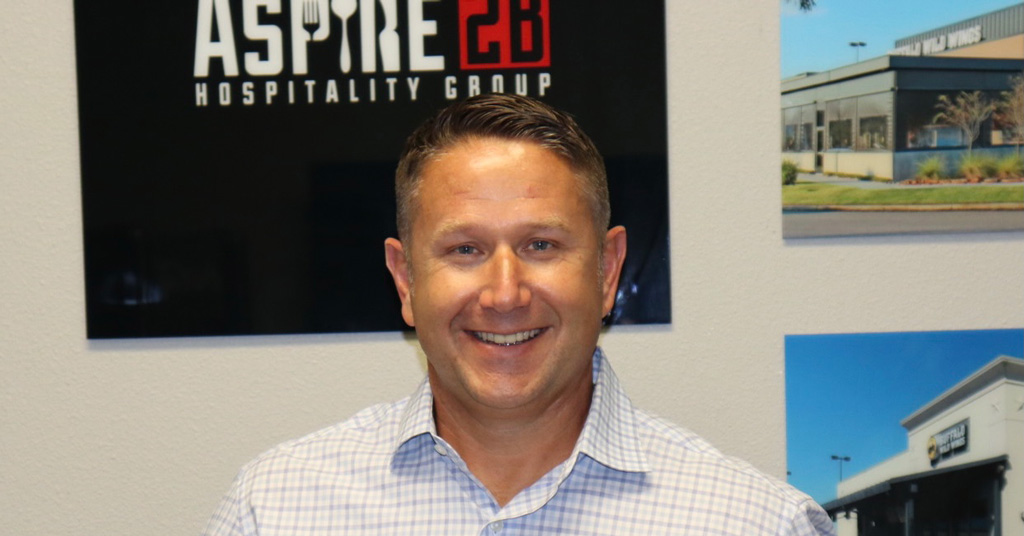 Name: Chris Olexa
Title: CEO, Founder
Company: Aspire2B
Units: 9 Buffalo Wild Wings, 3 Arby's, 1 Rusty Taco, 1 Mellow Mushroom
Age: 48
Family: Wife Kimberly Olexa of 25 years, children Brenden Olexa 20, Keith Olexa 18, Clara Olexa 15, Chapel Olexa 7
Years in franchising: 23
Years in current position: 23
Chris Olexa is the 2020 Spirit of Franchising Award MVP (Most Valuable Performer).
He grew up knowing what it was like to live in hard times. Raised in Beaumont, Texas, he and his mother struggled to get by on food stamps and whatever he could earn at jobs while still attending school. This early hard-knock existence would set him up for success later in life.
Olexa had always dreamed of owning his own business. When the time came he opened a Quiznos, and then a second. Later, the opportunity arose to purchase a Buffalo Wild Wings (BWW), so he sold his Quiznos locations and made the transition to a sports bar concept. By 2008, he had opened three more BWWs and was on his way to achieving his goals when tragedy struck. His life was upended by a cancer diagnosis, followed by two consecutive hurricanes that forced all four of his sports bars to close.
He fought the cancer, regained his health, and worked harder than ever to reopen his four BWW locations. He's since added four more and acquired his first Rusty Taco.
In 2018, when Inspire Brands was founded, Olexa signed on to develop three new Arby's, pioneering the cross-brand franchising opportunities within the Inspire platform. Today he is a franchise advisory council member for both BWW and Rusty Taco.
Today, he continues to build his business and has never lost sight of where he came from, what he's gone through, and what he aspires to build for himself and his family.
PERSONAL
Formative influences/events: I did not have the ideal life as a child. However, I was determined to not let my circumstances define my outcome as an adult. I wanted to change my destiny and knew it would take hard work, but I stayed the course. I viewed obstacles as only challenges and did not allow them to cloud my focus.
Key accomplishments: All of the above, after begging a bank to finance our first project.
Next big goal: Who knows, it's always changing.
Hardest lesson learned: Never fall in love with a site!
Best advice you ever got: Be the bull in the room, but stay humble.
What's your passion in business? Aspire others to "Aspire2B" more today than yesterday.
MANAGEMENT
Business philosophy: Stay focused on hospitality and making sure that every rock is in its place. We must be present in our stores, connecting and being transparent with our teams and guests.
Management method or style: I feel my management style is more that of a visionary. Being a little more of a risk-taker and staying optimistic helps keep our team focused on our goals.
Greatest challenge: Finding great leaders who truly understand that our guests are the most important thing in our business. Hospitality is a forgotten art!
How close are you to operations? That's all I know (LOL). Yes, my favorite things are working in the stores with our team members and seeing how our guests react to operations. It's very important that if we ask our team members to do something, they see our leadership team do it too. While in the stores we also get some great feedback on what we are winning at and what needs some improvements.
COVID-19
What have been the biggest impacts of Covid-19 on your business? Staffing and controlling the increasing cost to do business.
MVP QUESTIONS
Why do you think you were recognized with this award? I would think it's because of our teams' hard work and staying focused on growth and success managing multiple Inspire Brands concepts.
How have you raised the bar in your own company? By challenging our teams to be best in class! And by keeping hospitality in the forefront of our minds.
What innovations have you created and used to build your company? Embrace uncertainty—especially during the pandemic. Coming up with unique ways to serve our guests through the obstacles handed down to us. Innovation doesn't always have to be big and adventurous. Setting small goals and achieving them is sometimes a more powerful way to make a better impact. Innovation is a creative process, and we have a perfect canvas within our restaurants to capture ideas that build value in our brands.
What core values do you think helped you win this award? Being the bull in the room and staying focused on growth and operational excellence. Open-mindedness, optimistic positivity, and being reliable, honest, dependable, and consistent.
How important is community involvement to you and your company? Being involved in our community is so important. It promotes goodwill and helps us stay connected to our guests and the community.
What leadership qualities are most important to you and your company? It seems I lean toward someone who is self-managing, accountable, and responsible. Most of all, I value team-building and promoting teamwork.
BOTTOM LINE
Annual revenue: $30 million.
2022 goals: Open four new locations while embracing the new BWW Go concept.
Growth meter: How do you measure your growth? Units opened, top-line sales, and bottom-line profits.
Vision meter: Where do you want to be in 5 years? 10 years? After Covid surprised us all it's hard to focus that far out. So I try to plan more like 2 years out. But I would like to continue my vision of our partnership with Inspire Brands and grow under their proven successful leadership.
What are you doing to take care of your employees? Staying competitive with pay and opportunity with growth. We always try to go back to my main motivator and always "Apire2B" more.
What kind of exit strategy do you have in place? I don't have one. Still having too much fun.
Published: December 10th, 2021
Share this Feature
Recommended Reading:
Comments:
comments powered by

Disqus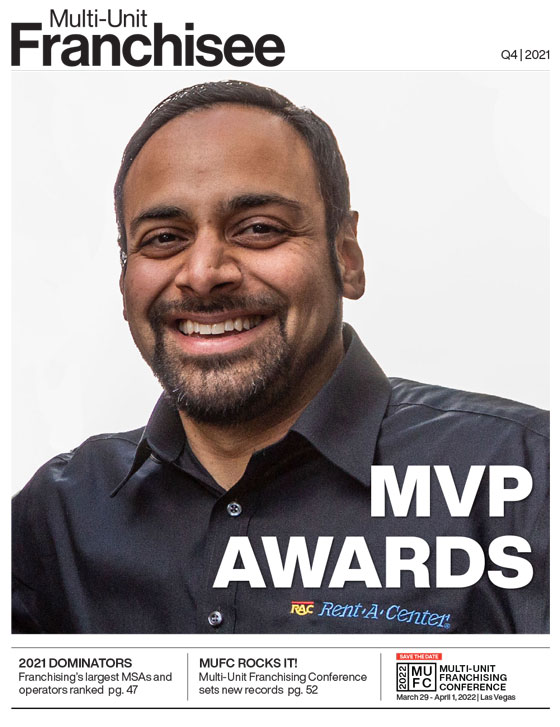 Multi-Unit Franchisee Magazine: Issue 4, 2021
Massage Heights is a passion brand, a lifestyle brand, and a spa franchise brand that truly helps people live their best lives by encouraging them to...
Cash Required:
$175,000
A one-of-a-kind concept with wood-fired pizza and a self-pour taproom wall serving beer, wine, and mixed cocktails. Great for the semi-absentee...
Cash Required:
$250,000