MVP Dawn Lafreeda Did It Her Way: 2020 Single-Brand Leadership Award recipient
Name: Dawn Lafreeda
Title: President, CEO
Company: Den-Tex Central
Units: 81 Denny's
Age: 60
Family: Partner of 27 years and 17-year-old twin sons
Years in franchising: 37
Years in current position: 37
Dawn Lafreeda is the 2020 Single-Brand Leadership Award MVP (Most Valuable Performer).
Lafreeda has grown her business to become one of the largest female-operated franchisees in the world. Her path to the top has been filled with unique challenges and bell-ringing successes. She recalls starting out as a waitress with an entrepreneurial spirit, some saved tips, and credit cards. She recalls the day after the 9/11 attacks when her entire business dropped by 30%. Today her company, Den-Tex Central, operates 81 Denny's and employs more than 3,000 people in restaurants in 6 states. Each month, nearly 1.2 million customers dine at her restaurants, generating $100 million in sales each year.
For her entire career, Lafreeda has remained dedicated to one brand: Denny's. "I focus all my energy on making the most of the efficiencies it provides and knowing that my time and attention are not diverted elsewhere," she says. She has operated under a personal philosophy that she would know one brand, know it well, and would succeed.
Because of her success with Denny's, Lafreeda is frequently sought out by other franchisees. She is always eager to talk with them about best practices and her own experience with the brand because she knows it helps ensure the future growth for other franchisees, and more importantly, the longevity of the Denny's brand itself.
Lafreeda, a director and treasurer on the Denny's Franchise Association board, also serves on the special events committee, on Denny's Development Brand Advisory Council, and on the brand's Corporate Social Responsibility Committee. She knows the importance of having a shared voice between the brand and its owners.
PERSONAL
Formative influences/events: 9/11 was a huge event for me. It taught me survival in a whole new way. Sales dropped 30% overnight. I had just bought several restaurants in 1999 and 2000 when the economy was booming and prices were high. When sales dropped, I had to expand my operations into new markets to make money to pay for the stores that were suffering. The strategy worked and I found new and greater success.
Key accomplishments: Always believing that anything is possible. I was a waitress who started a business off tips and credit cards and became the largest female, full-service restaurant franchisee in the country. With more than 37 years in the business, we have survived some very difficult times: 9/11, the financial crisis, and now the pandemic. Expanding my operations into multiple states. Bringing some amazing people into my organization who have stood by me for more than 20 years. Balancing my family and my business.
Next big goal: It took me 37 years to open and operate more than 110 restaurants. My next big goal is to share what I have learned with my twin sons and other young up-and-coming franchisees.
Hardest lesson learned: My hardest lesson also turned out to be a gift. Many years ago, I had a 50% partner and it was very stifling and limiting. Once I bought that person out, I was able to build the business the way I wanted, the size I wanted, and without the limitations. It was a very expensive and agonizing process at the time, but once out of it I thrived and learned you can never ever have a 50% partner or you are at a stalemate. It is important to own 51%.
Best advice you ever got: From my mom when I was buying my first restaurant at age 23 and was worried about failing. She said, "What's the worst thing that can happen? You start over at 26." I took the ball, ran with it, and never looked back. I still use that advice today when I am faced with conflicts. "What's the worst thing that can happen?" It's been a great tool and I have a passed the same advice on to my children.
What are you reading/favorite business books? My best friend, actress Sharon Gless, just wrote a wonderful memoir called Apparently There Were Complaints and I am loving reading every moment of her wonderful life and career. I have 2 favorite business books that I find I refer to and reread frequently: The Success Principles by Jack Canfield and Outliers by Malcom Gladwell. They both offer tools and inspiration.
What's your passion in business? Collecting restaurants. I love the art of the deal and making it all happen from start to finish. I get a thrill knowing I have created jobs and get to feed people, which I love!
MANAGEMENT
Business philosophy: I never take shortcuts and always try to do the right thing. Be fair and honest and put your intentions out there so that others know what you want, need, and expect. I believe in transparency and sharing thoughts and ideas.
Management method or style: I believe in fairness, and I do what I say I am going to do. I am very organized, aggressive, and do not procrastinate. I am only as successful as my staff and try to surround myself with a team that has the same values.
Greatest challenge: While Covid has presented many challenges in the past 18 months, the single greatest challenge in my career is trying to find and retain the right staff. We are in a time when there are staffing issues in every single location. In the past, it may have been a store or a market. In 2021, it is every store in every city we do business in. The pressure on the team is huge. Recruiting and retaining quality staff is by far the biggest challenge I am faced with.
How close are you to operations? Close. I have wonderful leaders who oversee the restaurants and the administrative aspects, but we work as a team to ensure that we make the best decisions for the restaurants and the company. I touch every part of the business and am involved in all aspects.
How do you hire and fire, train and retain? This is the single biggest challenge we face today. The industry has a huge shortage of employees, so our big focus has been on ways to hire and we are doing everything in our power to find people. We use recruiting firms, digital ads, job fairs, scan code applications, employee recruiting incentives, etc. Once we hire, the next challenge is retaining our staff. Most businesses in our industry are struggling in the same way, and we must come up with ways to keep our staff. Sometimes the small things go a long way. Managers who understand that are successful, while those who do not struggle and need assistance.
COVID-19
What have been the biggest impacts of Covid-19 on your business? There are so many, but I think the biggest has been the uncertainty and inconsistency from city to city by our government officials. We were not able to make our own business decisions. We had very little notice when to shut down—and were told it would be for 14 days, which as we all know turned to months. We lost most of our inventory and we lost our trained employees. Once we finally got open, we were told when to open, when to close, how many people could come in, how close they could be, etc. If someone tested positive, we were shut down again. It is very difficult to run a business with the rules changing daily.
This has also been a very un-level playing field as to what was defined as essential or non-essential, who got to stay open and who had to close. Some got to thrive, like grocery stores, Walmart, Home Depot, and drive-thru restaurants, while sit-down restaurants had to close dining rooms. Some cities didn't even allow outdoor dining. Small operators got more financial help from government, but it didn't mean large operators didn't have all the same problems—only multiplied. We had to make some hard decisions and closed several locations to protect the overall health of the others. When you have a lease that is up for renewal for another 10 years and have no idea when you are reopening, you must make a difficult decision.
MVP QUESTIONS
Why do you think you were recognized with this award? For my entire career, I have stayed true to one brand, Denny's. I focus all my energy on making the most of the efficiencies it provides and knowing that my time and attention are not diverted elsewhere. My personal philosophy was: know one brand, know it well, and you will succeed. I was a girl who was a waitress when Denny's gave me an opportunity. And I was happy, so I built, and I built, and I built.
How have you raised the bar in your own company? I believe that starting as a hostess at Denny's when I was 16 and doing what I do, especially since there are very few women who do it, raised the bar and gave people hope that, "If Dawn could do it, so can I." I have worked hard and paid my dues and have reaped the rewards. I think others have learned it is not easy, but if they have the drive and determination, they can do it too.
What innovations have you created and used to build your company? I am not sure I would call them innovations, but I definitely had strategies about how I was going to build my company. I was careful about how much debt I took on with a new store and would do a mix of new builds, turnkeys, and conversions so I could build cash flow. I stuck to labor-friendly markets. I always used multiple lenders and never let any lender structure a loan that required putting a blanket UCC on my company. I negotiated some very good lease terms and paid close attention to loan terms, covenants, and requirements.
What core values do you think helped you win this award? Reliability, loyalty, passion, and commitment.
How important is community involvement to you and your company? Very important. We are always engaged and believe it is important to contribute and give back. We always have something we are doing, and we have built many relationships and partnerships in our community.
What leadership qualities are most important to you and your team? In this industry, experience is important. Dedication, hard work, honesty, and a philosophy that I respect are a must. I like leaders who challenge me, who have done their homework, and who bring new ideas.
BOTTOM LINE
Annual revenue: $100 million.
2022 goals: To be able to resume business like we did before Covid. Get our restaurants fully staffed and open 24 hours. Get back to running our restaurants instead of having to focus on surviving Covid and the constantly changing rules.
Growth meter: How do you measure your growth? I measure it by EBITDA and opportunities that will make our company stronger. I also measure it by how prepared and ready we are to grow through the infrastructure we have in place.
Vision meter: Where do you want to be in 5 years? 10 years? I'd like to be working less knowing my business is in good hands. I'd like to be involved on a limited basis and spend my time mentoring and consulting.
What are you doing to take care of your employees? We have a nice benefit package, but since Covid the name of the game has been flexibility. We must be sympathetic to the issues our employees are dealing with. Do they live with a compromised person? Are they vaccinated? Do they have kids who cannot go to school, inhibiting their ability to work a typical shift or schedule? Everyone has been affected by the challenges of Covid. We must be open to adjusting to their needs so they feel safe, happy, and motivated.
What kind of exit strategy do you have in place? While I don't have a firm plan in place, I do think about it often. With every location, loan, or deal I do, I take that into account—making sure that when I step down, everything is in good order and that there is nothing that can prohibit it when that time comes. I pay very close attention to the team that is in place, leases, loans, loan lockouts, agreement terms, etc.
Published: November 21st, 2021
Share this Feature
Recommended Reading:
Comments:
comments powered by

Disqus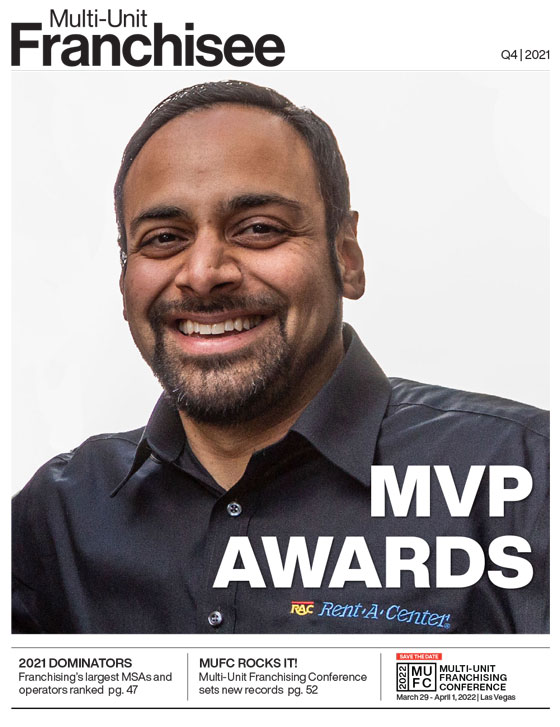 Multi-Unit Franchisee Magazine: Issue 4, 2021
Class 101 college planning franchise helps high school students get into better colleges and qualify for higher amounts of scholarships and financial...
Cash Required:
$50,000
Ace is #1 for convenience hardware! You pay no royalty fees. Instead, Ace pays you a year-end rebate based on your annual purchases. Enjoy the...
Cash Required:
$250,000