Negotiate from Strength: 7 Tips for Leasing Commercial and Retail Space
A great franchise in a poor location will become a poor business. When it comes to site selection, one difference between an independent tenant and a franchisee is that, presumably, the franchisee will be getting real estate help and support from the franchisor. Whichever side of the coin you're on, here are some site selection tips for leasing commercial and retail space:
Allow enough time so you're not making decisions under pressure. Typically, new franchisees should start the site selection process at least six months in advance of when they wish to open. If you find a great site right away, usually the landlord will hold it for you for a few months. If the process takes longer, you may need several months to finalize the Offer to Lease, have the formal lease documents reviewed, and build out your store.
Don't let a Realtor (who represents landlords) show you space all over town. This will effectively create commission splitting between the property's listing agent and the outside agent. It will also undermine your negotiating power, as the agent will know how you feel about every location. Realtors may be helpful in pointing out a good location--but will they negotiate aggressively on your behalf if it means jeopardizing their landlord-paid commission? (The higher the rent, the higher the agent's commission.) Even the most altruistic agent will struggle trying to serve two masters.
Make your leasing inquiry by calling the "For Lease" number on the property or listing agent's sign. Do this after you have finished driving around doing site selection. This way, you will meet and negotiate with or through the listing agent directly. Begin by viewing prospective sites, from worst to best. You will become better at handling yourself, and when you find the property you like most you will ask better questions and remain more in control of the leasing process.
Don't telegraph your intentions. Have the leasing representative send you some preliminary information before you agree to view any space. During the viewing, stifle the urge to think out loud. Subtle comments overheard by the leasing representative or property manager can work against you. If asked how much you have budgeted for rent, be vague. Not every question deserves an answer--not just yet anyway.
Resist making the first Offer to Lease. The landlord's leasing representative, upon your request, will prepare a lease proposal or an Offer to Lease containing suggested Terms and Conditions for your tenancy. While this is not a site selection tip per se, it is an integral part of the site selection process. Franchise tenants who receive an Offer to Lease first will be nicely positioned to counter-offer or negotiate. To get the best lease deal possible, you want the landlord to pursue your tenancy--not vice versa.
Don't negotiate on only one location at a time. As a franchise tenant, you can--and should--create competition for your tenancy by getting lease proposals on several different properties simultaneously. Negotiating on numerous locations may be the single most effective tool you have for creating the best deal. If one landlord is offering you three months of free rent, perhaps the next one will increase that to four, and the next may top this to five. Play one landlord's lease proposal against another's and you will negotiate from a position of strength.
Do your homework before you start. Pull out a map and mark the boundaries of where you are willing to site your business. Use the Internet to pinpoint locations of competitors and complementary businesses that might help your franchise become more successful. Also, talk with existing tenants at prospective sites. Good preparation is an excellent substitute for novice negotiating skills.
When doing site selection, remember that landlords prefer to lease their worst space first, saving the best for last. Usually, the individual unit or location within a shopping center or strip mall is more important than the mall itself (or at least equally important). Lease rates can vary two to three times within the same building, depending on desirability and demand for a particular premise, time of year, visibility, walk-by or drive-by traffic, accessibility, the shape of the space, the quality of the neighboring tenants, anchor tenants, and the strength of your franchisor's name.
Don't rule out great properties just because there are no vacancies. By contacting the property manager or leasing representative, you may discover that a tenant's lease is about to expire. Perhaps a tenant is leasing on a month-to-month basis and the landlord hopes to find a more permanent, secure tenant like you. Every building has tenant turnover at some time or another. Considering that you will be leasing the location for a very long time, I always recommend that it is best to wait.
Finally, if you already have a franchise business and are considering relocating when your lease expires, start your site selection process 9 to 12 months or more in advance. The theory here is that if you cannot get a decent lease renewal, you need ample time to select alternative sites and negotiate a new lease elsewhere.
Good luck with your franchise site selection!
Dale Willerton is The Lease Coach, a senior commercial lease consultant, author of "Negotiate Your Franchise Lease or Renewal," and frequently speaks at franchise conventions and shows. Need help with your new lease or renewal? Call 800-738-9202, email dalewillerton@theleasecoach.com, or visit www.theleasecoach.com or www.helpuleasefranchise.com.
Published: December 13th, 2010
Share this Feature
Recommended Reading:
Comments:
comments powered by

Disqus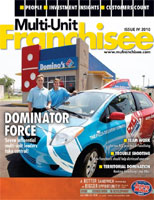 Multi-Unit Franchisee Magazine: Issue 4, 2010
Grab Hold of the Bold with the legacy brand that is backed by 50+ years of experience, a fresh look and feel, and outstanding menu innovation, all...
Cash Required:
$500,000
At Nautical Bowls, we combine healthy, fresh superfood bowls with an uplifting atmosphere, giving you energy to life a full life! Our goal is to...
Cash Required:
$100,000