New Source of Capital
Giant package delivery services are showing their muscle by looking for new ways to fuel expansion. Take the case of UPS with its UPS Stores across the nation. Many were formerly part of Mail Boxes Etc.

UPS has decided to expand its role in the franchise community.

Its financial services arm, known as UPS Capital Business Credit, for example, recently announced it is adding franchise finance capabilities to its portfolio of small business offerings.

"The franchise industry is a vital component in our nation's economy and UPS Capital is committed to helping this segment grow and prosper," says Bob Bernabucci, president of UPS Capital.

UPS Capital will be making Small Business Administration 7(a) loan guarantees available to help franchisees start new or acquire existing franchises. (For details on the SBA 7(a) program, see "Basic SBA 7(a) Program" below).

In addition, the financial services side of UPS recently hired Richard Combs as franchise director to lead the new franchise financing arm. Known as "the grandfather of franchise financing," Combs has extensive experience in franchise lending with national commercial credit corporations, banks and other financial institutions, including Westinghouse Credit Corp., Bank of America, and The Money Store.

His experience and work with franchisees and franchisors attracted him to the industry 25 years ago. During his tenure with different financial organizations, he worked to establish a successful franchise finance program for these institutions. He says his personal goal now is to make UPS franchise lending a household word, just as it is in the delivery services area.

A Good Record
UPS Capital has already made progress in financial services. For example, it facilitated 248 SBA (7)a loans valued at more than $153.4 million, tripling its previous annual SBA (7)a lending volume for the fiscal year ending September 30, 2005. That has placed UPS Capital among the SBA's top 25 lenders as measured by dollar volume facilitated in 2004.

UPS Capital's current goal is to work with franchisors not only to provide financial services for the benefit of individual franchisees, but also to help the franchisors streamline the flow of goods and information within their networks, says Bernabucci.

UPS foray into financial services began when UPS first purchased a bank located in Hartford, Conn. The bank had experience with SBA lending and UPS Capital's decided to continue offering this type of financing on a national level. From there, it seemed only natural to move on to franchise financing, says Combs.

"Franchising lending is definitely a growth industry because it affects numerous industries such as restaurants to lodging to the automotive after-market to education and learning centers," he says.

Under its plan, UPS will offer a franchise finance portfolio through preferred lender agreements with franchisors in the food, lodging, petroleum, automotive, healthcare, childcare, education, and entertainment industries. Franchisors that already have identified UPS Capital Business Credit as a lending source for franchisees include Del Taco and Jack in the Box Inc.

Proceeds from SBA 7(a) and 504 loans can be used by franchisees to take care of a number of functions. These include: starting a new franchise or acquiring an existing one; purchasing machinery and equipment; refinancing existing debt; undertaking leasehold improvements, including leasing building enhancements; purchasing commercial real estate; and acquiring working capital and inventory.

Combs points out that many multi-unit franchisees can qualify for the SBA 7(a) program, which can provide as much as $2 million.

It is important to point out that under the SBA's Preferred Lender Program, UPS Capital cannot facilitate loans on behalf of franchisees of The UPS Store or Mail Boxes Etc.

Other Services
UPS also is adding other products to its financing service offerings. For example, it has launched a program to make a UPS Capital Visa Platinum Business Card available to small business borrowers. UPS as a whole has many services to offer business owners.

"The hope is that merchant services, credit cards, insurance, and shipping needs offered by UPS will also be used by the franchise industry," Combs says. Ultimately the aim is to bring more than just loans to the franchise industry.

For more on UPS Capital, visit (www.capitalups.com). Combs can be contacted about lending at (rcombs@ups.com).

Basic 7(a) Loan Program
The Small Business Administration's 7(a) loans are the most basic and most used type of the SBA's business loan programs. The 7(a) loans are only available on a guaranty basis. This means they are provided by lenders who choose to structure their own loans by SBA's requirements and who apply and receive a guaranty from SBA on a portion of this loan.

The SBA does not fully guaranty 7(a) loans. The lender and SBA share the risk if a borrower is for some reason unable to repay the loan in full. The guaranty is one against payment default. It does not cover imprudent decisions by the lender or misrepresentation by the borrower.

Under the guaranty program, commercial lenders make and administer the loans. The lender decides if they will make the loan internally or if the application has some weaknesses, which will require an SBA guaranty. The guaranty is only available to the lender. It assures the lender that if borrowers don't repay their obligations and a payment default occurs, the federal government will reimburse the lender for its loss, up to the percentage of SBA's guaranty. The borrower remains obligated for the full amount due.

A key concept of the 7(a) guaranty loan program is that the loan actually comes from a commercial lender. It is important that all applicants know the lender's criteria and requirements as well as those of the SBA.

Repayment ability from the cash flow of the business is a primary consideration in the SBA loan decision process but good character, management capability, collateral, and owner's equity contribution are also important considerations. All owners of 20 percent or more are required to personally guarantee SBA loans.

The eligibility requirements are as broad as possible so the lending program can accommodate a diverse variety of small business financing needs. All businesses that are considered for financing under SBA's 7(a) loan program must meet SBA size standards, be forprofit, not already have the internal resources (business or personal) to provide the financing, and be able to demonstrate repayment.

SBA must determine if the principals of each applicant firm have historically shown the willingness and ability to pay their debts and whether they abided by the laws of their community. A "Statement of Personal History" is obtained from each principal.

The SBA 7(a) program has a maximum loan amount of $2 million and SBA's maximum exposure is $1.5 million. For more information on this program, visit SBA.gov and click on "Financing Your Business."

Joan Szabo is a Virginia freelance writer who specializes in finance.
Published: November 15th, 2006
Share this Feature
Recommended Reading:
Comments:
comments powered by

Disqus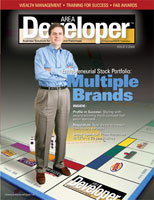 Multi-Unit Franchisee Magazine: Issue 2, 2006
At Celebree School, our child care franchise delivers a safe, nurturing, friendly, state-of-the-art learning environment that fosters a solid...
Cash Required:
$250,000
Own a highly profitable business that impacts lives in your community by jumping into action as an Urban Air franchisee owner.
Cash Required:
$750,000