Optimize Marketing Funds: Hyper-target Campaigns by Household
Advertising is not what it was 10 years ago. The pace of change for technology and data accuracy is just beginning to be understood. Both B2B and end-consumer customers have come to expect advertisers to understand who they are and "sell" to them appropriately. Companies today have access to understanding their ideal target market at a granular degree never seen before, so these expectations can be met.
One of the big issues in franchise marketing is the lack of balance between the need for system-wide consistency and location-level customization. Balancing these rather conflicting objectives is at the center of the marketing challenge most franchise systems face.
Marketing has become highly sophisticated, but I think we might be applying available technology to address the forest when we should be looking at the trees. We are investing an incredible amount of time, money, and marketing resources to reach as many people as possible when, with the right data analysis, resources can be best spent on targets with the best potential results.
Why strive to reach millions of people, the vast majority of whom aren't appropriate for your products or services, when you want to reach the hundreds or thousands who have the specific attributes ideal for your products or services? For the solution, perhaps we can turn to examples of the political usage of big data in recent presidential campaigns.
Starting with the 2008 campaign, big data turned mass marketing into targeted marketing. Instead of trying to attract people to a cause or an issue, a few data companies started profiling households. What magazines did they subscribe to? Were they college educated? Did they have pets? Rent or own? What were their purchasing patterns? What credit cards did they use? What schools were they near? The range of data points was almost endless.
Armed with that set of detailed profile data, the campaigns turned to hyper-targeted messaging to select individual households. While mass communications remained an important part of the political marketing plan, targeted marketing made a significant difference in reaching people and getting them to respond. Once the fine-tuning of the household profiles was completed, the rest was fairly straightforward targeted marketing. This work altered elections.
Lessons for franchising
Franchising seems well-suited to incorporate the same approach into its marketing campaigns. But how would this work?
Incredibly sophisticated data houses have sprung up to address the last decade's political campaigns. During the past 12 months, we took our entire franchisee database and matched it to one of these data house's file of 150 million households. That allowed us to expand our level of detail about a franchisee from basic information to detailed household information. We not only know what unit they own, but who they are as individuals. This obviously allows franchisors much better insights into their franchisee community. Among other things, this is helping franchisors target similar prospective franchisees in other markets.
Why not use that same capability to profile a franchise system's customers? This could be done on a very granular, localized level. With such a localized profile, using such a database of household information would allow franchisors to address the forest and franchisees to address the trees, thereby solving one of the major balancing challenges franchisors confront.
What are you measuring?
Let's move on to a second issue: measuring activity, but not outcomes. Marketing is the only franchisor-related function that involves both franchisor and franchisee financial contributions. This makes franchisors accountable to their franchisees not only to explain how they spent the marketing dollars, but whether it was effective. Explaining how they spent marketing dollars is easy, but perhaps misguided. Remember portals and clicks in the 1990s? Back then all that seemed to matter was getting clicks. Today clicks have given way to "likes" and "shares" and "retweets." Using such measures to address effectiveness has been problematic and, I think, usually misses the real questions franchisees have:
How did the marketing spend affect franchisee unit revenues?
How did that revenue change per marketing dollar compare with other brands?
If I were a franchisee, I'd be willing to contribute more to the ad fund if the answer to the first question was that my net revenue increased more than the cost of marketing. Answering that question is not as tricky as many believe. Perhaps a future article can be dedicated to that topic.
The second question is waiting for us to answer. In doing so I'm quite confident we will have better marketing performance. We're seeing that reflected in the Item 19 Financial Performance Representations (FPR) study we did for the IFA: better-performing brands are disclosing more detailed FPR information. By analyzing franchise system revenue changes and marketing spend, the most effective marketing programs will reveal themselves. The old adage, "You get what you measure," really does hold true.
Darrell Johnson is CEO of FRANdata, an independent research company supplying information and analysis for the franchising sector since 1989. He can be reached at 703-740-4700 or djohnson@frandata.com.
Published: August 28th, 2017
Share this Feature
Recommended Reading:
Comments:
comments powered by

Disqus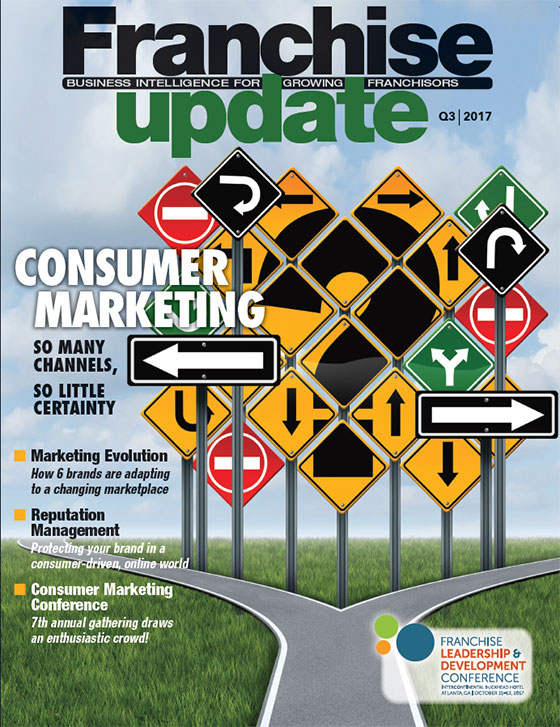 Franchise Update Magazine: Issue 3, 2017
Conferences
InterContinental, Atlanta
OCT 18-20TH, 2023
The business messaging platform that lets you text from your office phone number directly on your computer, so you can actually get a response.
The Hungarian Franchise Association was founded in 1991 as an interest representation organization of the franchise business community.