Get the Picture: Visualogistix Offers Brands Turnkey Marketing Solutions
When you hear the name "Visualogistix," it conjures up a pretty good idea of just what the company does. A division of Dallas-based Thomas Printworks, Visualogistix handles marketing strategy, execution, and distribution for franchise companies across the country. The division was launched in 2010 to assist franchisors with marketing supply chain management, multi-channel marketing execution, and dynamic digital signage, says Trevor Hansen, the company's vice president.
"Visualogistix focuses on helping organizations streamline their marketing supply chain, using our web platform and our strategically located production and fulfillment centers to create a more efficient delivery model for franchisees to access and receive the marketing tools they need to succeed and help grow the brand," says Hansen. "We engage with our clients through a discovery process to identify key pain points and areas where we can help the client have significant efficiency gains, increased response rates, and cost savings."
The company takes care of the procurement, fulfillment, and, if necessary, the installation of its clients' marketing campaigns and collateral. The process reduces the time franchise marketing departments spend on tasks that take them away from their core marketing functions.
Hansen says Visualogistix is uniquely positioned to assist growing franchise brands and those trying to make their marketing execution more efficient, as well as effective. Typically, those companies have limited marketing resources and must do more with the team they have. "They are looking to run multi-channel campaigns, limited time offer campaigns, and provide their franchisees with a high level of marketing options that can be localized, while still protecting the brand integrity," he says. Most of the company's clients have between 20 and 1,000 units.
The company's nine print production and fulfillment centers are positioned around the country to quickly provide clients with the resources they need. The company has also taken its knowledge of print execution and applied it to the execution, installation, and support of digital signage networks for menu boards and other applications.
Today's franchise brands are looking for the capability to allow franchisees to localize their marketing efforts, while ensuring they adhere to brand standards. Meanwhile, customers, especially Millinnials, he says, are looking for brands to have a local feel.
Multi-channel solutions
"We are seeing an increase in demand for multi-channel campaigns, the ability to tie together direct mail, social media, email, and SMS text messaging into a strategic campaign," Hansen says. Multi-channel campaigns are growing in sophistication, with response rates significantly higher than with traditional, single-channel campaigns. Multi-channel campaigns also support triggered personalized communications that aid in higher response and close rates.
It has become increasingly important for brands to understand the local market and the individuals in it. To communicate to an individual customer's specific interests, local store marketing (LSM) efforts must maximize the use of personal data collected through POP and web interactions.
He says Visualogistix will continue to expand its multi-channel offerings to include additional social media support. "Social media in the marketing mix is extremely important and, when tied together with traditional marketing methods, campaigns can see as much as a 10 times increase in response rates overall," he says.
Visualogistix is also expanding its digital signage tools, which will allow audience-aware technology to recognize who is looking at the screen and deliver content based on that individual. Hansen says the company is seeing continued growth in the adoption f digital menu boards and digital signage.
"Additionally, we are working on augmented reality solutions for use in direct mail campaigns and in-store POP," says Hansen. Now that's a partner with vision.
Nothing Bundt Cakes
When it came to supporting their bakeries, the franchisee support team at Nothing Bundt Cakes knew they were facing some challenges in the production, fulfillment, and quality of their printed signage and the reliability of their print production vendors. They also knew if that if they didn't identify the right solution quickly, they would waste valuable time going from crisis to crisis without ever solving the underlying issues - and feared they would lose credibility with their franchisees, who were becoming increasingly dissatisfied with the print procurement process.
Existing print vendors had frustrated the brand with errors in production and order fulfillment, technological barriers, difficulties in reliably bringing new bakeries on board, print quality issues, and dealing with seven different account reps in a four-year span, resulting in inconsistent service and pricing to the bakeries. So they turned to Visualogistix.
Their goal was to find a print procurement system that operated like clockwork: a vendor with quality printing and reasonable pricing, as well as a knowledgeable, problem-solving team able to find the right print solution for each unique need. Nothing Bundt Cakes found that Visualogistix could provide:
responsive service, leadership, and professionalism in all communications with every member of the team, from CEO to single-unit franchisee;
creative solutions to problems and a proactive approach to quality control, print production, and order fulfillment;
a willingness and ability to go the extra mile to ensure that the support team and bakeries have what they need, when they need it;
an adaptable online custom portal that makes ordering simple and efficient for franchisees; and
franchisees with multiple options to find the tools they need to meet their market's needs.
The Visualogistix Marketing Asset Management solution gives the franchisee support team at Nothing Bundt Cakes complete control of their marketing content, while still allowing for local market customization. The flexible interface makes it easy for both corporate marketing managers and local managers to get what they need, when they need it, and with the quality expected of the brand.
Visualogistix provided Nothing Bundt Cakes with a simpler way to ensure that the high quality of their brand image is not compromised by shoddy print production, inconsistent vendors, unreliable fulfillment services, and confusing ordering systems.
Now, the brand's franchisee support team members can rest easier, knowing that the items their franchisees need will be delivered to their locations on time and on spec - and that Visualogistix will continue to provide this service as the brand grows nationwide.
As a result, the franchisee support team at Nothing Bundt Cakes can focus on new directions for their print production needs, rather than on resolving service and production issues.
Published: October 21st, 2017
Share this Feature
Recommended Reading:
Comments:
comments powered by

Disqus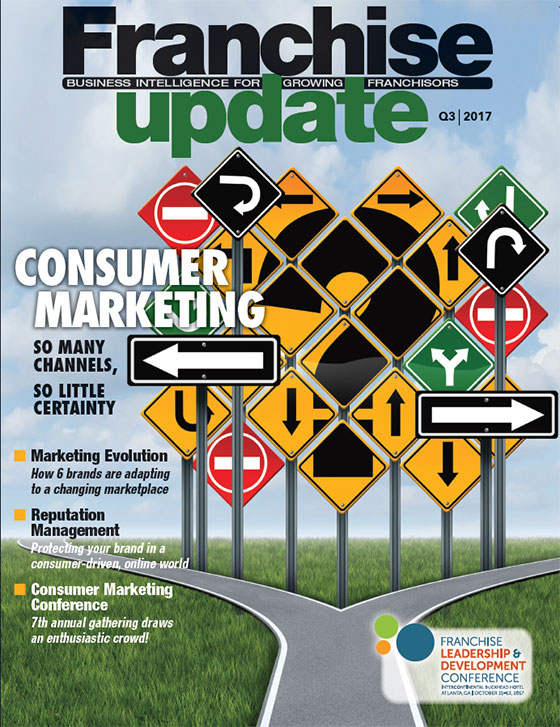 Franchise Update Magazine: Issue 3, 2017
Atmosphere TV is the world's leading cable alternative, providing free streaming TV for businesses.
Franchise Update Media (FUM) is the trusted resource for the franchise industry. For 30+ years, FUM has been the leader in providing valuable...