Outsourcing To Add Value: Using Third Parties to Enhance Valuation
During the initial stages of an exit strategy engagement with our clients, we spend considerable time gaining a full understanding the client's business. One component of developing this strong grasp of the client's specific situation is uncovering situations that can enhance the overall profitability of the client's company. This process is critical in assessing the "true" value of the business, which is one of the valuable services we provide our clients.
Typically, our areas of focus will include the investigation of issues such as temporary impacts to the business (e.g., road construction), facets of the business that have not yet matured (e.g., new unit development), and corporate overhead structure to ensure that any excess owner-specific compensation and benefits are removed.
In 22 years representing restaurant and franchise clients, we have found a wide disparity in the manner that our client companies operate, and we have noted the impact this can have on the profitability of their businesses. Because companies do not typically share information with their competitors, best practices for managing a business are often proprietary for each company. Even with franchise businesses, it is rare to see a sharing of operational information that facilitates the blending of best practice methodologies.
Most entrepreneurial companies tend to operate their businesses with very little change over the years. They adopt an organizational method and established way of doing things, and tend not to vary much over time. By taking a fresh approach and examining a few key areas of the business, we have found that many clients can uncover a wealth of benefits.
So why are we discussing this in an article about exit strategies? Simply stated: so that we may enhance the overall profitability of and value for our client companies. The types of adjustments referenced earlier are common for a valuation/assessment process. However, implementing some best management practices can not only enhance the value of a company when it is seeking an exit, but can also provide additional operating and financial benefits in the interim.
Outsourcing can boost value
Outsourcing financial administrative functions is a strategic option that quickly reduces overhead costs and results in an increase in the market value of a multi-unit business. By outsourcing internal departments such as accounting and payroll, multi-unit business owners report saving as much as 35 percent versus their previous in-house operations--savings that are typically larger and realized more quickly than those generated by internal process improvement initiatives.
And, according to David Oden, president of InfoSync Services (the leading provider of comprehensive outsourced accounting, payroll, and operational reporting services to multi-unit restaurant companies), the benefits go well beyond cost savings:
"Through outsourcing, business owners are able to achieve immediate measurable improvements in their company's G&A costs, financial systems, controls, administrative processes, and reporting, all without large capital investments. But the greatest benefit is the hardest to measure--the freedom of business owners and their executive teams to focus on business operations without the distraction of also managing the day-to-day activities of a financial administrative organization. The financial team of the business spends more time focusing on enhancing results and less time on processing data. This sharper focus on operations leads to bottom-line improvements that will further enhance the value of your business."
Outsourcing financial functions offers other strategic advantages as well. Thinking of selling a certain concept or certain geographic locations of your multi-unit business? Outsourcing provides a variable cost structure per location, per month that will immediately allow you to right-size your accounting and payroll processing costs for the concepts or locations of your business that you retain. This works for growing companies as well. The ability to increase the scalability of administrative functions overnight is a huge advantage to those firms growing by "leaps and bounds," usually through acquisition.
Outsourcing financial functions can also be an excellent way to provide a financial safety net by providing checks and balances by an independent third party.
Finally, using an outsourced financial service allows a company to benefit from state-of-the art technology without the obligation of constantly upgrading internal resources. Technology continues to provide greater efficiencies in operating a multi-unit business, but keeping up with and implementing the changes is time consuming and costly. Using an outsourced third party can be a very efficient way to take advantage of the most up-to-date technology.
Fixed monthly cost reductions
For the entrepreneur, constantly monitoring and negotiating terms on repetitive operating costs can be not only time-consuming, but also an overlooked opportunity to save money. In many cases, once these services are put into place, they often continue without audit or renegotiation. The time constraints of running the business on a day-to-day basis often prohibit management from looking into these situations.
Today, however, there are third-party firms that can perform this task with no up-front financial obligation to the business owner--just a sharing in the financial savings generated from their activities. They will research past invoices for errors and pursue any recovery, and also competitively bid new services agreements. Typical areas of focus include waste, insurance, utilities, worker opportunity tax credits, workers' compensation charges, property tax and CAM charges, and telecom, to name just a few. The results can be staggering. With some effort on the part of management, a company can enjoy the financial benefits of a lower cost structure and a significantly enhanced valuation of the company.
A well-conceived exit strategy starts with thoughtful planning, and requires consistent and diligent execution of that plan. Outsourcing of certain cost centers, G&A management, and quantifying events that have temporarily affected a business are just a few ways a business owner can position their company for maximum value at exit.
---
Dean Zuccarello, CEO and founder of The Cypress Group, has more than 30 years of financial and transactional experience in mergers, acquisitions, divestitures, strategic planning, and financing in the restaurant industry. The Cypress Group is a privately owned investment bank and advisory services firm focused exclusively on the multi-unit and franchise business for more than 22 years. Contact him at 303-680-4141 or dzuccarello@cypressgroup.biz
Published: August 15th, 2012
Share this Feature
Recommended Reading:
Comments:
comments powered by

Disqus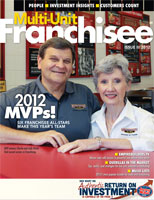 Multi-Unit Franchisee Magazine: Issue 3, 2012
Bad Ass Coffee of Hawaii brings an unforgettable brand, premium coffee products, and a proven business model to a booming coffee scene. We want...
Cash Required:
$200,000
At LeafSpring Schools, we differentiate ourselves by a proven approach to early childhood education, validated by more than 35 years of successful...
Cash Required:
$400,000