Outstanding in the Field: The 8 Steps Of An Effective Hiring System
The best part of my job is being invited to speak to associations and corporations all over the world about the best ways to find, hire, and retain great hourly employees and their managers. I never fail to learn a lot from the folks in attendance, and these occasions are often the start of great long-term working relationships.
About six months ago, I got to chatting with a multi-unit owner attending his company's annual expo and we decided to explore whether we might work together to improve his hiring results. When I did the requisite needs analysis, we found that the areas with less-than-satisfactory results had the same root cause as those of most of my clients over the past 25-plus years: the system was written to meet the needs of HR professionals rather than those of the hiring managers in the field.
Over the next several months, we were able to tweak what was in place to make it easy, practical, and effective for the hiring managers on the ground and still meet the needs and requirements of the HR folks.
The surveys I distribute and collect at many of my presentations help keep me up on the top-trending employer concerns and the shortcomings of the hiring systems in use. Recent data shows 46 percent of attendees cite attitude problems (e.g., unreliability, laziness, and poor work habits) just ahead of theft (43 percent) as the most common causes of employee terminations.
A National Association of Customer Service survey found the number-one reason customers don't come back is "an attitude of indifference on the part of an employee." While only 14 percent didn't return because they were dissatisfied with a product, a whopping 68 percent were put off by an employee's attitude. This is why who you hire to fill those crucial front-line positions makes all the difference.
While many hiring managers report being overwhelmed by the huge number of job seekers who apply these days, many are dissatisfied with the quality of those applicants. The third biggest complaint was applicants who lied. Other commonly reported challenges were the time it takes to train someone new, and how difficult it is to check references.
The good news is you don't have to be a corporate giant, increase wages, or spend a lot of money to have a system that works for you. The components of a sound hiring system are the same no matter the industry or size of the organization. Even if you're using a "one-size-fits-all" system that is less than ideal, it can be modified and customized without spending a lot of time or money. Briefly, the eight steps in an effective hiring system are:
Job analysis. What really needs to be done, and what is the best way to do it? What mental and physical capacities, attitudes, personality traits, and skills does the jobholder really need to have?
Recruiting. Although most employers have eagerly adopted electronic recruiting tools and social media strategies, the three most effective sources of the best new hires are the same as they were 20 years ago: a) every former good employee, b) present employees, and c) new hires.
The employment application. Every step in the hiring process should be a test, and each step should get progressively more difficult. Structuring the system this way uses more of the applicant's time and less of yours. The first test is the employment application. Applicants who do not follow all instructions on the application are telling you they cannot or don't like to follow instructions (as well as that they are not a good fit for your team).
Phone screening. Before you spend any in-person time with applicants, a short pre-screen by telephone will ensure they meet your basic, minimum requirements (documentation, reliable transportation, willingness and ability to work days and shifts needed, wages, etc.).
Testing. You've probably learned the hard way: applicants don't always tell the truth. Testing is the only way to ensure you get what you need. You can buy or design your own tests for everything important to the job (e.g., IQ, strength/stamina, attitudes, personality traits, and skills).
Interviewing. This is still the heart and soul of the employment process. The biggest mistake employers make here is not developing a structured interview question set that asks all the most important questions of every applicant.
Employment references, drug screens, driving record, and credit checks. You and your employer will be held responsible for the acts of your employees. All offers of employment must be contingent on the outcome of these verifications.
On-boarding and employee retention. After all the time and money invested in Steps 1 through 7, it is imperative that a great relationship is established between all new employees, their managers, and the company.
Twenty years ago, The Gallup Organization created a feedback system to identify and measure the elements of worker engagement most tied to bottom-line results (things like sales growth, productivity, and customer loyalty). Results from the survey consistently show a strong correlation between high levels of employee engagement and superior organizational results.
When you build a hiring system that works for the operations folks in the field as well as for HR, you will attract more applicants of a higher quality and be able to select the very best of those. And when you back up your hiring system with an on-boarding and retention program, you'll have a superior team of highly engaged and motivated workers certain to deliver superior organizational results.
Mel Kleiman is a consultant, author of five books, and a Certified Speaking Professional on strategies for hiring and retaining the best employees. He is president of Humetrics, a developer of systems, training processes, and tools for recruiting, selecting, and retaining the best. You can reach him at 713-771-4401 or mkleiman@humetrics.com.
Published: December 21st, 2011
Share this Feature
Recommended Reading:
Comments:
comments powered by

Disqus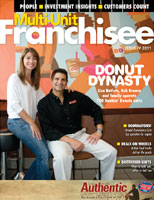 Multi-Unit Franchisee Magazine: Issue 4, 2011
Freshslice Pizza has been carving out a name for itself with 0% Royalty Fees and 0% Advertising Fees. This and a low investment cost helps Make...
Cash Required:
$60,000
Invest in a legacy brand with 40 years of experience serving up crave-able food in a fun environment. Here's all you need to know
Cash Required:
$1,500,000