Overcoming Performance Anxiety, Part II
Six ways we sabotage our investment success

Did you do your homework? In my last article, I discussed taking a broader look at the concept of "performance measurement."

Rather than allowing a simple percentage change (or even a percentage change relative to a broader index) drive how satisfied you feel with your portfolio's performance, I suggested thinking longer and harder about defining success on your own terms. After all, what good is a "good" performance number if it doesn't leave you with a portfolio that can help you achieve your goals?

I also asked you to pull together some thoughts regarding what you need your assets to do for you ("must haves")--and then spend some time thinking about what you'd like them to do ("nice to haves"). Why? Because most individuals don't have the luxury of viewing their portfolio's progress as merely an academic exercise. Their assets have to provide for a wide range of needs and wants: daily living expenses, housing, education, charitable giving, etc. Unfortunately, the investment management industry is structured as if a single number--year-over-year percentage return--is all that matters.

Further complicating the situation is the complex interplay of human emotion and the level of tolerance you do or don't have to watch your personal net worth fluctuate. While the industry preaches the importance of a long-term view, that view may seem light years away when you're paying the mortgage from a portfolio that's losing value each month. Balancing the need to maintain purchasing power over the long haul with an acute sensitivity to interim "wiggles" is one of the biggest challenges in portfolio management.

True investment success is actually a very personal calculation. Thus, rather than seeking a one-size-fits-all formula for what good successful performance looks like, I'm going to highlight six of the most common mistakes people make in attempting to achieve their goals.
Too many buckets. Studies have shown that the bulk of long-term investment success lies in asset allocation (i.e., which investment buckets you own--bonds, stocks, annuities, etc.--and in what proportions). Yet all too often, little consideration is given to the overall picture. Instead, personal net worth is more often an accumulation of one-off, single investments or accounts that occur on an opportunity-by-opportunity basis throughout a lifetime. This rings especially true for entrepreneurs, who often are preoccupied with building and running their businesses--and who run in crowds surrounded by innovators with good ideas. The desire to invest a little of their own cash in associates' ventures can be overpowering, and over a decade or two can result in a bewildering hodgepodge of assets.
Not enough buckets. On the flip side, too many assets in a single bucket may also be problematic. For most people, this overweighting may be personal real estate in their earlier adult years. In later years, it may be a single (employer's) stock position within a 401(k), sole or majority ownership in a personal business, etc. People generally believe their homes, employer's stock, or business valuation won't decline. However, the past 12 months have pretty handily disabused us of most of those presumptions. In asset allocation, it always makes sense to spread your risk and minimize the chance that an unpredictable event in a single category will derail your overall plans.
Too many bucket carriers. A growing trend in recent years has been to spread assets within an "open architecture" or "manager of manager" type arrangement. This approach often results in a lack of clarity and may be accompanied by increased taxes, fees, and transaction costs. And because the industry has no mandatory method for reporting consistent performance results, it may be difficult to ascertain what's working and what's not--particularly if the cash flows in and out of accounts are different.
No coordination of buckets. Spreading assets among too many places also may make for unwieldy execution of a coordinated strategy. For example, if one manager is selling a stock on a particular day to realize a tax loss and another manager is buying, the ability to use the loss on your tax return is negated. Also, many often forget to include assets when thinking about the big picture (e.g., the cash value of life insurance, or the equity allocation within an annuity or an IRA). Having too many pieces to think about can trip you up with so much minutiae that there is little time left for broader-basis strategizing.
Ignoring withdrawal rate. If you spend too much of your portfolio each year, it will not retain enough wherewithal to sustain itself--no matter which buckets you are in nor what the proportions of those buckets are. Many folks forgot this simple cause-and-effect relationship in the mid- to late-1990s when stocks were annually returning 15 to 20 percent or more. The result was that plunging portfolio values required a brutal adjustment in spending. One hallmark of investment success is being able to live with a given withdrawal rate, even when markets are down.
Letting peer pressure drive your investments. Bragging rights are hard to resist. It is human nature to feel angst if everyone around you is "making a killing" and you are not in the game (think dot.com boom). It's important to remember that people will always brag about something that worked and almost never admit to what didn't. Having your own plan and definition of success will provide the wherewithal to withstand volatile markets--and the patience to wait for the long-termresults.

Carol M. Clark, CFA, is a partner and investment principal of Lowry Hill, a private asset management firm that provides proprietary investment management and financial services to families, individuals, and foundations with wealth greater than $10 million. The firm manages approximately $6 billion in assets for nearly 300 families and more than 60 foundations from offices in Chicago, Minneapolis, Naples, and Scottsdale. She welcomes questions and comments at cclark@lowryhill.com.
Published: November 16th, 2009
Share this Feature
Recommended Reading:
Comments:
comments powered by

Disqus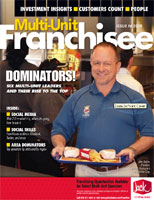 Multi-Unit Franchisee Magazine: Issue 4, 2009
Salata is a 90-plus unit, built-to-order salad and wrap kitchen providing quick, healthy meal options. Known for excellent customer service, the...
Cash Required:
$300,000
With many attractive development territories available for multi-unit growth, there has never been a better time to become a Penn Station franchisee.
Cash Required:
$300,000