People Power: Your People are Your Greatest Strength
Recently, I had the pleasure of working with Dave Ridley, who spent 27 years with Southwest Airlines as a senior executive in a variety of operational, commercial, and staffing roles. These included CMO, SVP of people and leadership development, SVP of business development, and VP of ground (airport) operations. Now a senior advisor to CEO Gary Kelly, Ridley is the embodiment of Southwest's mission: dedication to the highest quality customer service, delivered with a sense of warmth, friendliness, individual pride, and company spirit.
Working with him at our annual customer conference and hearing him speak got me thinking about how all of us in the service industry, vendors and franchisees alike, could learn a thing or two from Dave. But as Dave would say, these aren't lessons; they're just reminders of what we've already experienced, seen, or heard.
Dare to be different. Sept. 11, 2001 hit the airline industry hard. Fortunately for Southwest, the company had been very well managed for its first 30 years and did not have to lay off 20 percent of its staff like every other U.S. airline did. They also didn't ground their fleet. Southwest was back in the skies within days, flying 100 percent of its planes, even when customers had not yet come back. They ran ads to "Keep America Flying," and it worked. Their message? Nothing can keep our country, or Southwest, from moving ahead. It was a message that moved customers, too.
Then came the economic tsunami of 2007-2008, which felt like another punch in the gut for the airlines. As traffic fell and fuel prices spiked, airlines introduced the highly loathed bag fees and change fees. Dave and his team debated whether or not to follow. Against the advice of Wall Street, they were able to convince their CEO to go the other way, leaving $700 million in revenue on the table by not charging bag and change fees. To this day, bags still fly free and flight changes are still free.
The "reminder" here: Differentiate yourself and stand up for what you believe is the right thing to do. Being different and doing what's best for your customers--even when it's not the popular choice--is what drives real loyalty. That mentality has led Southwest through 43 consecutive years of profitability and zero involuntary layoffs or furloughs.
Never forget that your people are your most powerful fuel. After a perfect meal at a restaurant, if someone is rude to you at the counter you can walk away and never want to do business with them again. Yet, even if a restaurant is understaffed or your order is wrong and the staff are caring, thoughtful, and go the extra mile, you'll come back. People remember the way you make them feel, and that feeling starts from the inside out. If your people feel valued, respected, and inspired, that will be reflected in how they treat your customers. Companies don't usually fail because they lack strategy or execution; they fail because they're lousy with their people.
Seek people who want to join your cause. To have a happy company, you have to start with happy people. Dave's been asked countless times what kind of training Southwest has that makes its people so friendly, hospitable, and gracious. But there is no training. If you want to have happy employees, hire happy people. You can't force-feed happiness. Southwest looks for "patriots"--people who want to join their cause: to connect you to the important moments in your life with friendly, reliable, low-fare air travel. Working there is about more than a paycheck. So ask yourself, What is your company's cause? What are your core values? Southwest looks for three things in its team members: Warrior Spirit, Servant's Heart, and Fun-Loving Attitude. How many companies do you know have the word "fun" in their core values? Finding values unique to your business is critical to getting the right people on board the first time around.
Remember the rule of three. Hiring is the most important job you can have as a leader. Dave suggests following the rule of three to ensure you hire the best-fit people:

Always interview at least three people for a position. Even when you have your star player, interview two more. You may be surprised at what you find, even if the other two don't change your mind.
Always have three other people interview your candidate. You just might be wrong!
Always interview a candidate yourself three different times. Try to make one of these meetings outside the office. Why? To cite author Dave Barry, "If someone is nice to you but rude to the waiter, they are not a nice person."

Get rid of the bad apples. If you want an environment where people love coming to work, you must get rid of the slackers. Letting the wrong people hang around is unfair to the right people, who must compensate for the inadequate. To make your people a priority, show them you have the courage to build a team that's centered around your values. It's not easy, but it's the right thing to do.
Don't tolerate "BS." Leadership at Southwest is about "you," not "me." Dave says the singular reason for Southwest's culture and success is, "No BS." Not the kind of BS you're thinking of, though, rather "No Big Shots." Big Shots can command people's hands for the short term, but they can't reach their hearts. Without a heart, it's just a machine.
It's not hard to see why Southwest consistently ranks in the top 10 of Fortune's World's Most Admired Companies. Southwest understands that customers and team members have options. Time and again, the airline proves that its people are its greatest strength, its most enduring long-term competitive advantage, its most powerful fuel.
Jason Conrad is vice president of marketing for PeopleMatter. Call at 877-300-6222 or email info@peoplematter.com.
Published: September 22nd, 2016
Share this Feature
Recommended Reading:
Comments:
comments powered by

Disqus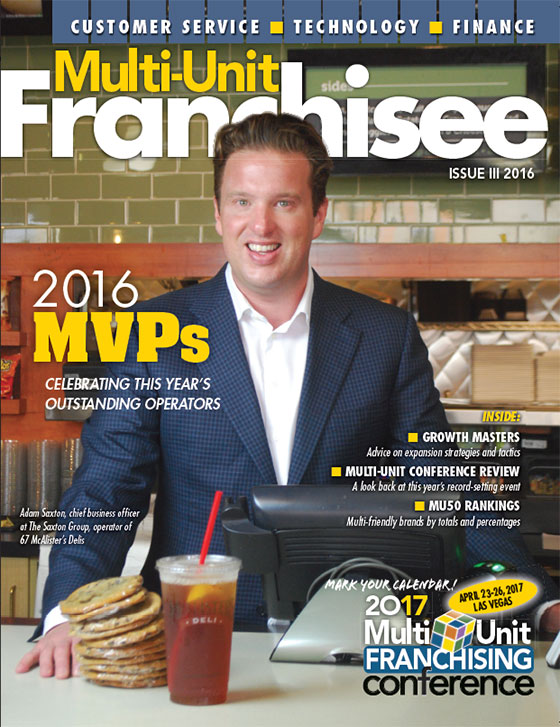 Multi-Unit Franchisee Magazine: Issue 3, 2016
Join the World's Largest Hot Dog Chain. As a successful and iconic franchise of over 60-years, we OWN the hot dog category and want to share...
Cash Required:
$250,000
Our nostalgic dining experience transports customer to a 1920's garage. Our menu drives broad guest appeal with hand-crafted America fare. Ford's...
Cash Required:
$1,750,000