Performance Dashboards: Measuring and Managing the Customer Experience
Web-based Performance Dashboards give you the power to analyze information about the performance of your business and the key activities you manage. As the name dashboard suggests, these are web-based tools that continuously display the current state of your key business metrics. And among the most vital signs of your business health are customer satisfaction scores and customer loyalty trends.

Customers are the lifeblood of business. To attract and keep customers, you've got to provide a customer experience that's better than, or at least equal to, the competition. As an Area Developer, you face an even higher hurdle: providing that great customer experience simultaneously in multiple locations. A key part of the solution to this challenge is continuous measurement of your consumer-facing operations. In each of your locations, performance on the key attributes of the customer experience can be measured and displayed together with customer satisfaction and loyalty metrics.
Continuous measurement
You cannot react quickly enough if you only look at customer feedback on a quarterly or monthly basis. Rather than occasional "mystery shopper" snapshots of your performance, you need continuous "video" of your customer service delivery. Best-in-class consumer companies collect daily feedback from real customers. Start by using the POS system to invite customers to give feedback on their most recent experience. Then a Performance Dashboard allows you to share that information--in real time--with everyone who needs it to manage the customer experience.
Real-time reporting of measurement
Remember the old days of customer comment cards? That was an attempt to collect continuous measurement. But besides the obvious problem--lack of a representative customer sample--it used to take weeks and even months to get the customer feedback back to each location. By that time, it was too late to take timely action to fix customer problems. However, with customer data gathered electronically today, the Performance Dashboard is updated in real-time. This allows area developers, field managers and unit managers to instantly spot negative trends, and to respond to them quickly.
Actionable information
In order to use customer satisfaction data to improve your operations and enhance your customer experience, it must be actionable at the individual location level. Performance dashboards allow you to easily drill down to very specific, actionable information. For example, if overall satisfaction scores start trending down at a particular location, you can sort them by day of week and by time of day. You can also drill down on specific service attributes to find what is driving overall satisfaction down--be it availability of assistance, friendliness of staff, speed of service, or another of your key satisfaction drivers.
Manage with the force of facts
As a small business grows, it can no longer rely on the personal observations and gut instincts of the founder for its direction. In fact, for a geographically dispersed management team in a multi-unit firm, it's essential to have access to the facts of the business in order to make effective decisions, and to evaluate the results of those decisions. To manage with the force of facts requires information technology today.

Performance dashboards organize and automate the process called "getting all the facts." But the benefits go beyond simply charting progress on your business objectives. You can make better decisions and take effective action faster. It's hard to imagine competing today without sharing continuous customer feedback across your entire organization in real-time.
Sense and respond
Competing in a service business today is like driving on the freeway in rush hour. Even though you know where you're going and how you plan to get there, you still have to make countless ongoing small adjustments to the traffic. Sometimes you have to make a significant detour. You constantly sense and respond to a series of changes on the freeway.

Likewise, the marketplace is in constant turmoil. Competitors innovate. Customer expectations change. Employee performance on customer service fluctuates. Every day! A well conceived Performance Dashboard allows you to sense and respond to these changes in your customer experience better than any other tool available. In 1999, Bill Gates predicted the rise of dashboards in his book "Business at the Speed of Thought." In 2006, every retail, restaurant and consumer service-based franchise business needs a Performance Dashboard that reports customer feedback continuously in real time.
Published: August 1st, 2006
Share this Feature
Recommended Reading:
Comments:
comments powered by

Disqus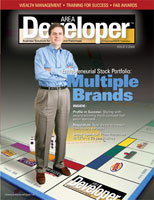 Multi-Unit Franchisee Magazine: Issue 2, 2006
MassageLuXe® is a fast-growing massage franchise providing massage services to clients, primarily through multi-unit area developers & single...
Cash Required:
$100,000
Own a highly profitable business that impacts lives in your community by jumping into action as an Urban Air franchisee owner.
Cash Required:
$750,000