Playing Well Together
Multi-concept franchisors share how they orchestrate success

Franchisees aren't the only ones with more than one brand these days. Increasingly, franchisors are getting into the act as they see the value in selling multiple brands from under one corporate roof.

Some multi-brand organizations have grown organically, starting and perfecting one brand for 10 or 15 years, then carefully adding one at a time. Some started a second brand themselves, while others expanded through acquisitions. Most chose concepts in the same segment--food, services, B2B, wellness and healthcare--while a few went with diversity to help ride out potential economic ups and downs.

Adding new brands is complicated enough, but building and growing them successfully, all at the same time, demands a special kind of expertise and a completely different temperament and mindset--much as area developers are a different breed from single-unit operators. Successful multi-brand franchisors have mastered the art not only of building each brand on its own, but also of making them build on each other, creating a whole much greater than the sum of its parts. Multi-brand franchisors interviewed for this story spoke of synergy, leverage, economies

of scale, best practices, and more. In addition, the trend toward industry-wide consolidation will continue to drive franchisors to add new concepts to their stable--if only to keep up with the competition in the fight for market share and brand recognition. Franchisees, too, as they grow larger, more sophisticated and savvy, also are driving this trend as they seek similar benefits for themselves through co-branding, co-locating, real estate savings, and complementary day parts, to name a few. Finding that second brand--or third--with their current franchise partner, where trust and a relationship are already established, can speed the approval process, get stores open faster, help with financing, and even get them a discount on the franchise fee. So what's not to like?

For starters, it's not easy. A new brand can divert resources from existing brands both internally and in the field, and in the worst cases, go terribly wrong and sink the corporate ship. "Sibling rivalries" can break out, with the new concept vying for attention and the older "brothers and sisters" resenting the new arrival, or at least perceiving it as a threat to their own hard-won success. Maybe the new brand will flop, or even succeed but not fit into the corporate culture for any of several good reasons. Or maybe it was just a bad idea in the first place--though it seemed like a good one at the time. It wouldn't be the first time a "great new concept" went down in flames.

Even the most successful franchisors offering multiple brands have stumbled along the way, jettisoning concepts that seemed an awfully good idea at the time, then just seemed simply awful.

The Dwyer Group, clearly one of the industry's older, more successful multi-brand franchisors, with more than 1,400 units spread over six brands (see chart), has had its share of wrong turns--and like most great franchisors, learned from its mistakes, regrouped, and refocused its efforts on what it does best, in this case services.

During the later 1980s and into the late 1990s, the company tried its hand at small-business support services. "We thought the diversity would be good, but we found we weren't very good at running white-collar companies," says Dina Dwyer- Owens, chair and CEO of The Dwyer Group. The company sold those in 1998, deciding instead to stick to its knitting by acquiring the Glass Doctor.

The company also piloted a karate school--"the family that kicks together, sticks together," she says today, laughing. "After four years, we discovered it was not a good business to franchise."

During those years the company even tried its hand at manufacturing, blending its own chemicals for dyeing carpets for its flagship Rainbow International brand and making its own snakes for its Mr. Rooter brand. "We were not good at manufacturing," she says.

Still, multi-brand franchising was in the cards from the start since the company's founding by Don Dwyer, Sr., who started Rainbow International in 1981. Chalk up the mistakes to growing pains, as the company developed its present-day identity.

"He had that vision from the beginning, to have multiple brands serving the same customer base," says Dwyer-Owens. "By having multiple brands, he also thought he would have more to offer the franchisees." And the ongoing benefits of leveraging his infrastructure.

"His vision was right, but it took us a lot longer than he imagined," she says. "When he died suddenly in 1994, we had not quite benefited from economies of scale yet. It took us a long time to get those efficiencies."
All in the family
Talk about leverage! United Franchise Group (UFG) has found a way to turn its franchise expertise and infrastructure into two new brands and a group of ancillary services it markets to support other concepts, as well as aspiring franchisees. UFG, which started as a single brand, Sign-A-Rama, in 1986 is a $500 million company with more than 1,450 units in 50 countries. Like Dwyer-Owens, CEO Ray Titus grew up in the franchising business, co-founding Sign-A-Rama with his father, Roy Titus, who started Minuteman Press International.

"We always had the long-term vision of multiple brands," says Ray Titus today. But he was in no rush. "Before you do any kind of multiple branding, be sure you have your first one right. We had 15 years with one brand, with everything in place before looking at other brands." And he chose carefully.

EmbroidMe, another B2B concept, ties in nicely with Sign-A-Rama, offering franchisees multiple opportunities to cross-market their products. So does UFG's third concept, Billboard Connection. Two franchises were built on activities the company already performed: FranchiseMart, a retail location for researching business opportunities (i.e., franchises) before investing; and Plan Ahead Events, a home-based corporate event planning concept.

"What's often missed is the huge synergy the franchisees have," says Sean Oatney, UFG's director of sales for all brands. "One of the biggest is EmbroidMe for Sign-ARama and vice versa. They do projects together, work together, and share leads." For example, if a franchisor is scheduled to hold a convention in Seattle, the local Sign-ARama, EmbroidMe, and Billboard Connection franchisees can pitch their services as a group, supplying signage, shirts, and hats for the show, and promotional billboards welcoming the franchisees to town.

UFG does all it can to facilitate crosspollination, beginning even before the franchise agreements are signed, says Titus. New franchisees are trained under the same roof, providing a chance to meet one another from the very start. Local and regional connections are also emphasized year-round, and there's always the company's own convention, which this year drew an astounding 80 percent of its franchisees worldwide, from countries as far afield as Australia.
New kids learn fast
Building on the models pioneered by its older multi-brand siblings, Fitness Together, a relatively youthful franchisor (since 1996), began franchising a second, complementary, brand--elements therapeutic massage--in November 2006. Fitness Together has sold over 600 units, with 400 open in five countries. The new concept, elements, has sold 85 units, with 40 open in nearly 20 states and forecasts selling 75 more by year-end.

Already sounding like wise old veterans, Kevin Betts, president of Fitness Together, and Scott Wendrych, president of elements, followed a similar path to that taken by UFG, taking the better part of 10 years to add a new concept.

"Timing is a key ingredient in growing out a second brand," says Betts. "We reached a certain maturity level, learned a lot of things about the franchising industry, and how to grow the model."

About two years ago, the company started looking for a new model. Citing the "Hedgehog Concept" in Good to Great (doing one thing well), they chose to expand within the wellness industry. A second reason for adding a brand, says Betts, was to provide Fitness Together franchisees who came on board later a chance to grow more rapidly. "One of the first things we wanted to do was reward some of our great operators," says Betts.

While fortune favors the prepared, "It was dumb luck, to be honest," says Wendrych, on how they chose the therapeutic massage business. "No one knew anything about massage therapy. I knew Michele Merhib through my wife, vaguely." Merhib had opened her first massage therapy studio about five years earlier in Colorado, near where Fitness Together is based.

"We looked at the business, and it was the right time and the right place," says Wendrych. "Had I not known her, we probably would not have gone down this path. Once I saw her model, which was well developed, we did some research and it was incredibly compelling."

"Over the years, we've learned how to franchise and build the structure," says Betts. "And Michele had the systems in place for the massage." They combined their systems, infrastructure, personnel (from support to site selection, lease negotiation, etc.) with Merhib's working model and were off to the races.

"This was a huge advantage for us. It made things much more scalable," says Wendrych, who adds they'd been considering developing a new concept from scratch. "We could have, and we were pretty far along with one model." Teaming up with someone who already had years of success and a working model was clearly the better way to grow.
Back in the game
Kwik Kopy Printing, founded in 1967 by franchise legend and 1994 IFA Hall of Famer F.C. "Bud" Hadfield, once was the world's largest quick-print business. Building on that success, in 1991 Hadfield started ICED, the International Center for Entrepreneurial Development, growing it to nine brands.

Today the company is franchising only three--Kwik Kopy Business Center, which combines Kwik Kopy Printing with packand- ship brand Parcel Plus; and Computer Explorers, which ICED acquired in 2003.

Last November, ICED hired Charles Mudd as vice president of franchising. Mudd says he was brought on board to build a sales team and get the company back on track as a successful franchisor. "ICED was not happy with recent results and decided to refocus on selling franchises. It's safe to say we were on autopilot," he says.

Before joining ICED five months ago, Mudd was at The Dwyer Group where, as director of franchise development for Rainbow International, he led a sales team of six. He's also been a franchisee twice, with AlphaGraphics and ServiceMaster, as well as working in corporate for both. "If you buy a franchise, it's never easy; if you want easy, get a job," he says. He prefers the rewards of hard.

Mudd says his goals for 2008 are "fully getting to understand the internal workings of the organization; defining what works and what doesn't; building a very focused development team; and continuing to add high-caliber franchisees that will add value to the brands and equity to their businesses."

Although ICED is not currently franchising its other brands (and that may change), "There's synergy because we still support them on an everyday basis," says Mudd. "We all grow together because we learn from each brand. That's the great thing about having multiple brands."

He already has hired a franchise director for the print brands, and he expected to have one soon for Computer Explorers. Prior to his arrival, one person was heading sales for all the brands.

"Our immediate concern is domestic," says Mudd. The company's international master franchisees are separate and handled by President and CEO Steve Hammerstein, former IFA chair, who joined the company in 1984. Says Mudd, "I believe our franchise directors should become brand experts, and focus on that particular franchise."
No "favorite child" here!
That's the way it's set up at The Dwyer Group. "In the old days, when we didn't have individual brand presidents and sales teams, the sales team would want to sell whatever brand was selling easiest," says Dwyer- Owens.

Today the company has a brand president, sales staff, support, and administrative team for each of its six brands. An executive vice president and vice president oversee the entire sales department, about 27 people for the 6 brands.

The EVP, she says, drives all franchise sales for the company, and the VP is the trainer who works one-on-one with individual franchise directors. The company also has a franchise sales team leader for each brand who typically manages four salespeople.

There still are opportunities to make bonuses and commissions at the individual brands, but there also is a company-wide bonus if The Dwyer Group hits its overall target. This focus on the company's EBITDA makes each brand "everybody's business," says Dwyer- Owens.

In January, UFG created two new positions, naming two company veterans as its first brand presidents for Sign-A-Rama and EmbroidMe. UFG also now has a director of corporate services, whose job, says Titus, is "basically as referee," ensuring that each brand is getting what it needs to further its individual growth.

At UFG, says Titus, the biggest problem going forward is how to stay "small and large at the same time." With the company on track to double revenues to $1 billion by 2010, he's focusing on the need to maintain the identity of each brand and keep the communication clear and focused from the CEO's office in Florida all the way through to each new prospect worldwide.

"We're always talking to our salespeople. You have to believe in and know what you sell. If you dilute the brand, it's not going to work," says Oatney.

"We've been able to provide more support because of multiple brands, better R&D, provide more opportunities for franchisees to expand their brands in different markets, and to share brands and projects," says Titus.

Making all the parts work together optimally still is difficult, requiring franchisors to walk a fine line. Says Dwyer-Owens, "One of the problems with owning multiple brands and having people responsible for leading brands, is that sometimes at the corporate level we want to have a lot of structure and consistency, and it may not work for one brand. There's a little bit of red tape and bureaucracy, but we try to minimize that."

While this move toward standardization, whether in the sales process or in contracts, commissions, and bonuses could lead to ongoing frustrations for the brand leaders, she says, "They see all the wonderful benefits of being owned by one company." The brand presidents are all based in Waco, and they have monthly meetings to discuss what's working, what's not, and to figure out best practices-- and can talk daily if they wish. "That's a huge benefit of having multiple brands under one umbrella," says Dwyer-Owens.

As a final word for a company looking to grow beyond its current model, says Wendrych, "Make sure your internal systems are very well developed and robust before going down that path. You're adding another level you will have to manage. If your marketing, sales, and support are solid, you'll be in a pretty good position. For us, it was just putting more people on the bus."
Published: June 25th, 2008
Share this Feature
Recommended Reading:
Comments:
comments powered by

Disqus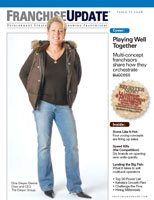 Franchise Update Magazine: Issue 2, 2008
Conferences
InterContinental, Atlanta
OCT 18-20TH, 2023
Prisma has reinvented the marketing supply chain with an end-to-end solution that makes it easy to design, customize, order, download, print, kit,...
Clayton Kendall provides franchise communities nationwide with comprehensive branded merchandise programs leading to greater brand exposure,...