Power Forward: Taking it from the Basket to the Bank
On March 4, 2001, the UNC Greensboro men's basketball team won its first Southern Conference championship when David Schuck made a layup at the buzzer. The team went on to play in the NCAA Tournament that year.
Schuck is a 6-foot 8-inch North Carolina native who played forward for the Air Force and UNC Greensboro during his four years of college. After graduating in 2002, his agent secured a deal for him to play professional basketball in Spain. "The apartment I lived in was 5 minutes from the Mediterranean Sea," he recalls. He played for two teams in Spain over the course of the next two seasons: CB El Ejido and Caja Rioja (yes, where the famous wine comes from). Shuck was even named league MVP in his rookie year. And, he says, who wouldn't enjoy traveling throughout Europe for two years?
When his sports career ended, Schuck returned to North Carolina and, like many other pro athletes, found himself searching for the right transition from sports to a business career. He tried teaching and coaching (as his father had done) for a year and then spent several years in banking.
"I knew I wanted to be self-employed and have more control over my own career," he says. He turned to franchising in part because of the model's proven system and follow-the-plan execution.
"I found most food franchises to be too expensive and ultimately locked in on the accounting sector first," he says. "I liked the Liberty Tax brand, and the North Carolina territory of the Greensboro Triad region was open." In 2007, he put out the shingle on his first Liberty Tax store, then opened a couple more on his own before beginning to acquire existing units. He now has 15 operating in North Carolina. "I've been actively involved with my Liberty Tax locations since day one, and I love the seasonality of the work," he says.
Always looking for new opportunities, Schuck and two former basketball players and friends recently inked a deal to bring Club Pilates to North Carolina's Research Triangle area. The partners have two units open so far, one in Raleigh and one in Chapel Hill and are signed up to open a total of six.
As a business operator, Schuck says he's learned to "delegate and put priority on being proactive, and not reactive." This means hiring great people and empowering them to do their jobs.
Schuck says he is excited about his future with both brands and, in particular, is eagerly looking to grow the Club Pilates portfolio. "I have 11 years of franchising under my belt now," says the 38-year-old. "I can't wait to learn more and grow this operation."
With this steady approach to growth and following the system, no buzzer-beater is necessary this time around.
Name: David Schuck
Title: Owner
Company: JJD Fitness
No. of units: 15 Liberty Tax, 2 Club Pilates
Age: 38
Family: Wife Jami, son Tanner, daughters Mason and Finley
Years in franchising: 11
Years in current position: 1.5
Personal
First job:
Professional basketball player in Spain.
Formative influences/events:
My entire athletic career was very formative and helped shape my business life. Teamwork, accountability, preparation, and competition are things that translate directly to business.
First turning point in your career:
When I became self-employed and decided to control my own career path.
Best business decision:
To delegate and put priority on being proactive, and not reactive. If you are running around all day solving unimportant problems, then you lose the time to think, look forward, and work on solving the really important problems your business has.
Hardest lesson learned:
Stay healthy. My business and family does not benefit from me being out of action because I am sick or stressed out.
Work week:
Whenever I am awake. I am always thinking about something with respect to my businesses.
Exercise/workout:
Not nearly enough. However I do love to take Pilates classes at my studios.
Best advice you ever got:
If it is to be, it is up to me.
What's your passion in business?
Building and developing teams, executing a plan, and looking for the next big challenge.
How do you balance life and work?
This is something I am constantly working to improve on. I am trying to be better about saving emails and calls for the next day once 7 p.m. hits.
Guilty pleasure:
A good steak and glass of wine.
Favorite books:
What They Don't Teach You at Harvard Business School by Mark McCormack, The Pillars of the Earth by Ken Follett, or any Pat Conroy book.
Favorite movie:
"Braveheart."
What do most people not know about you?
I do not have an active personal Facebook page, even though I am very active with social media for my businesses.
What did you want to be when you grew up?
A professional baseball player for the Chicago Cubs.
Last vacation:
A week with my family at Holden Beach, North Carolina.
Person I'd most like to have lunch with:
Elon Musk or Bill Belichick.
Management
Business philosophy:
Always look to grow, improve, operate with integrity, and have fun.
Management method or style:
Get the right people in the right places, then monitor and react.
Greatest challenge:
Focus. It's very easy for me to look at other business opportunities or even spend time on the phone all day networking and brainstorming. While those things are good, sometimes they cause me to lose focus and not be as productive as I should be.
One thing I'm looking to do better:
Balance work and life better.
How I give my team room to innovate and experiment:
I make sure to demonstrate that their voice matters and empower them to make decisions.
How close are you to operations?
This depends directly on staffing. The better the staff, the more they are empowered and delegated authority.
What are the two most important things you rely on from your franchisor?
Brand and direction.
What I need from vendors:
Consistency, reliability, value, and speed.
How is social media affecting your business?
I love it. We can now communicate with our audience in a low-cost way and also see results directly from those efforts. The social platforms are where our customers are, and I see so much growth and opportunity in this area.
How do you hire and fire?
I always look to hire good, high-character people. Even when I think I am fully staffed, I am still always looking. Firing is a necessary part of leadership. Not firing the wrong person can hurt your business and suck the energy out of your team.
How do you deal with problem employees?
I like to provide direct feedback and offer plenty of opportunities to correct the problem. If it's not a fit, then accepting that and taking quick action is required.
Athletics
What skills/experience from sports have carried over to operating a business?
Always persevere.
Which do you find more competitive, sports or business?
Both, but sometimes in business I find myself competing against myself.
Why did you choose franchising as an investment option?
I'm not very creative, so having the plan already figured out and support structure in place allows me to focus on executing the plan and driving revenue.
What was your greatest achievement in sports and what has been your biggest accomplishment as a franchisee?
Playing in the NCAA tournament in 2001. I was the MVP for my league in Spain during my rookie year.
Bottom Line
2018 goals:
Each year we look to build upon what we accomplished the previous year.
Vision meter: Where do you want to be in 5 years? 10 years?
I would like to be doing something that is challenging and gets me excited every morning when I wake up.
Are you experiencing economic growth in your market?
Yes.
What are the best sources for capital expansion?
I have had a good experience with SBA lending--if you can be patient.
Experience with private equity, local banks, national banks, other institutions? Why/why not?
Each has their pros and cons. In the end, it's a choice, usually between ease of access and control or cost.
What are you doing to take care of your employees?
Providing them with an opportunity to grow, and working to help them achieve their career goals.
How do you reward/recognize top-performing employees?
In all sorts of different ways. However, what's most important is to say "Thank You" and to look for small opportunities to recognize their efforts, like a note, or recognition in a group setting.
Published: March 1st, 2018
Share this Feature
Recommended Reading:
Comments:
comments powered by

Disqus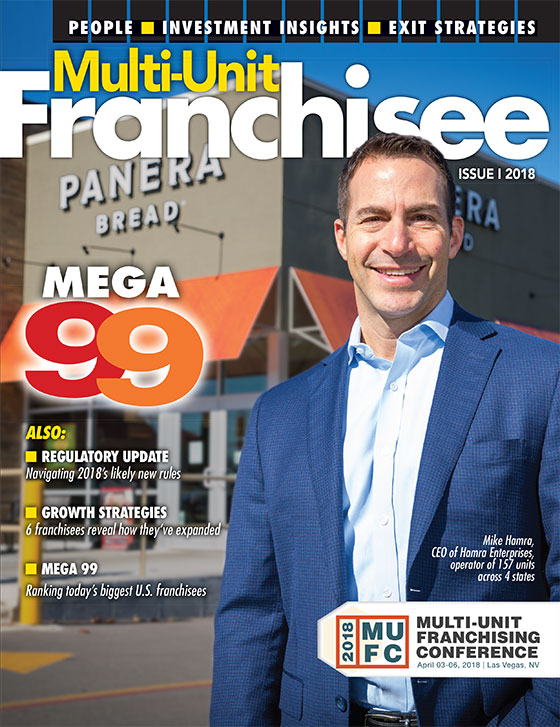 Multi-Unit Franchisee Magazine: Issue 1, 2018