Founding Son: From a First Job to a Top Franchisee
For Evan Latham the franchise business is a family affair. That's because the 29-year-old Orangetheory Fitness franchisee is the son of the brand's co-founder, Ellen Latham. He says he's been a part of the business since its inception. "My first job was cleaning the original fitness center," he says. Today, he operates an Orangetheory Fitness location in Cooper City, Fla., and another in Nashville. Latham says he can see himself teaming up with another brand and even becoming an area representative for a brand one day.
But right out of college it looked as though he might leave the family enterprise behind. "I pursued my passion for journalism and began my career in television news," he says. But the growing success of Orangetheory Fitness lured him back home to South Florida in 2013, and he invested all of his savings into opening the Cooper City location.
"Success came quickly--our studio signed up 100 members faster than any location in the company's history," he says. Two years later he moved to Nashville and opened his second location with similar results. His studio is #1 in Tennessee and the first to reach 1,000 members. Latham regularly travels throughout the state to mentor other operators in the system.
He loves being actively involved in the operations of his studios and says he's in the studio six days a week, operating the business, managing, working events, or cleaning the studio. He participates in an exercise class five days a week. As an Orangetheory Fitness operator, he says, "There's no excuse not to work out."
The young entrepreneur is a stickler for a clean studio (he learned it early on) and top-notch customer service and expects the same from his employees. "It's my job to show them the way and then get out of the way," he says.
The young businessman will soon be facing a new challenge: he and his wife are expecting a baby girl. He says he's excited and eager to see what this new chapter of life brings.
Name: Evan Latham
Title: Franchisee
Company: Orangetheory Fitness
No. of units: 2 Orangetheory Fitness
Age: 29
Family: Married with a baby girl on the way
Years in franchising: 4
Years in current position: 4
Personal
First job:
Cleaning my mom's fitness studio. As the job grew bigger I would hire my friends to work and help me clean. I was learning about building a team and caring for a business early on.
Formative influences/events:
The times that had a lasting influence on me were the middle school and college years. I feel you need to get out, get in some trouble, and have experiences in life. Those who are sheltered are missing out. I am a first generation Floridian and only child. My family relocated from Niagara Falls, N.Y. I met my wife in high school. She was the new girl from Nashville. We dated and went to college together. A decade later we were married and we have a baby girl on the way.
Key accomplishments:
In 2013, I relocated back home to South Florida and invested all of my savings into opening a franchise in Cooper City. It was an immediate success and marked the fastest studio in OTF's history to have 100 members sign up. In 2015, I opened my second franchise in Nashville, which my partners and I have built to be the #1 studio in the state and the first to open with 500-plus members and reach more than 1,000 members.
Biggest current challenge:
Balancing time invested in the businesses with family life. I care for my fitness studios like a child, but with the real thing on the way it's good to be the boss.
Next big goal:
To continue to build my franchises and develop my employees and myself. Perhaps dabbling in investing in another franchise concept and purchasing some real estate might be of interest.
First turning point in your career:
Changing careers. The time I spent and the money I saved working in television news I reinvested in my first business.
Best business decision:
Moving to Tennessee and opening the first OTF in the Nashville market. The fitness community has grown noticeably in the last few years I've been here, and I am proud to play a role in making it a healthier place to live.
Hardest lesson learned:
The amount of sweat equity it takes to open a business, let alone two. At the beginning it was a seven-day-a-week grind for several months to get everything up and running, but afterward it was well worth it.
Work week:
Six days. I am in the studio Monday through Saturday. Whether it's operating the business, managing my team, working outside events, or cleaning the studio, I am a big believer that time spent in your business pays off.
Exercise/workout:
A big perk of owning a fitness studio is that there's no excuse not to work out. I am in class exercising five days a week. I have seen tremendous visual results, as have millions of members throughout the world from our personalized, scientific approach to interval training.
Best advice you ever got:
Set priorities and create timelines to complete them.
What's your passion in business?
Seeing the reaction of a customer. When the studio is clean and the customer service is over the top, there is no greater feeling than interacting and experiencing their joy to be at my business.
How do you balance life and work?
I set a work schedule for myself much like I do for my employees. Holding myself accountable to spend time at the businesses and clock out in time to be home with family seems to work.
Guilty pleasure:
Sweets. For someone who works in the fitness industry I have a major craving for desserts and candies.
Favorite book:
The Secret History of Twin Peaks is an epistolary novel by Mark Frost, which provides background information on the history of the fictional town and characters from my favorite television series, "Twin Peaks."
Favorite movie:
This is a hard question. I am a big-time movie fan and would rather watch the same old movie over and over than something new on TV. That said, if I had to pick one it is "Tron: Legacy." This film was visually beautiful with a deep and strong storyline and an incredible soundtrack.
What do most people not know about you?
I am a 200-plus bowler. In my youth I spent most of my time in a bowling league rather than on a baseball field.
Pet peeve:
Messes. I am a clean freak. You'll always catch me cleaning up my businesses.
What did you want to be when you grew up?
My first answer to that question was a car washer. I later wanted to be a filmmaker.
Last vacation:
I took a trip in October for the annual OTF convention in San Diego. I spent a few extra days in Los Angeles with my cousins who are also involved in OTF.
Person I'd most like to have lunch with:
That would have to be director, screenwriter, producer, painter, musician, actor, and photographer David Lynch. He is truly the most important director of this era.
Management
Business philosophy:
To deliver proven fitness results for a healthier world. My vision is to be a trusted team leader of customer service-driven businesses.
Management method or style:
To participate in all aspects of the business. I have spent time as a sales associate working the front desk. I've worked as my studio manager and even stood on the street corner as a sign spinner in an orange morph suit. I believe no action is too low for you to do if it's supporting your business.
Greatest challenge:
At a young age, it was having the experience to be an effective leader for my employees and understanding the many aspects of running a small business.
How do others describe you?
Dedicated, always on but slightly off, and a definite clean freak.
One thing I'm looking to do better:
To let go. I sometimes find myself completing an activity myself rather than having an employee do it. I understand that in order to better my team I have to show them the way and then get out of the way.
How I give my team room to innovate and experiment:
I find it is important to play on an individual's strengths. Not everyone is going to be the best seller, so I empower my team to take charge of a particular part of the business. For example, I have an artist on staff who designs our studio announcements. Someone who is highly organized will lead our fitness challenges.
How close are you to operations?
My business partners and I have found the perfect balance. While I handle the day-to-day, in-studio operations they report on whether the business is in line with certain benchmarks and that employees are getting paid.
What are the two most important things you rely on from your franchisor?
To continue to stay ahead of the fitness industry curve and develop new and exciting ways to wow our customers. I also expect them to continue to invest in the franchisee through ongoing training.
What I need from vendors:
Reliability and consistency. Too many times I see orders getting mixed up and I am unable to get in contact with someone who can help.
Have you changed your marketing strategy in response to the economy? How?
I have maintained the same level of spending my franchisor recommends. As I continue to invest a significant amount back into my businesses I continue to see a significant return.
How is social media affecting your business?
Social media is benefiting my business. Most first-timers hear about OTF on social media. This is a big reason we continue to work with a social media company that advertises for us on multiple social media platforms.
How do you hire and fire?
Slow to hire, quick to fire. In addition to the usual job posting sites, we have found long-term success in hiring people with energy, enthusiasm, and personality. In other words, they bleed orange. The rest can be taught.
How do you train and retain?
We train our staff through extensive role-playing and by allowing them to first spend time in the business and observe how we do things. We want them to be able to talk about our product first. The computer and technical stuff can be shown later.
How do you deal with problem employees?
They are given a formal write-up and expectations are communicated. I have found the key to this is to audit and follow up on whether they've taken our advice. As business owners, if we don't audit every aspect of the business there's no reason to be in business.
Fastest way into my doghouse:
I am a really easygoing guy, but lack of respect will not be tolerated.
Under 30
How did you get into franchising at such a young age?
Franchising basically became the family business. My mom Ellen Latham founded OTF and it was hard to ignore the opportunity. I moved home, invested all of my savings and a loan into my first business and then reinvested it in a second location.
Was becoming a franchise something you'd planned on?
It is not something I planned on, but I have been unknowingly preparing myself for this role since I began cleaning my mom's fitness studio early on.
Did you have a mentor or inspiration for getting into franchising?
Both my parents have been positive mentors, but it was my mom who encouraged me to take a leap of faith from my career to a business owner.
What jobs, skills, and experience have helped you operate a franchise business?
My positions at the fast paced, high-pressure television news station helped prepare me for franchising. Running a successful business takes a high level of organization and an ability to look ahead at your next moves.
What kinds of obstacles did you face in franchising at such a young age?
At a young age, it was having the experience to be an effective leader for my employees and understanding the many aspects of running a small business.
How would you describe your generation?
As dreamers. My friends and I had such big dreams growing up, but I never expected to be where I am today.
Do you see franchising as a stepping-stone or a career for you?
I see it as both a stepping-stone and career. I wish to continue to grow my businesses, but at the same time as an Aquarius I tend to go with the flow.
Bottom Line
Annual revenue:
$2.6 million.
2018 goals:
To increase total annual revenue o both businesses by 25 percent.
Growth meter: How do you measure your growth?
Total members is the most important number to a fitness franchise. I have built both businesses to over 1,000 members, which accounts for two of the nearly 20 studios in our OTF network with those kinds of numbers.
Vision meter: Where do you want to be in 5 years? 10 years?
In 5 years I see myself investing in another franchise concept. In 10 years I see myself as the area developer for a franchise concept.
How is the economy in your regions affecting you, your employees, your customers?
The Nashville economy has continued to outpace the nation. Tennessee has a climate that continues to attract new businesses.
Are you experiencing economic growth in your market?
We are experiencing significant economic growth to the point where infrastructure can't keep up.
How do changes in the economy affect the way you do business?
The impact of a strong economy on my businesses requires me to keep pace with demand by hiring additional employees and adding classes to the schedule.
How do you forecast for your business?
The financial reporting software my franchisor provides me with allows me to forecast how the businesses sales are trending for the year. Looking ahead plans for success.
What are the best sources for capital expansion?
First bust open your piggybank. Then take out a credit line. Don't be ashamed to ask family for help.
Experience with private equity, local banks, national banks, other institutions? Why/why not?
In Florida I found success with private equity and national banks. In Nashville, I discovered that a local bank supported my business model much better.
What are you doing to take care of your employees?
You have to take care of your people if you want them to stick around. That's both financially and personally. I find taking the time to consistently review your employees and give raises and bonuses will boost morale all around. The occasional lunch and coffee goes a long way too.
How are you handling rising employee costs (payroll, minimum wage, healthcare, etc.)?
I have noticed quite the opposite. The businesses have proven to me that the more I spend on payroll the more the businesses earn.
How do you reward/recognize top-performing employees?
Employees are assigned individual and team goals for the month. They are awarded bonuses for reaching individual goals and a team bonus is split for accomplishing a team goal.
What kind of exit strategy do you have in place?
I have learned that in business time is precious and you should always have an exit strategy. When the time comes, working with a franchise resale group would help tremendously.
Published: April 12th, 2018
Share this Feature
Recommended Reading:
Comments:
comments powered by

Disqus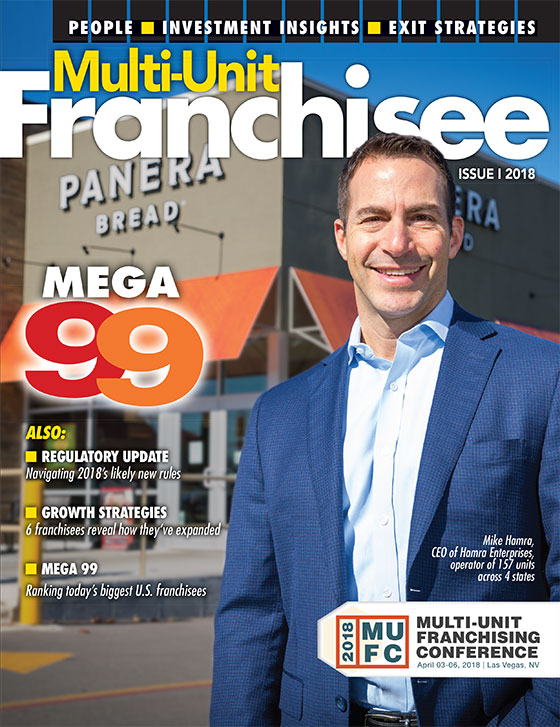 Multi-Unit Franchisee Magazine: Issue 1, 2018
Ace is #1 for convenience hardware! You pay no royalty fees. Instead, Ace pays you a year-end rebate based on your annual purchases. Enjoy the...
Cash Required:
$250,000
Briggs Home Care® offers a one-of-a-kind franchise opportunity to build a successful and rewarding home care business. Invest in our home care...
Cash Required:
$50,000