Redneck CEO: Gary Findley is Country-Raised and Proud of It
Gary Findley will proudly tell you he was raised in the country and that's where he picked up his work ethic. "Whether I was a kid raising horses and cows, driving tractors, or working on the railroad, those jobs, in some of the hottest and dusty places you can imagine, have inspired me forever," he says. "It also taught me that nothing replaces honesty and integrity, and you have to work hard for your success," says the 55-year-old CEO of Restoration 1—and, as of this past summer, of bluefrog Plumbing + Drain.
Findley has taken his country roots to some of the biggest cities and successful franchise brands in the country. He has an entrepreneurial drive that has seen him operate his own businesses, serve as a franchisee of multiple franchise brands, and ultimately become an executive who grew some of the biggest franchise networks around. He has previously served as vice president of franchise sales for Rainbow International at The Dwyer Group, president and COO at Curves International (where he helped grow the brand to more than 8,000 locations worldwide), and as COO of EnVie Fitness.
Since becoming CEO of Restoration 1 in 2016, Findley has beefed up his corporate team, elevated programs with national vendors, and unveiled a new marketing campaign, all while expanding the brand from 18 locations to more than 140 locations in just 15 months.
He says the company acquired bluefrog Plumbing + Drain last summer because the move "broadens the franchise brands and complementary services that we deliver to a growing residential and commercial customer base across the United States." And he'll likely look for more acquisitions, he says.
Findley ultimately wants to see Restoration 1 and bluefrog Plumbing + Drain be household names for their services. In the immediate future, he sees sustained growth and happy, satisfied, and dedicated franchisees offering a quality service to customers in a time of need.
Name: Gary A. Findley
Title: CEO
Company: Restoration 1; bluefrog Plumbing + Drain
Brands/units: Restoration 1, 150; bluefrog Plumbing + Drain, 22
Age: 55
Years in franchising: 27
Years in current position: 1.5
Leadership
What is your role as CEO?
To oversee the vision of the company, to direct and guide staff, and to continue to provide resources, knowledge, and talent for the growth of the organization across multiple franchise brands.
Describe your leadership style.
I find top staff members who are self-motivated and knowledgeable, and then I let them do their jobs. I have an open-door management style and grant my team full access. They can come to me for direction, and I provide them what they need to succeed. At the same time, I don't have meetings just for the sake of having meetings like other companies. And I don't micromanage.
What has inspired your leadership style?
I take great pride in calling myself a redneck CEO. I was raised in the country. I learned responsibility early in life, and I grew to understand and appreciate the meaning of hard work. Whether I was a kid raising horses and cows, driving tractors, or working on the railroad, those jobs, in some of the hottest and dusty places you can imagine, have inspired me forever. It also taught me that nothing replaces honesty and integrity, and you have to work hard for your success. That upbringing has served me well, from my roots in the country all the way to the biggest cities across America and in places around the world.
What is your biggest leadership challenge?
Since I am a relational manager, not a dictator, my biggest challenge is separating the relationships I have with my staff. I don't take my role lightly and respect and reward my staff.
How do you transmit your culture from your office to front-line employees?
It's all about the Golden Rule. I treat people the way I would like to be treated. And that should extend all the way down to the front-line employees. I absolutely think it starts from the top with a constant goal to lead by example. In return, since my leadership style has worked well to attract great employees with the same respect for others, it creates a ripple effect across our rapidly growing network.
Where is the best place to prepare for leadership:
an MBA school or OTJ? My personal opinion is that nothing prepares a leader like being in the line of fire on a daily basis. Experience trumps knowledge any day of the week. When I graduated high school my friends all made plans to head straight to college. I just had the desire to start making money. So I went to work on a rail gang for the railroad and started my work career. Fast forward to when I retired from Curves at the age of 40 after growing the franchise network to more than 8,000 locations and I finally decided it was time to go to college and get my degree. The first lesson I had to read on day one in my textbook was the story of Curves. I'm happy to say that I made an "A" in that class.
Are tough decisions best taken by one person?
How do you make tough decisions? I hit them head-on. There will always be tough decisions to make. And many times they will affect people's lives in unpleasant ways. But there is no point in putting off the inevitable. I never make tough decisions from an emotional point of view, I don't make them without looking at all the facts, and I don't make them by the seat of my pants.
Would you rather be liked or respected?
Respected.
Advice to CEO wannabes:
I know this is a bit of a cliché, but treat people the way you want to be treated, respect everyone, treat the company's money as your own, and never sacrifice your integrity.
Management
Describe your management style:
Same as my leadership style. Find the right team members and let them do their job.
What does your management team look like?
We cover sales, accounting, and operations with a lead executive in each role. They come with a combined skill set in franchising and in the service trades.
How does your management team help you lead?
By being up front with me regardless of the outcome, inspect what they expect from their team, and keep me informed.
Favorite management gurus:
Do you read management books? My favorite books are all about the founders of franchise companies: Subway, Chick-fil-A, Interstate Batteries, McDonald's. I also love books written by Chuck Swindoll regarding men of integrity in the Bible. Most of my reading is half Christian-based books and half business books.
What makes you say, "Yes, now that's why I do what I do!"?
When I see individuals who have made their success by honesty and integrity and then given others the credit.
Operations
What trends are you seeing with consumer spending habits?
Our business is a bit different because the consumer is met by a need and not a want. In all occasions, what we deliver is a service that must happen to address a disaster.
Has the economic recovery reached all of your customers?
Our industry is not necessarily dependent on the economy. If you wake up tomorrow with six inches of water on the floor, you must do something. You can't put it off.
How is the economy driving consumer behavior in your system?
It's only driving behavior as it pertains to franchise development. We have more and more people leaving the daily grind to be in business for themselves and they want something that is non–brick-and-mortar, low investment, low overhead, and recession resistant. We meet those criteria.
What are you expecting from your market in the next 12 months?
Continued franchise location growth.
Are your franchisees bullish or bearish about growth and adding units?
Bullish, and very much the ones who have been in business for a year or less. The sophistication of franchisees entering our system speaks to the business mindset they have to run solid operations for the brand and quickly scale up.
Are commodity/supplies costs any cause for concern in your system?
Not really since our industry is insurance-driven.
In what ways are political/global issues affecting the market and your brand?
We don't see a real impact.
Personal
What time do you like to be at your desk?
9 a.m.
Exercise in the morning?
Yes.
Wine with lunch?
No wine for lunch, but I'm willing to try.
Do you socialize with your team after work/outside the office?
Yes. I value strong relationships with my team. We work hard and we play hard. We have terrific events. We've gone hunting and fishing.
What technology do you take on the road?
iPad.
How do you relax/balance life and work?
I love time on my ranch—ranching, hunting, and driving my tractor.
Favorite vacation destinations:
Italy, Ireland.
Favorite occasions to send employees notes:
Christmas.
Bottom Line
What are your long-term goals for the company?
I want Restoration 1 and bluefrog Plumbing + Drain to be household names for their services. We will continue to add brands to meet the needs of the home and business owners.
How has the economy changed your goals for your company?
It has given us the opportunity to enjoy tremendous growth. It has taken away the fear to allow people to live out their dream of owning their own business.
Where can capital be found these days?
There are all types of financing opportunities today from equipment leasing, SBA loans, and 401(k) rollover programs.
How do you measure success?
Happy franchisees and staff.
What has been your greatest success?
My family.
Any regrets?
None. I live life to the fullest without looking back. Life is full of mistakes and you learn from them and move on. Having gone bankrupt and losing everything we owned at one point taught me to be thankful for what I have and to pick myself up and try harder.
What can we expect from your company in the next 12 to 18 months?
New service brands, more than 150 new franchise locations from our brands, and the happiest franchisees.
Published: November 25th, 2017
Share this Feature
Recommended Reading:
Comments:
comments powered by

Disqus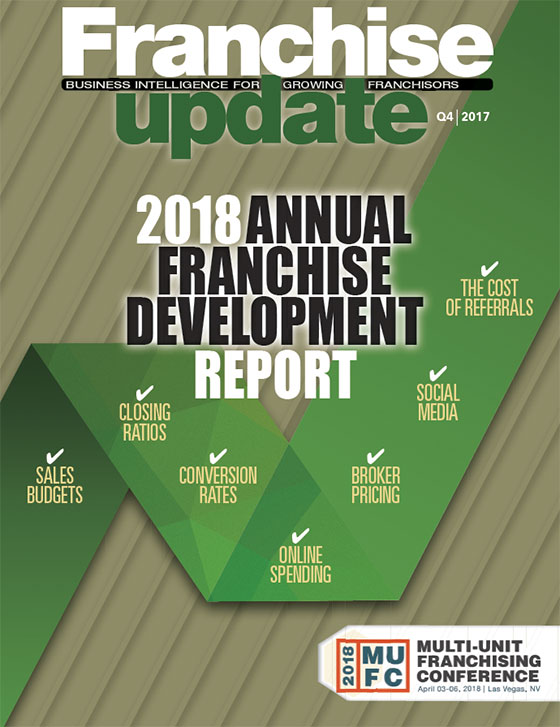 Franchise Update Magazine: Issue 4, 2017
Conferences
InterContinental, Atlanta
OCT 18-20TH, 2022
MFV Expositions and Franchise Update Media invite you to the Annual European Master & Multi-Unit Franchising Conference. Join industry leaders,...
Qiigo unifies digital marketing for national brands and their locations, building brand unity and success helping businesses get found locally....