Satisfied Customers: Give 'Em the Gate
Focusing on loyalty is the way to grow
Satisfying your customers is a misguided effort. Creating loyal customers should be your only goal. Loyal customers spread positive word of mouth for you: they come back frequently and they spend more on each visit. Plus, they're more likely to resist offers from your competition and they're usually easier to serve.

"Satisfied" customers are indifferent to your company or your brand. You can't count on most of them because they have no real commitment to you, no genuine preference for your brand. They see you as a commodity. And they'll switch to your competitor in a heartbeat. (The Harvard Business Review article, "Why Satisfied Customers Defect," presents the research behind this phenomenon.)

Your customers fall into three groups: Hate you. Love you. Lukewarm.
Zone of Defection. Those in the Zone of Defection are dissatisfied with their experience with you. They hate you. Some will complain to you directly, but only about 4 percent. The other 96 percent of dissatisfied customers don't tell you--they just don't come back. So you never really know what you're doing wrong. And what they don't tell you about their bad experience, they do tell others. Estimates range from 8 to 11 others will hear their negative word-of-mouth "advertising." Too bad you won't be there to defend yourself.
Zone of Affection. Customers in this group love you, and they love your brand. They are often your most frequent customers. You must have done something very right,because you provided then with an experience that exceeded their expectations. You knocked their socks off! You did it through some combination of your products, your environment, the value you offered, the speed of service, the convenience of location--or maybe it was the friendly, knowledgeable, and helpful people you selected and trained.
Do you know exactly what causes these great customer experiences and how many of your customers are in the Zone of Affection? If not, you should make knowing that a priority. If so, then you can deliberately try to increase the number of customers who rate you as "Excellent" or "Highly Satisfied," which is nothing like an ordinary satisfied customer. The world is a sunny place when you have lots of current customers in the Zone of Affection. They are so loyal that they ignore offers from your competitors while they promote you to their friends and acquaintances.
Zone of Indifference. Finally, you have a big group of customers that you attracted enough to give you a try... but the experience they had was merely "satisfactory." Those satisfied customers are in the Zone of Indifference. Based on their experience, you are just "Okay." They don't hate you. They don't love you. They are lukewarm to you. They can take you or leave you--and for them, it doesn't much matter which. After all, there are plenty of others like you who offer about the same thing. That is the state of mind of a customer who is "satisfied." Indifferent.


No wonder then that business author Jeffrey Gitomer says, "Customer satisfaction is worthless. Customer loyalty is priceless." In fact, he's authored a book with that exact name.

One of the common ways to attract customers and keep them loyal is by using a loyalty program. These programs are everywhere. You can join them at grocery stores, drug stores, airlines, car rental companies, video stores, hotels, and restaurants. In these loyalty programs, customers receive rewards for their purchases: discounts, free products or services ,and upgrades to various levels of "elite" status. About three-quarters of us consumers here in the U.S. belong to at least one loyalty program.

The smartest loyalty program operators track the buying patterns of their consumers so they can make offers are tailored to best fit each customer. This is similar to when you make a purchase at Amazon.com and are automatically offered books, music, etc., like the products bought by others who bought what you just did. This personalized offer approach is just good marketing, whether or not it's tied into a loyalty rewards type of program.

Plenty of very successful companies have done quite well without this type of loyalty program. Costco, Wal-Mart, Target, Whole Foods, and others win customer loyalty by executing great strategies. They understand their customers' wants and desires, and their "loyalty program" consists of delivering an outstanding customer experience.

In the franchise world, one clear-eyed thinker on customer loyalty strategy is McAlister's Deli CEO Phil Friedman. McAlister's recently won the Nation's Restaurant News Franchise Excellence Awards for Leadership in the Franchise Management category.

As a very successful franchisor of one of the fastest-growing restaurant franchise concepts, Friedman says that sustainable success in the restaurant business is achieved by increasing customer frequency. "Increased frequency comes from continuously providing an outstanding experience for our guests," says Friedman. "Customer loyalty is the result of our success at running our concept. We believe we are building a great brand because we focus on delivery of an experience that will build and gain loyalty."

So one aspect of loyalty marketing is to keep customers coming back by making offers that appeal to them as individuals, based on knowledge of their purchasing patterns.

Another aspect of loyalty marketing is to keep customers coming back by delivering an outstanding experience, based on knowledge of how your customers rate their experiences.

Data is a universal key to executing either loyalty approach. Consumer purchasing data drives effective email and direct mail of the right offers to the right people at the right time. Consumer feedback ratings are the data that drive the elimination of problems and the enhancement of the customer's experience. And in the end, only an exceptional customer experience can transform your customers from satisfied to loyal.

Jack Mackey is vice president of Service Management Group. Contact him at jmackey@servicemanagement.com or 816-448-4556.
Published: December 19th, 2006
Share this Feature
Recommended Reading:
Comments:
comments powered by

Disqus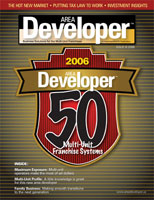 Multi-Unit Franchisee Magazine: Issue 3, 2006
uBreakiFix is a consumer electronics repair company based out of Orlando, FL that specializes in refurbishing and restoring smartphones, tablets,...
Cash Required:
$125,000
It's time for a fresh start. Join Kona Ice! Low investment, fastest growing with over 1,300 franchises in 12 years, #1 in franchisee satisfaction...
Cash Required:
$20,000