Serving Up Good Value: Tom McDonald Engineers A Life In Franchising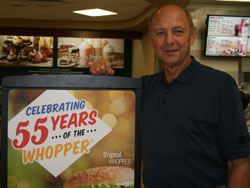 When Burger King set out to revamp its menu, it made sense that Tom McDonald would have some input. McDonald, a Burger King franchisee since 1986, had long expressed concern--largely to no avail--about the fast food giant's need to keep up with the times. When global investment firm 3G Capital acquired the home of the Whopper in 2010, new management was ready to listen.
McDonald was among a select group of executives, franchisees, and suppliers assembled to evaluate every facet of Burger King's fare, which ultimately led to the rollout of a slew of new products in 2012 as part of a multi-faceted strategy to reimage the chain.
"I have always been an advocate of giving good value," says McDonald, who operates 35 restaurants, and recently completed a six-year stint on the national Burger King Marketing Advisory Council. "The problem was that Burger King didn't have a high value perception. The new management has done a good job and is working hard to improve the value."
So what is a refinery process design engineer who spent 20 years globe-trotting the world with Exxon Research and Engineering, doing in Las Vegas touting the merits of adding crispy chicken strips, snack wraps, smoothies, and specialty coffee to his fast food menu?
As it's turned out, the qualities that made the highly organized Midwesterner successful at Exxon, such as his ability to think logically and prioritize (among others), would serve him well when oil industry changes prompted him to seek a career path that would allow him to be his own boss.
In July 1986, McDonald piled his family into an Audi station wagon for a cross-country adventure to Las Vegas--just as the building boom there was beginning. A high school buddy needed an operating partner to expand Burger King into Sin City, and the timing was perfect. Smart enough to know he was more suited to be a developer than an operator, McDonald's first hire was restaurant manager Tom Pike, who remains with the company today as director of operations.
"Never in my wildest dreams did I ever think that I would live in Las Vegas or be a Burger King franchisee," says McDonald, who holds a master's degree in chemical engineering from Stanford University.
These days, his Las Vegas-based Glencoe Management company boasts a diversified portfolio that also includes 9 Panera Bread restaurants in Northern Orange County and 3 Fazoli's locations. Most recently, he added T-Mobile Premium Retail dealership outlets (not franchised), including an 11-store acquisition from a Southern California operator in November.
When T-Mobile first approached McDonald about diversifying into telecommunications, he was unsure about the proposition--until he soon discovered that when it comes to phones, "Everyone loves to upgrade." The retail stores, run by his son and son-in-law, have brought a new element to the company business, with a lower cost of entry and shorter-term leases.
Today, "You have to be more nimble, quicker on your feet," says McDonald, who is conservative when it comes to borrowing money and leveraging his business, and flexible in operating plans. This is just the latest revelation for McDonald, who learned early on (when the Jack in the Box E. coli outbreak changed Americans' attitude about fast food) that he "shouldn't have all my eggs in one basket."
What hasn't changed through the years is his loyalty to those who "do what they say they are going to do." McDonald grew up in a farming community in Illinois where, he says, your handshake is your word, and he still lives by that today. "Everybody who works for me knows that if you say you are going to do something, you have to do everything you can to do it," he says. "And if you can't do it, you have to tell the person you made a commitment to, 'I can't do this and here is why.'"
At 66, McDonald is an adventurous, family man who loves to hunt, hike, golf, and scuba dive. Eventually, he says, he will work less and turn over more of the day-to-day responsibilities to family members. But don't look for him to slow down any time soon.
Looking ahead, he plans to continue to grow his portfolio as part of an "If you are not growing, you are shrinking" operating strategy that must provide value (and, of course, be logical) to work.
"The future is hard to predict right now. I hope America continues to be a good place for entrepreneurs," he says. "I think we have established that we have the ability to grow from a base. Nice, steady growth in these current tough economic times is the wisest philosophy."
Name:Thomas (Tom) M. McDonald
Title: Franchisee/owner
Company: Glencoe Management, Inc.
No. of units by brand: 35 Burger Kings, 18 T-Mobile Premium Retail outlets, 8 Panera Breads, and 3 Fazoli's
Age: 66
Family: Married with three children and six grandchildren
Years in franchising: 26
Years in current position: 26
Personal
First job:
Refinery process design engineer for Exxon Research and Engineering Co.
Key accomplishments:
Master's degree in chemical engineering from Stanford University; building Glencoe Management up from scratch starting in 1986 and bringing my children into the family business.
Biggest mistake:
Investing in a landscape contracting company in 2006--just before the start of the recession.
Decision I wish I could do over:
Investing in the landscape company.
Work week:
Five days a week, 8 hours a day in the office.
How do you spend a typical day?
Review previous day's restaurant sales and operations, answer emails, visit restaurants over lunch, telephone conference with partners, and work on marketing plans.
Favorite fun activities:
Golf, scuba diving, and getting together with family.
Exercise/workout:
Aerobic exercise first thing in the morning five days a week, weight training three days a week.
Favorite tech toys:
T-Mobile Samsung III smartphone, Samsung Galaxy 10.1 tablet.
What are you reading?
History by David McCullough and Stephen Ambrose, historical novels by Ken Follett, and I'm currently reading Killing Kennedy by Bill O'Reilly.
Do you have a favorite quote?
"Do what you say you're going to do," the motto of Glencoe Management.
Best advice you ever got:
Don't respond to an email when you are angry, and never put anything in an email that you don't want broadcast to the world.
What gets you out of bed in the morning?
The challenge of running a successful business in today's recessionary, anti-business environment.
What's your passion in business?
Running a business with integrity and honesty, providing employment to hundreds of people, and still making a profit.
How do you balance life and work?
Work hard, prioritize so the most important things get done, but enjoy life along the way. Life is a journey, not a destination.
Last vacation:
Touring Germany, Austria, and the Czech Republic by car this past September.
Person I'd most like to have lunch with:
Charles Krauthammer.
Management
Business philosophy:
Do what you say you are going to do, minimize debt, don't over-leverage.
Management method or style:
Treat your people with respect and recognize they have problems and life issues as well. Our other motto for Glencoe is, "We treat our people like people."
Greatest challenge:
Treating my employees fairly while still making a profit. The current anti-business environment makes it very difficult to make a profit in the restaurant business today.
How do others describe you?
Hard-working, sometimes impatient, but always tries to be fair and do the right thing.
One thing I'm looking to do better:
Not over-schedule my time.
How I give my team room to innovate and experiment:
I encourage them to make their own decisions and then tell me why they made the decision they did. I tell people it's okay to make mistakes.
How close are you to operations?
Not that close. My time is best spent managing the businesses, rather than working in operations.
What are the two most important things you rely on from your franchisor?
National marketing and new product development.
What I need from vendors:
Consistent quality and on-time delivery.
Have you changed your marketing strategy in response to the economy? How?
We always need to have a value proposition, and we need to make sure the public knows what it is. We investment spend so we can fund local marketing initiatives.
How is social media affecting your business?
We are now advertising on Internet search engines like Internet Explorer and on mobile apps for smartphones.
How do you hire and fire?
District managers hire and fire at the restaurant level unless circumstances call for immediate dismissal, like theft or fighting.
How do you train and retain?
We have frequent training sessions in our conference room at our office. We also have a very detailed pre-employment orientation at our office that clearly spells out company policy and the fact that we use E-Verify. A thorough orientation is the best way to improve retention.
How do you deal with problem employees?
First we counsel them, then we write them up, then suspension, and ultimately termination.
Fastest way into my doghouse:
Don't do what you say you are going to do!
Bottom Line
Annual revenue:
Burger King, $40 million; T-Mobile Premium Retail, $6.8 million; Panera Bread, $18 million; Fazoli's, $2.2 million.
2013 goals:
Open one new Burger King, remodel two more, and grow sales by 5 percent minimum; open two new Paneras and grow sales by 7.5 percent; open two new T-Mobile stores, remodel two existing stores, and grow sales by 5 percent.
Growth meter: How do you measure your growth?
Total sales versus a year ago and comparable sales versus a year ago. We also use the same criteria for ticket counts.
Vision meter: Where do you want to be in 5 years? 10 years?
In 5 years: at 40 Burger Kings, 13 Paneras, and 20 T-Mobile stores. In 10 years: still involved in the businesses, but about 75 percent retired.
How is the economy affecting you, your employees, your customers?
Sales are down and net income even more. We have had very few raises over the past three years, but thankfully, we have also avoided any layoffs related to the economy.
Are you experiencing economic growth or recovery in your market?
Just in the past two months we have had positive sales at Burger King. Panera continues to grow in sales and tickets, year after year. T-Mobile also has had consistent positive sales over the past two years.
What did you change or do differently in this economy that you plan to continue doing?
Tighter control on overhead costs.
How do you forecast for your business in this economy?
We forecast positive sales through traffic-driving value initiatives.
Is capital getting easier to access? Why/why not?
Capital has been easier to access because banks have money to lend and we have relatively low debt and good cash flow.
Where do you find capital for expansion?
From both national banks (Bank of America) and local banks in Las Vegas and Southern California.
What are you doing to take care of your employees?
We have had no layoffs and no cut in salaries, although raises have been few and far between. We also "treat our people like people" so we have very good retention.
How are you handling rising employee costs (payroll, healthcare, etc.)?
We are holding the line on hiring new employees and asking for more productivity from our existing employees. Ultimately, we will have to raise prices to maintain our bottom line as costs continue to go up.
How do you reward/recognize top-performing employees?
We give top performers raises. We also recognize their contribution with titles (training manager, safety coordinator, etc.). However, our primary way to reward good performance is with a bonus plan that is, in effect, a profit-sharing plan.
What kind of exit strategy do you have in place?
My family works in the Burger King and T-Mobile businesses, so eventually I will work less and they will take on more of the day-to-day responsibilities and decision-making. I'm not involved in Panera operations and we have an operating partner in North Orange County where the restaurants are located, so no need for an exit strategy there.
Published: January 14th, 2013
Share this Feature
Recommended Reading:
Comments:
comments powered by

Disqus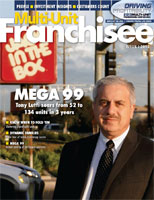 Multi-Unit Franchisee Magazine: Issue 1, 2013
The Joint® Chiropractic is reinventing chiropractic care. Our vision is to become the largest, most respected provider of chiropractic services...
Cash Required:
$100,000
With more than 100 locations open or in development across the United States, Robeks continues its strategic franchise growth with single and...
Cash Required:
$100,000