Share and Share Alike: Franchisors and Franchisees Team Up on Local Store Marketing
Guerilla marketing, grassroots marketing, local store marketing... Whatever you call it, all sales are local, to paraphrase former U.S. Speaker of the House Tip O'Neill. Increasingly, franchisors are taking the local marketing bull by the horns and establishing collaborative programs with franchisees to increase their same-store sales. We take a look at three brands establishing marketing programs that take the franchisor's years of experience and expertise and translate it into low-cost, grassroots success at the store level.
When the weather in Pennsylvania turned unexpectedly warm this past March, the local Quaker Steak & Lube held an "emergency" bike night in their parking lot--much earlier in the year than usually possible.
"Quaker Steak & Lube uses our parking lots as a revenue generator, with lots of outdoor events," says Russell Berner, vice president of restaurant operations for JDK Management Company in Bloomsburg, Pa. "It's a marketing tool for people to have fun and come back other times."
JDK also operates other restaurants (Perkins), hotels (Holiday Inn Express, Microtel Inn, Econo Lodge, and Hampton Inn), and nursing facilities across six states in the eastern U.S. And at their Florida Quaker Steak & Lube location, the parking lot events for bikers and car enthusiasts are year-round (barring hurricanes).
"We operate from some of the largest brands to new, up-and-coming brands like Quaker Steak & Lube," says Berner. Local store marketing at the grassroots level is part of the brand's roots, he says. "We follow that model as we develop in small and medium markets."
About three years ago, Quaker Steak & Lube embraced a local store marketing program at its corporate restaurants and created marketing activities coordinator (MAC) positions. The MACs focus on driving traffic to restaurants through activities such as daily events, community participation, and doing anything and everything to promote the restaurants. The MAC positions, which steadily expanded from part-time, resulted in increased sales at the corporate stores. When franchisees got wind of that, they wanted in.
"The franchise community was asking, 'What are the company restaurants doing that's working so well?' The managers at the company restaurants attributed it to great operations and the matured MAC program," says Megan Duniec, director of field marketing for the Quaker Steak & Lube Support Center in Sharon, Pa.
Although some franchisees embraced the MAC program around this time, it soon became clear to them that the MACs at their franchise units needed additional training and guidance. So in July 2011, The Lube restructured its field marketing support to help franchisees attain similar results, hiring three field marketing strategists, which they call MACROs (marketing area catalyst of revenue optimization).
With the introduction of the MACRO team, each franchise location was asked to employ a local MAC. The MACRO team would then help support the local MACs, with the ultimate goal of increasing same-store sales through local store marketing. MACROs devote their time to training and developing restaurant-level MACs, implementing restaurant visits, helping to create marketing and PR plans, and delivering additional support tailored to the local market.
"In 2011, The Lubes that embraced the MAC program saw same-store sales rise 2 percent," says Duniec. "A strong local store marketing program can keep you on the minds of your guests far beyond their time spent within your four walls," she says.
"It's probably the most progressive thing I've ever seen in local store marketing support," says Berner. "They've put their money where their mouth is."
The addition of the MACRO positions changed what was seen as an additional burden--despite the positive results--into a program offering additional support to attain those results.
The MACs work out of the local restaurant and are paid by the franchisee or company restaurant, while the MACROs are supported by the system's advertising fund. "That's the direction the franchisees wanted," says Duniec. "This allows the general manager to entrust someone else to handle those things, and to focus on operations."
Berner agrees. "It was a mutual approach. We wanted more support in marketing and getting the word out. Since we can't afford television-type penetration and corporate was doing a very nice job with it, we asked for more," he says. "They stepped up and hired additional personnel for more local support."
Initial results from the collaborative program include more Facebook fans, email club members, and text message recipients. Growing these databases is a key focus of the program.
"Once the infrastructure and personnel are in place, it's all about what tactics and programs are developed at all levels to be used in local store marketing," says Berner. "They always had a strong marketing department with creative, entrepreneurial thinking. It's the core and essence of the brand, and they found a way to build on and improve that for the franchisees."
Franchisee buy-in, often a problem when spending is involved, was not a problem here--in fact, it was the opposite. "They're the ones that drove that structure," says Duniec. "Without that support from operators it's hard to keep something like this going."
"Micro group" marketing
Over the past two years, CertaPro Painters has been experimenting with a regional marketing program, looking to hire what the company calls a "micro group" marketing manager: a marketing person shared among a small group of geographically contiguous franchisees, usually two to four.
The program seeks to support marketing activities for the brand's smaller franchisees, who can't afford to hire a full-time person themselves. By combining their part-time needs into a full-time position, a small group of franchisees can gain the benefits of having a dedicated marketing person, growing their business, and focusing on operations.
"It's still a very young program," says Anne Gillaspie, brand manager at CertaPro. "We're trying to introduce it into the field more in the coming years."
Last summer, the company tested a version of the program in Toronto, hiring a marketing manager for a group of eight franchisees (too many, says Gillaspie today). And while she says there was not enough data to produce a strong conclusion, the entire group did see a lift in business, and the test run provided a great deal of useful information about the training and management of the shared marketing manager.
Since residential painting is seasonal, franchisees who could afford to hire a marketing person during their busy season could not afford it in the slower winter months; and marketers seeking steadier or greater income often would find other jobs and not return the following year. "We were investing in people, but losing them," says Gillaspie. "So why not join businesses who need it, and the franchisees can pay by the project."
Larger and mid-sized franchisees in the system are able to hire their own marketing managers. Gillaspie says there are about 55 marketing managers working for these franchisees, either full- or part-time. "We've been hiring marketing managers for years," she says. "We're trying to duplicate that for groups of two to four franchisees."
Although the program was developed at corporate, the franchisees do all the hiring and management, often working in concert with the general managers. "Finding the right candidate for the position is important," says Gillaspie, who should know: she has been involved in the genesis of the program since 2009, when she became a part-time marketing manager for a CertaPro franchisee in Denver. Word got around, and about six months later she met with corporate, who hired her to develop similar marketing programs system-wide.
Except for promoting the program to the franchisees and providing the training modules, there is no direct corporate involvement in the day-to-day execution of local marketing. "It's all on the franchisee level," she says. "We take a micro group within the coop, which starts recruiting for this person. When they agree, they hire someone and share the responsibility for overseeing that person's hours." The cost of the marketing person is shared among the franchisees in the micro group, with payment based on the number of hours that person works for each franchisee.
Training is done through a set of six online e-learning modules that she and a colleague created, and takes about two to three weeks. "My role is support," says Gillaspie, who is available to answer any questions from the marketing managers, both during and after their training.
The results--based on number of leads, scheduled estimates, and jobs that close--have been positive, she says. Success is based on each franchisee's marketing plan for the year and the marketing manager's ability to increase those numbers.
The benefits for franchisees, she says, include having their own marketing person with the background and qualifications to take the message, strategy, and tactics from corporate and implement them in the field. The benefit for the marketing manager is a full-time job spread over different territories, with the franchisees paying for only the hours they need.
"The role is flexible," says Gillaspie, dictated by the needs of each franchisee in the micro group. Activities can include creating a team of canvassers to recruit leads, overseeing sign placement, and knocking on doors, making business introductions and distributing door hangers; as well as following up on estimates, making callbacks, and managing a customer thank-you program in their area. Many of these local grassroots marketing activities can be done from a franchisee's home office or their own office.
Marketing managers also can use social media to spread the word, interacting and engaging online with potential, current, and previous customers. And while this activity can be done from anywhere, "All the grassroots local branding has to be done in their turf," she says.
Although the program is still young (only about 2 groups have been successful and stuck with it, says Gillaspie), "The franchisees are really liking the idea," she says. "The main goal is to get our brand out there."
A franchisor's guerilla education
At i9 Sports, grassroots local store marketing "has been something we've done from the outset," says Brandy Zickefoose, brand manager. "It's how the model started out. We like to keep startup and marketing costs low."
Three years ago, when i9 opened a corporate store, it became readily apparent to management that franchisees were being asked to do too much--in both time and money--to carry out the company's recommended marketing activities.
"It was a huge change for us. We saw an immediate need for these resources, that it was a lot for one person to take on," she says. "For franchisees managing guerilla marketing efforts for several locations, it was important for us to put training in place, as well as show them how to execute particular tasks: where to go, what to say, and how to track it."
About two years ago, i9 started developing specific processes and tracking the resources required for, and the results of, its local marketing efforts. After some fine-tuning, the company introduced a new-and-improved plan to franchisees last summer at the company conference. She says it was well-received.
Since opening that corporate store 3 years ago, she's been working on tightening up the brand's local store marketing efforts and how they measure its ROI. "As we've become more effective and track the results, we've been able to reduce traditional marketing efforts and put the money saved back into guerilla marketing," says Zickefoose.
"Low-cost marketing initiatives are always received fairly well, as long as they show results," she says. "It was probably a bit overwhelming to think about all the things you could do until we developed the processes for how to strategically plan what you want to do, and the resources needed."
In the past, she says, corporate told franchisees basically to "go do" all the marketing activities corporate recommended. Now the message is much more specific: "Here's what you're doing this week." That could include building relationships with schools, distributing flyers to send home with students, developing relationships with PTAs, and coordinating with school events; blanketing an area with road signs; and developing partnerships with local businesses (bowling alleys, spas, family-friendly restaurants) and collaborating with local restaurants on a "kids eat free night," distributing coupons to customers to help drive sales.
"It's all about building relationships with organizations that reach that same target market, and developing mutually beneficial programs," she says.
Even putting out road signs has become "more granular and strategic," she says, and i9 created a spreadsheet with maps showing franchisees where to place them. "If I know where they've been, we can follow up and manage better," she says. "Before, we gave them a bunch of signs or flyers and did not know what was going on."
Tracking marketing initiatives at each location allows her to see the results on a weekly basis--and how many leads, prospects, and new customers came on board that week. "If three of four are doing well, we can track to see what's being done and not done," she says.
Making this all happen, however, was not a slam-dunk. "It's hard to train. We're trying to get our arms around it," she says. Since then, i9 has developed scripts with talking points, webinars, and is doing more training. "It's an ongoing education for us," she says. And for the franchisees as well.
Published: August 29th, 2012
Share this Feature
Recommended Reading:
Comments:
comments powered by

Disqus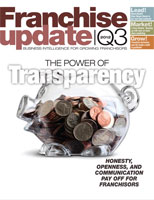 Franchise Update Magazine: Issue 3, 2012
Conferences
InterContinental, Atlanta
OCT 18-20TH, 2022
From lead generation to increasing sales, Hot Dish Advertising is the pro at getting your message in front of those who matter most--consumers...
Sociallybuzz, founded in 2009, is the #1 Social Media Marketing Agency to help franchisors and franchisees increase their revenues, drive sales, and...