Smooth Transitions: Passing The Franchise To The Next Generation
Two thirds of family businesses fail or are sold out of the family after the founders leave the company. And by the third generation, just 15 percent still exist as family businesses (Family Business Center, University of Massachusetts, Amherst).

Eighty-five percent of business owners want their business to continue in the family. Yet only 30 percent of family-owned businesses transfer to the next generation. And of those that do, just 45 percent will be in business three years later. (Avastia Business Transition Team).

The numbers vary, depending on who you ask, but the result is the same: The outlook for the continuity of family-owned businesses is bleak. So where's the disconnect? What goes wrong? With all the years of hard work and sacrifice that go into building a family-owned business, why don't more founders succeed in passing it on to the next generation--and the next? And what can a founder do to increase the odds the business will survive?

For family-owned franchises, the essential succession problems are the same as for non-franchised businesses. Possible differences can include franchise agreement restrictions in transferring the business, which can be a complicating factor. On the other hand, franchisors can also serve as a resource for helping the transition succeed--after all, it's in their interest, too. Some even offer classes to help next-generation owners succeed (see sidebar, "Second Generation School"). If you ask business owners what's needed to successfully pass their business to their children, most will reply with a list of legal and financial documents--that is, those who even think about it. Many say they don't give it much thought because they're too busy running their day-to-day business operations.

According to many family business and succession planning experts, the most common reason for failure of a family business transition is inadequate planning and preparation of the younger generation. Part of the blame for this failure lies squarely with the experts themselves.

"We have done a great job of getting the assets, the business, the real estate, and all of that ready for the family," says Greg Amundson, principal with Avastia Business Transition Team, Federal Way, Wash. "Where we fail is to get the family ready for the money. That's why the failure rate is so high among family businesses."

"The less difficult issues are the financial and legal ones," agrees Loyd Rawls, founder and CEO of The Rawls Group and Family Business Resource Center in Orlando. "More difficult is the family, the teamwork. That's where succession planning is a formidable challenge."

Rawls, who has authored two books on succession planning, emphasizes the continuity of a family-owned business "through" the next generation--versus just passing it "to" the next generation. "A will, a trust, and a life insurance policy is not a succession plan," he says. In other words, the "hard" side (legal and financial) of family succession planning is a cakewalk compared with the "soft" side (family politics and dynamics). It's one reason succession planning firms are adding psychologists, facilitators, mediators, family counselors, and therapists to their array of financial and legal experts.

Monte Scott, a principal at Avastia, is an organizational psychologist, complementing Amundson's expertise on the "hard" side (Accredited Estate Planner, Chartered Life Underwriter, and Chartered Financial Consultant). One big message for all families, says Scott, is that family complications are normal, and there are solutions.

"In my experience, the key difference between those [families] who were successful and those that were not, was that the successful ones had the courage and the foresight to confront all the family and business issues," Scott says. "Get them on the table, and get help."

Says Scott: "The consequences of doing it right or wrong could be tremendous." The collapse of a family business could wipe out the primary source of income for several generations. On the other hand, he says, "Get professional assistance with this very complicated process and you're likely to create a legacy lasting for generations."

While a family's financial and legal ducks must all be in a row for the business to survive, two main issues drive the process, says Scott. First, is the company able to support the family in the future? Is it big enough to generate sufficient cash flow to support not only the first generation in their retirement, but the next generation and their growing families as well?

Second, and more difficult, he says, is whether the family can continue to maintain and grow the business. Has the next generation been adequately prepared to continue growing the business? Is the leadership potential there? Do the siblings fight? Can they learn to work together?

"All the business transition planning must work toward success in both those operations," says Scott. Unless family members are aligned, the business may pass to the second generation, but it is unlikely to survive more than a few years.

Says Rawls: "You could have the best estate planning attorney money can buy, but if that attorney does not understand that if mom and dad don't have an exit strategy that provides them adequate financial independence, then they're never going to withdraw from the business and give junior or sis the opportunity to come in and do just like mom and pop did at one time, and become successful based on the failures they learned from."

And, he warns, despite their best intentions, "If mom and dad's personal financial security is at risk, they're not going to let them take over."

"The overwhelming demand for an experienced facilitator is because the various issues of succession planning are interdependent," says Rawls. "If you don't have a leader, a facilitator who understands, generally, all the components of what we call the succession matrix, then your succession plan is vulnerable," says Rawls.

Death on denial
And of course there's the human factor. "People don't like to face anything having to do with mortality or loss of relevance," says psychologist Scott. This holds especially true for men who have founded a company and worked relentlessly to make it grow. These individuals tend to equate their identity with the business and use it as their social network. Without developing outside interests, giving up the business often means giving up their identity, their associates, and for some, life itself. That makes it extremely hard to let go.

While Scott and others see denial of mortality or an unwillingness to let go as key reasons many families avoid dealing with the inevitable up front, Rawls says the problem is more often what he calls "motherly issues"--that is, any issue that pits one or more family members against another, with mom usually wanting everybody to be happy.

In confrontations between father and child, or between siblings arguing over power, responsibility, or equal compensation, he says, mom will not force accountability at the price of one child over another. "That's where they don't want to go. They need help there. Death is not a big deal, but this is," says Rawls.

One common failing, says Amundson, occurs when the patriarch and matriarch hold all the power and knowledge and don't pass it to the next generation. Upon succession, the family ends up with a business they aren't very good at running--although great effort was expended to maximize value, minimize tax consequences, create a solid legal structure, etc. "People come to the end of their lives, pass on the business to the kids, and it doesn't work," says Amundson.

This is what Rawls means when he says "through" the next generation, rather than just "to" it.

"You have to plan with all the people involved, and get them involved early on," says Amundson, who has been in the business for 35 years. "It's hard for families to weave through this, so they tend to back away. It takes a third party, a consultant, to see these issues and put them on the table for discussion."

And if it becomes clear the next generation is unlikely to make a go of it for whatever reasons--rivalries, incompetence, lack of passion--founders should consider hiring professional managers or selling the business, either all at once or gradually through increasing managers' equity over time.

Many planners, too, sidestep the complicated, personal issues and focus instead on the technical side of succession planning (estate planning, tax planning, insurance, etc.)--but all will fall by the wayside unless the human part of the equation is in place.

"Most [in my business] only feel comfortable dealing with the facts and the figures, not the people issues," says Amundson. Improving this will require a change in the thinking of his fellow professionals.

The loss or closure of a family-owned business affects more than just the family, says Amundson. He views the failure of a family business as "a horrible, inefficient use of resources," not only for the immediate and extended family members, but also for the former employees, who must find new jobs. This can involve relocation, new schools, new relationships, and can disrupt the local economy and social and family networks. And for Amundson, it means the loss of a client he may have had for a large portion of his 35 years in the business.

Since an estimated 80 to 90 percent of U.S. business are family-owned, a small reduction in the failure numbers can have a large positive ripple. "When you realize how many family businesses there are, if we can just change a little percentage in terms of the survival rate, that becomes a big number in terms of businesses that survive," says Amundson.

"If you could just move from 30 to 50 percent surviving, that's huge," he says. "My passion, and Monte's [Scott] too, is to try to get those numbers turned around. The key," he says, "is the soft side."
Legal counsel weighs in
"The biggest tip I can give," says attorney Jeremy Vermilyea, "is plan early and plan often." Vermilyea, a partner at Jordan Schrader, a law firm based in Portland, Ore., says this is particularly true when partnerships or other forms of multiple ownership are involved (see "Split Decisions," in Area Developer Issue II, 2005).

Reasons people don't plan for succession include the following, says Vermilyea:
Procrastination. Formulating an exit strategy is rarely at the top of a business owner's priority list. Payroll, customer service, employee issues, and more tend to crowd out succession planning as a priority, especially for younger owners building their business.
Denial. An unwillingness to confront one's own mortality is definitely "a big part."
Attachment. So much of a person's identity, particularly a founder's, can become bound up in the business. "It's difficult for some people to realize there's a time to let go."
"Those are the big stumbling blocks," says Vermilyea. "Once you get someone there psychologically and emotionally, the nuts and bolts are relatively uncomplicated." Again, the hard side is easy; the soft side is hard.

Appealing to a client's sense of responsibility works to nudge some people along the planning path, he says. "I have clients in their thirties with successful businesses who are not anywhere near retiring yet, but they have children, families, and employees who are relying on them. I tell them, 'This is about providing for your family and for your employees, who depend on you.'"

For Vermilyea, "It's getting people to accept the fact that we're not here forever--and it's better to deal with it in the most constructive way possible." This means thinking about succession planning from the beginning, he says, "because it will inform a lot of decisions about how you run your business." Some tips:
Identify key personnel who have the potential to take over the business. "You need to be constantly thinking about it," he says. One common mistake: Failing to identify key personnel early and include them in developing a succession plan, one in which they can see a defined path of steadily increasing responsibility and eventual ownership. The alternative is watching your most talented people leave for companies that get this right.
Speak with your family about what they want to do. "Your son, daughter, or spouse may not want the business. Make sure your interests are aligned."
Put good buy-sell agreements into place, and have sufficient insurance to cover the expenses of transferring the business, especially when partnerships are involved.

As with many of his clients (and echoing Amundson's observations on his profession), Vermilyea says it also can be hard for lawyers to move beyond the documents. "Lawyers are also called 'counselors,'" he says. "We have to get back to that part of our job."

Difficult conversations Trudy Nearn is one attorney unafraid to tell families necessary, unpleasant truths. Nearn is the founder of Generations, a law firm in Sacramento, Calif., specializing in business succession planning.

"Clearly you have to have the tax planning, estate planning, and insurance planning all coordinated," she says. Beyond that, "I think the psychology is a huge part in business transitions." That, and "preventing the client from making stupid decisions," she adds.

"The most important thing is to find an advisor who will deal with all of those issues, not just an estate planner. Someone, she says, who will ask "all those ugly questions," such as, do their kids have the work ethic, the talent, the smarts, and experience to make it work? "Some clients do not appreciate hearing that the way they see their children behaving is not realistic," she says.

In the "counselor" part of her role, Nearn will speak with the client about bringing in the kids to talk about the business, what the client wants to happen for the business, and how that would be possible. Then she'll sit down with the siblings and ask them if they even want the business, or if there are problems or resentments among them that make working together impossible.

Sometimes a positive outcome is unlikely. "If a client tells me this business is everything to them, and that its success and survival is the most important thing, I tell them to sell it to somebody else. Then the children can inherit the money from that," she says.

Most of her franchise clients are still relatively young and not feeling ready to focus on succession issues, even though Nearn tells them they have to start early. "If you don't plan for the transition of the business, I don't see how the business is likely to survive.

Nearn tells her clients there are four basic ways to leave a business: 1) to heirs or family; 2) to a key employee or team; 3) to an outsider; or 4) to no one, i.e., shut it down. Many times, she says, her clients don't see how they can do anything other than close the doors. "They're not thinking clearly about it and can't see any value in the business other than themselves."

One cautionary note for franchisees: If you want to transition your business to the next generation, your children may not meet the requirements of the franchisor in terms of liquidity, training, or other criteria in the franchise agreement you signed so long ago. Thus, franchisees must consider the possibility that even if they want to transfer their units to their children, it may not be possible.

One remedy is to do the estate planning to make it possible, Nearn says, even working with the franchisor on this. Life insurance is one solution--not only to provide needed liquidity to ensure the funds are there for a successful transition, but also to provide for a more equitable distribution of assets to all the children in cases where one or more inherits the business and the others don't. "Life insurance is a way to have enough cash to pay off the others," she says.

"The first really important thing is to look at your franchise agreement and see if there are restrictions on the transfer of the business. I tell clients to get me a copy of their franchise agreement. People usually assume there are none." (Franchise agreement restrictions may even affect your choice of brand, based on your long-term view of your exit strategy.)

If there are no restrictions, Nearn begins by speaking with the client about the timing for planning the transition. "As soon as you start thinking about acquiring a business, you're going to have to start thinking about exiting that business," she says. This can be difficult for someone just beginning, but it's necessary for any founder wishing to sell their business, rather than shut it down on retirement.

Her own business is an example of this forward thinking. When Nearn started, she named it Law Office of Trudy Nearn. About two years later, realizing it could be difficult to sell the business with her name on it, she renamed it Generations. This, she figured, would allow continuity for both her company and her clients after she exits the business. After all, if she is successful in her work, her clients' children and grandchildren will need good professional advice someday--and she'd like Generations to be there to provide it.
Second Generation School
STEVE KNICKERBOCKER's family has owned and operated AAMCO Transmissions Centers in the Kansas City Metro area since 1979, when his father bought into the franchise. "My father was very interested in making a business he could pass on to both his sons," says Knickerbocker, who owns and operates the same three franchise locations his father opened.

Knickerbocker began working in the business in high school. After going off to college he worked in it as a summer job. He started out pushing a broom but soon was turning a wrench. "I had some mechanical aptitude, so I'd work on cars for my father," he recalls.

After college graduation, "My choice was law school or go back and work with the family business. I got dangled a new car and a payment and everything else, versus a 15-year-old piece of junk that was barely held together with rubber bands and baling wire. Peanut butter and jelly sandwiches were just no good any more. Let's go make a living!"

Says Knickerbocker, "My father very much wanted to have a family business, so I came back. I worked with him, became a partner of his, and eventually he retired and passed the business along."

As part of his preparation for assuming the franchise reins, Knickerbocker attended AAMCO's Second Generation School, along with his brother. "There were other people in my situation. They were doing the nuts and bolts of the business, were very involved, and their fathers and mothers wanted to pass the business along and become partners." The school was a crash course in how to run the business, to help franchisees' children learn how to become managers and owners. "It wasn't anything about how to fix transmissions. It was about how to manage your technicians, how to manage your sales procedure, how to market your center--the overall big picture of running a franchise in the AAMCO system," he says.

While the school was about the franchise system, not succession planning, the goal was the same: for the franchisee, to allow the younger generation to become franchisees so they could keep the business in the family; for the franchisor, to keep a successful unit in operation. "It was so the franchisor could check off that these potential franchisees knew what was supposed to be done to run a franchise successfully. So in that sense it was about succession," says Knickerbocker.

His brother attended Second Generation School, too, and went on to spend a number of years in the family business, but he is no longer involved, says Knickerbocker. "This business didn't suit him very well."

As for an actual succession plan, says Knickerbocker, "That was something we developed on our own, through advice, attorneys, estate planners, and ourselves. My brother was also involved in the transaction. So it was about family succession, trying to make the family name live on."

His father fully retired 11 years ago, soon after Knickerbocker attended Second Generation School. In addition to showing him the ropes of managing the business, (his units have been recognized as top performers in region), that classroom time continues to pay off today in other ways.

"The greatest help was building a network of my peer group that I could lean on, that I lean on still today," he says. He is still in contact with 8 or 9 of the 12 or so in his class. "A vast majority I'm still friends with. We had such similar backgrounds, and such similar challenges in all respects of a family succession AAMCO Transmission franchise."

Says Knickerbocker, "The longest-lasting benefit has been those friendships and the networking that occurred at that class. We had the same questions: How are you going to do it? How are you going to pass it on? How much do you have to pay? How do you transfer the assets?"

For him and his classmates, he says, it was all about trying to transfer a business and pay the least amount of taxes for everybody involved. "As a small business, we want to try to limit our tax liability. For family businesses, the tax consequences can be tremendous and make them very hard to pass on. If you do it wrong, people can have to pay quite a tax bill."

Knickerbocker offers a bit of perspective on passing on the family franchise. "There's always the family. You've got to add the business part," he says. "I have lots of friends now that are beginning to get of the age that they look at their kids and try to figure out the plans for them."

Any tips for those friends? "My only advice is that it's a business, and make sure that everybody understands it should be a business transaction. My father and I were always able to separate the two, family and business. It's got to be a win-win for everybody in the succession. Because, quite frankly, we're small businesses. We're not independently wealthy, so money matters."
Brotherly Love
MARK CAFUA was five years old when his parents bought their first Dunkin' Donuts franchise. Today, at age 32, with 27 years under his belt, he and his two brothers run the family business out of North Andover, Mass. Their parents toiled hard together building the business from scratch. "They worked long hours and really put it together," says Cafua. "Management was dad, but operating the stores--mom did a lot."

When Cafua, who's been a franchisee himself for about 13 years, took over the family business with his two brothers in 2000, their parents had formed 52 partnerships with about 100 units--all owned in partnership with other franchisees, family, and friends. The brothers' goal over the past six years has been to grow with the good partners, buy out the underperformers, and open their own new units. At mid-2006, the Cafua Management Co. had 156 Dunkin' Donuts units and the brothers want 200 by the end of next year.

"My father never told us we had to get in the business. It's not that we had to be, but we want to be in the business. We grew up with a lot of passion for the brand," says Cafua.

"A lot of it has to do with the way we were raised. It was a transition that took place over time," he says. "We all pretty much had our roles and responsibilities and grew into them." One brother takes care of the financials, one runs operations, and Cafua is CEO. "No one has more authority than the other."

As the brothers' responsibilities grew, their father remained involved, even as he stepped back from the day-to-day details. "Dad was aware of what was going on and never felt like the rug was being pulled from beneath his feet," says Cafua. "He is still part of the decision making with acquisitions. I like that, because he's been doing it a lot longer than I have."

The family also found the support they needed from their franchisor--if not actively, then at least by not interfering with their plans. "It was more about not getting pushback on what we were trying to achieve and accomplish. We've done a lot of estate planning, so a lot of our franchises are in trusts, and the company allowed us to do it," he says. "Instead of providing obstacles, they provided solutions. It's good when you have a franchisor who can help you do that."

He describes the transition as "a great success story," but adds, "It's not always so easy, but it's great we are able to work together and achieve it."

Trust is a major ingredient in the recipe for the family's success to date. "Trust is probably one of the integral parts of making it work," says Cafua. Each brother has his role and trusts the others to do their part, which allows them all to focus on getting things done. For Cafua, that means he can go out and acquire and develop locations on his own (with advice from dad if he needs it).

Another key part, he says, is allowing events to unfold in their own time, rather than setting an arbitrary timetable and trying to squeeze family members into it. When dealing with the prior generation, says Cafua, pay attention to the pace of the transition. "What's important is that everything has to be at a slow pace. Don't expect the transition to happen overnight. It took us about three years to transition over. It has to occur at everyone's pace."

Being realistic and allowing for some flexibility can help smooth the way. "Sometimes we push time frames on ourselves that don't give us the time we need. Instead of setting timelines, set expectations: what the older expects from the new, and what the new expects from the older," he says. "Set expectations on what people are looking for." (This is not a recipe for a completely open-ended time frame he adds.)

Cafua says handing the company to the next generation to own, operate, and manage is not as easy as he might make it sound. "We don't always see it the same way. A key thing is being open-minded and willing to listen and understand what the other side is saying."

Says Cafua, "A lot of times when there is a disagreement, people want others to agree with their decision." Understanding that disagreement occurs sometimes, making a decision based on accepting that and moving on is a key part of keeping the business going.

"The biggest part is around trust. That's one of the things that needs to be discussed right at the beginning. Sometimes it's difficult, sometimes there are roadblocks, but you overcome them," he says. "It's not an easy task, but we manage to stick to it and grow." (For more on Cafua and Dunkin' Donuts, see the cover story on the AD50 in this issue.)

Kids Do the Darndest Things!
KITTY AND JAMIL ALAILY of Appleton, Wis., owned 36 Cost Cutters when the home office at Regis Corp. offered them the opportunity to open the first Supercuts stores in their market. "We weren't very interested. We were getting a little old for retail," says Kitty Alaily. In fact, after 22 years in the business, the couple was looking to slow down and slip into a comfortable retirement. Today, in addition to their previous stores, they own four Supercuts units with two more on the way. What changed?

"Our son, Jihad" she says. "He told us, 'Don't you dare sell that business!'" The very Midwestern son of Christian Lebanese parents, Jihad, 28, had graduated from Babson and Tulane--and seemed happy with his life in Seattle, where his sister also lived, and where he was doing extremely well in a sales position.

As it turned out, Jihad knew Supercuts from the West Coast and liked the brand. So when he heard that his father was talking about retirement, he said, "Okay, I'm in," says Kitty.

"We're franchise owners, this is a retail business. We never expected our children would do this. Our exit strategy was to sell or partner with some key high-level employee, or partner and bring someone in." Her son taking over? "We never even thought about it."

Mom was impressed when Jihad told her he didn't want to just waltz in and run the family business. Together with his parents, the three set it up so he could lead the new Supercuts operation (now seen as a wonderful opportunity for the elder Alailys), while he learned the ins and outs of his parents' Cost Cutter business.

His parents were confident in his skills, but wondered if the family business would suit him. "He really wanted to come in," she says, "but would he like it?"

Two and a half years later, the answer is a resounding yes. Jihad arrived eager to get involved at all levels of the organization, says his mom. "He Looked at his father's responsibilities and started taking over. He said, 'You know dad, you could do these things better.'" His father, eager to retire, was receptive and the two soon started working to shift responsibility from father to son. Today, Jihad has taken over all development and maintenance activities (with his father's ongoing guidance when needed). "Jamil is happy," say mom Kitty. "He's now on the sidelines, consulting with my son."

The family used Jihad's entry as an opportunity to improve their organization and fill existing needs. "We weren't hiring him for a position we already had. We hired him for a position we needed," she says. The business needed a better bonus plan, goal setting, and a process to achieve that. "Gradually he took over that leadership." The parents still have complete ownership of the organization, and if anything happened, it would be an inheritance situation. But they're always considering new options. "My husband is constantly talking with financial planners," she says.

In her role within the company, Kitty was responsible for many activities and functions: operations, retail, inventory and buying, marketing, training and education, and administration. (There presently are 15 people in the regional office and about 350 employees in the field.)

Another much-needed change since her son came on board: Kitty hired an executive assistant. "She has become the executive assistant to the whole family," says Kitty. "She puts us through our paces, holds family meetings we never did before, and provides feedback after meetings in a very appropriate manner, and reminds us of uncomfortable things."

However, when it came to letting go, mom didn't find it easy as dad had. But with outside help (and some patience on all sides), she's doing better. More of a micro manager than her husband, she found help through her TEC Group (a CEOs group that meets every six weeks to discuss common issues). "If I didn't have my TEC advisor I would seek it from someone else, I belong to several groups," she says.

She also found help from the franchisor. "It wouldn't have happened without outside people," she says. "My husband and son didn't need it. Jamil wanted to get out," she says, and was eager for his energetic son to fill his shoes.

"I'm really wanting to work this process the best," she says. "It's been almost magical, because it's working. He definitely has the aptitude to be a general manager for this company. I had doubts--he doesn't do things the same way I do."

Today she's continually finding new ways to work with her son. "I'm having so much fun working with him, and how we've redone our organization. I come here half days sometimes, so it's really pleasant. He's not really ready for me to take off." But, she says, "I have to be really sensitive to when he is." She doesn't want to be one of those parents who says "The business is yours," but continues to meddle from the outside. (See her "Six Tips for Successful Succession" sidebar.)
Visionary, Planner
LARRY ROHRER is a firm believer in planning for the future--and working with others to find the advice and help he needs. Rohrer owns two Benjamin Franklin Plumbing and two One-Hour Air Conditioning & Heating territories in the Lancaster-Harrisburg, Pa. area. Both brands are owned by Clockwork Home Services, Inc.

Rohrer's father started the business in 1958, and Rohrer's son, with three boys of his own, is now president. "As I see the home services business changing, it will be very difficult for an independent. I'm trying to secure a future for my family," says Rohrer.

"First and foremost I have an inbred desire to be a visionary. So I spend a lot of time planning ahead," he says. This includes reading a lot of business books and meeting with his attorney and accountant each year to map out the future. "Our accountant forced us to look ahead to the next year and the next five years," he says, asking him, "What do you want your company to look like? Do you see your dream being fulfilled?"

Rohrer has been affiliated with Clockwork since 1992 and considers them visionaries as well. Clockwork's Success Group International (SGI) helps independent contractors and business owners in the home services field by acting as a business school for members--who generally have inherited a family business or who have a purely technical background. SGI also provides management tools and systems to members--and an "inside track" for them to convert into a franchisee of one of Clockwork's residential service franchise brands.

About 10 years ago, Rohrer and his wife attended an intensive, multi-day family estate planning process. In it, he says, they reviewed their life, and how they saw their future, answered questions, meditated, and met with others at the event. The sponsor, a church-based group out of Goshen, Ind., he says, was looking into this as a way "to help families get it together, so to speak, long before the difficult periods came." This experience, says Rohrer, has helped him shape what came down the road in the ensuing years.

At the time, Rohrer and his wife were recent empty nesters. His daughter, who had just gotten married, had no interest in the business, he says. "We redid our wills, thought through our charitable giving process, and then we communicated that with our children: 'This is what we're going to do, this is what you can expect.'

"We basically shared with them what we, as parents, wanted to happen as we exited this life," he says. "They already know how they're going to be taken care of," including the grandchildren. While his son is taking over the family business, Rohrer and his wife have provided for their daughter through other vehicles, he says.

Rohrer is 60 now, and his son, 35, is president of the family business. But that position wasn't a gift, nor was it a given. "He had to prove himself or show the intention that's what he wanted to do. He did that by continual personal growth in the business, and by taking various levels of responsibility and being successful at it," says Rohrer.

He says his accountant and attorney were not in favor of the timing. "I said, 'Well, I understand and appreciate your input, but I just strongly feel now's the time to do it.' That was two years ago. They now sit back and say, 'You were right, I had no idea this man was so motivated and so talented.'" His son, says Rohrer, has taken the company to the next level.

Yet now, as his son assumes greater levels of responsibility, Rohrer faces a new challenge: "I need to start becoming his support role." Making this adjustment, he acknowledges, has been "somewhat difficult for me, but I felt it was time."

Rohrer did succeed in passing the baton to the next generation. Today he's working on the follow-through. Family succession planning, he says, "is not an overnight decision, it's a process." (For more on Rohrer--and Clockwork Home Services, the franchisor of his two brands--see this issue's cover story on the AD50.)
Published: January 9th, 2007
Share this Feature
Recommended Reading:
Comments:
comments powered by

Disqus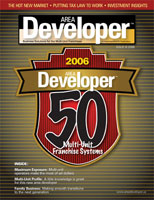 Multi-Unit Franchisee Magazine: Issue 3, 2006
Fit Body Boot Camp's gym franchise opportunity is the most affordable, low-cost, profitable, fitness franchise that's easy to own and operate.
The opportunity to grab a slice of the pie and partner with Perkins Restaurant & Bakery, a tried and true concept, is ready for the taking for...
Cash Required:
$600,000