Some Like It HOT: A Behind-The-Scenes Look At How Four Young Franchise Concepts Fire Up Sales
Every year thousands of franchise companies pour money and other precious resources into lead generation and sales with varying degrees of success. But few rise to the top.

For those who do, what are their tricks of the trade? What are the hallmarks of "hot" franchise systems, their processes, their development teams? While some handle sales in-house, others outsource the sales process to brokers and consultants, while still others call on area developers and representatives. Some do all three.

We spoke with four relatively young brands that are arcing upward in sales and growth. They're rapidly signing new franchisees and opening new stores. Their approaches and offerings are unique, but many development fundamentals remain the same.
Really on fire
In Jacksonville, Fla., a couple of former firefighter brothers, Robin and Chris Sorensen, launched Firehouse Subs back in 1994. After building a couple of dozen locations, the team began franchising the concept in 2001, exclusively through an area representative model.

"We have a director of franchise development who identifies and works with area representatives who then do all of the selling," says Don Fox, CFO for Firehouse Subs. "It's a very interactive process where our 25 area reps work closely with our four franchise business managers here in the corporate office."

The model is working well: the sub sandwich franchise has grown to 140 operators overseeing 315 stores, and they plan to open another 75 to 80 stores during

2008. To date, Fox says, more than 1,300 agreements have been sold by its area reps.
What's making this brand so hot?

Fox says it starts with the passion of the founding brothers and continues through to the brand's use of fresh ingredients and its practice of old-fashioned customer service. Behind that, says Fox, is a two-tiered approach that identifies the right candidate and the right location.

"With our area reps on the ground in the various locations, they can identify and meet with prospects," says Fox. "We're looking for a certain work ethic, somebody who will be in the store, hands-on. There's no substitute for an active operator."

Fox says candidate screening takes place at the area representative level. "That's the first point of contact, and they make the preliminary decision," he says. After that, the corporate team gets involved. He says the corporate office takes more of a "support services" approach than a sales one. As Fox puts it, "The area reps are relational with the prospects. They create a bond."

Once the prospect is on board, the area reps work with them to find the right location. Fox says the area reps and the new franchisees typically know the territories pretty well. Corporate supports this by mapping the markets and identifying potential areas for them to scope out. Once a site is selected, corporate reps come in for a visit.

Although a lot of power is delegated to the area reps, corporate staff stays involved by visiting every area representative and franchisee at least twice a year. "We delegate to the area reps, but we also collaborate. We use a system of cross-checks," Fox says.

Not surprisingly, it can be difficult to find highly qualified area representatives, he says. "It's tougher than finding good franchisees." But the right ones do well. Fox says each area rep must create a proper infrastructure and typically has four to five people working to help manage their operation. He says the company would ultimately like to have as many as 80 area reps nationwide.

Fox says Firehouse Subs splits new franchisee royalties and franchise fees 50/50 with its area representatives. That's a big investment, but the potential payoff is bigger.
Playing games
There aren't many sectors of the consumer electronics market hotter than video gaming. And that's just what Newport Beach, Calif.-based Play N Trade has been capitalizing on.
Started in 2000, the company launched its franchise growth plan in 2003, but became really aggressive about growth only last year, says Vice President of Franchise Development Charles Franklin.

"The video gaming industry did more than $17.9 billion in sales last year," he says. "And with only one other significant competitor, it's the perfect time for us to grow."

Play N Trade reported 300 new signed deals for 2007, giving the company a total of 460, with more than 140 stores currently open coast to coast. Franklin says the company relies on a network of 33 area developers and six in-house salespeople to grow the brand.

"It's a collaborative effort where we handle leads in our open territories in-house and let the area developers handle leads in their areas," he says. Franklin says they're looking for area developers and more growth in the mid-section of the country. Qualifying leads is done through a five-step process, and prospects have the opportunity to operate single or multiple units.

Brokers are not part of the equation at Play N Trade. "We're getting thousands of inquiries every month so we don't need help in that department," says Franklin. He says the issue of control is important to the company. "We know our profile, we know what we want in a franchisee. We have the resources internally to handle that process."

Because of the high level of inquiries, Franklin says, the company turns away prospects when the fit is not just right. "We see ourselves as consultants, not salespeople," he says.

Once the right prospects are identified, an in-house real estate executive, with more than 25 years' experience, works with the new franchisee and the area developer to locate and procure the right location.

Fox says the corporate office stays in close touch with its area developers--who receive an upfront commission and 25 percent of ongoing royalties for their work--through weekly conference calls and daily phone conversations. Says Franklin, "They're our liaisons, our feet on the ground out there."

Follow-up and support are a critical part of the continued success of the franchise and its growth model. Franklin says the organization has one corporate person for every two franchisees. That makes for a lot of one-on-one support.

"We're 100 percent franchise-driven," he says. "There are no corporate stores, so all our effort and resources go into building our franchise system."
Fully computing
Friendly Computers is a small operation garnering big results from its headquarters in Las Vegas. "We have 143 stores across 39 states and we're looking for more," says company President Bryan Ward.
Although the company was founded in the early 1990s, it's been franchising only since the start of this decade. Friendly Computers provides an on-site computer repair service much like a Geek Squad, but more affordable, says Ward.

The brand is hot, Ward says, because of the growing market for computer repair. The company began as a home-based franchise, and still has many of those original franchisees. Ward says the company has shifted strategy and now requires franchisees to have what is typically an 800- to 1,000-square-foot retail "service center."

The recent acquisition of Computer Renaissance has been important in building sales, giving Friendly Computers more exposure and nearly doubling its numbers. Ward says the company plans to keep both brand names.

One in-house salesperson--Don Ziegler, a former Dwyer Group salesperson--works with two in-house support staff and three area developers in the field. They follow a somewhat traditional pattern of marketing and generating leads, profiling, screening, developing relationships, and, ultimately, closing the deals.

The franchisor has developed its own prospect profile over time, which helps determine solid candidates. "Generally, it's people with a background in IT and an interest in being very hands-on in the store operation," says Ward.

The sales process at Friendly Computers is slow and steady, taking the time needed to identify and court the proper prospects. "We are not high pressure, it's not a boilerplate," says Ward. "If the fit is not right, then we don't force it. I think that's critical."

The three area developers in the field assist the corporate office along the way and share in royalties and franchise fees for their development services. "We're trying to develop relationships," says Ward.

He says the company has experimented with brokers in the past, but has found they prefer to keep the sales process internal. "It gives us greater control over the quality of the leads, and really the entire sales process," says Ward.

Friendly Computers has always been a family-run company says Ward, with brothers Steve, 44, Bryan, 43, Michael, 42, and Timothy, 38, along with their father Mike, 68, each playing a part. And they like to treat their prospects and franchisees like family. "We're big on relationships. We bend over backwards to support our franchisees," says Ward. "Happy franchisees will sing for you."
So far, their formula has been a perfect tool for growing the brand, which Ward hopes will top 250 units by year-end.
Edible agreements
Flower-style arrangements made of fresh, all-natural fruit, deliverable for all types of special occasions. That was the idea behind Edible Arrangements when it was launched in 1999 and began franchising in 2001. Craig Ahrens, vice president of franchise sales and development, says the company's philosophy has always been to handle sales and development in-house.

"The founder of this company, Tariq Farid, was the original salesperson, and his visionary approach, hard work, and dedication have been largely responsible for the company's success," says Ahrens.

Today, the Wallingford, Conn.-based franchise has an in-house sales and development staff of four who handle U.S. growth, and an additional person overseeing international development. The company has covered quite a bit of ground since beginning to franchise just seven years ago. There currently are 800 signed franchise agreements and 700 stores open. Systemwide, the company did more than $200 million in sales in 2007.

Fruit arrangements are a unique product offering, says Ahrens. "Have you ever seen the look on someone's face when they receive one of our arrangements?" He says the fresh product, coupled with the popularity of gift-giving, has helped make Edible Arrangements a fast-growing franchise.

Building on its success, the company launched its Frutation brand in 2006, using its fruit offerings to whip up fruit-based smoothies, snacks, and treats for shoppers on the go. To create even more buzz, says Ahrens, "We just launched a big national ad campaign, which is generating new customers and new prospects."

Keeping the company's phenomenal expansion running smoothly requires an all-out effort. At corporate, says Ahrens, the sales team works closely with all in-house departments.

"We're a fully integrated operation," he says. "By keeping everything under one roof we can maintain control, develop quality leads, and build trust with prospects along the way." He says the culture is one of constant communication and teamwork. An open-door policy and a great "fresh, quality, multi-occasion product" have helped the company achieve healthy growth.

So whether sales and development initiatives are handled exclusively from the corporate office, rely on people in the field, or through a combination, some common denominators remain. Today's hottest franchise development teams are being driven by unique, innovative products and brands, teamwork, and aggressive hard work in locating, screening, and finalizing deals with the right prospects.

Says Play N Trade's Franklin, "You have to be hands-on with your sales process from A to Z."
Sales To Order
Outsiders can handle some--or all--of your franchise development needs

When Sherryl Ford awoke one night with a great idea for a new franchise concept, she jotted it all down on a sheet of paper.

Ford already operated two Curves and a day spa franchise, and she wondered why no one had developed a franchise concept that provided affordable facials for the aging Baby Boomer generation. She knew there was a market, and she knew how to serve those customers… but she didn't know how to recruit franchisees.

"I met with my business partners and we agreed we were onto something," says Ford. One of her first steps was calling Curves and asking a few questions. That led her to Gary Findley, who had just retired from Curves and was starting his own franchise sales and development consulting company. Talk about perfect timing. Ford flew down to Texas to meet with Findley, liked what she heard, and says she's never looked back.

"What we do is much more than what a broker would provide," says Findley, founder of The Findley Group in Waco. He says his company goes beyond just headhunting prospects and moving on to the next deal. "We have franchise experience and an infrastructure that new and budding franchise concepts can plug right into."

And that's just what Ford did. She says outsourcing her sales and development needs to The Findley Group has freed herself, her partners, and her staff to focus on the products and services they deliver and the training and support needed by the franchisees. "We get to do what we do best, and Gary does what he does best," she says.

It appears to be a great combination: today, Ford's Carlsbad, Calif.-based company, facelogic, has sold 97 units, has 40 open and more on the way--all within the past couple of years.

Findley says that by partnering with a qualified, experienced outsourced sales organization, a franchise can remain focused on growth, and not be distracted by the daily details of lead generation and sales. "Most franchises are good at some things, like operations, but not so good at other things, for example sales," says Findley. "We can fill those gaps."

Outsourced services can go well beyond sales. The Findley Group offers assistance with technology and IT needs, marketing, advertising, PR, and even real estate. "We also offer our clients access to other strategic partners," says Findley, whose company now serves eight emerging franchise brands.

Of course as with any service, there is a cost involved. Ford pays The Findley Group a portion of facelogic's franchise fees and continuing royalties for each franchise sold. Findley determines the percentages based on the level of services provided.

Why give up revenue when you don't have to? The answers vary. Often, new concepts lack the infrastructure, people, or experience to do everything themselves initially. Some lack the capital necessary to sustain an in-house sales department. Others just don't want the headache of managing sales in-house.

One concern about outsourcing sales (or any other essential functions) is that it can lead to a disconnect from the prospects, a loss of control, personal touch, and direct contact, often a valuable source of feedback for a new and growing brand. But Ford doesn't see it that way.

"We work very closely with Findley throughout the recruiting process," she says. "We never feel out of the loop and get to see the profiles and evaluate the prospects along the way."

Spending her time and energy on the things she's good at makes outsourcing her sales needs a perfect solution. "I couldn't see us doing it any other way," says Ford.
Published: June 21st, 2008
Share this Feature
Recommended Reading:
Comments:
comments powered by

Disqus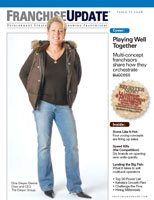 Franchise Update Magazine: Issue 2, 2008
Conferences
InterContinental, Atlanta
OCT 18-20TH, 2023
The business messaging platform that lets you text from your office phone number directly on your computer, so you can actually get a response.
The Titus Center for Franchising, one of Palm Beach Atlantic's Centers of Excellence, offers a concentration in franchising to business students.