Stories from the Covid-19 Front Lines: Multi-Unit Franchisees Ellie and Juan Lamonaca
Ellie Lamonaca and her husband Juan are Millennial franchisees who launched their Conserva Irrigation franchise in South Florida 2 years ago, and today operate 3 territories. Despite the Covid-19 pandemic, April was their highest-grossing month since launching in 2018. They are on track for a 50% year-over-year sales increase and already rank 6th in annual sales within the system.
How has Covid-19 affected your business?
While many business owners have experienced a decline in sales or have had to shut down completely, Covid-19 has had the opposite effect on our business. Being deemed "essential" in Florida, we were allowed to stay open to serve our customers' needs, which increased as soon as the shutdown was implemented in South Florida. In fact, we experienced some of our highest-grossing months since the launch of our franchise 2 years ago. The spike in business also allowed us to hire additional staff and grow our team.
What are you doing right now to get through this?
We've hired additional staff to help field the additional business and added more vehicles to our fleet to ensure each truck was limited to one technician. Before Covid-19, techs would often ride in pairs. Today, however, even our junior techs are driving their own trucks. We also implemented all recommended CDC guidelines into our day-to-day operations: all technicians are required to wear masks and gloves at all times, sanitize their truck and equipment in between appointments, and stand 6 to 10 feet away from customers. We also leveraged our technology assets to begin sending all proposals, invoices, and receipts by email to limit physical touch and contamination. We were previously providing hard copy estimates.
Is your franchisor helping keep you afloat?
Outdoor Living Brands has been there for us every step of the way. From the very beginning, they've provided the entire network of franchisees with a communication strategy including staff talking points, Covid-19 handouts, customer emails, and an operations manual that met CDC guidelines. They've also been assisting franchisees with the PPP application process and informing us of updates on a weekly basis. Luckily, given the influx of business we've experienced, we didn't personally use the program, but there are franchisees who have.
What are you doing to help your employees through this?
While we've been considered an essential business, we've respected the concerns of our employees and have given them the option to stay home with family – with job security – should they choose to return. We provide all protective gear and supplies, and encourage our employees to always make their health a priority at the first sign of potential Covid-19 symptoms. They've unfortunately encountered customers who don't take the necessary precautions when in close contact with them. As a result, we've needed to step in and respectfully postpone those customers' appointments to a later date.
What are you doing for your customers?
To ensure our customers feel comfortable and safe, we're limiting their physical interaction with our technicians through the use of technology. As noted above, all proposals, invoices, and receipts are sent by email, and payment is processed digitally with the office. They also have the ability to accept or make adjustments to their proposals by phone or computer. Previously, our technicians would assist with proposals within close proximity to the customer. We also significantly increased our communication with customers to share the steps and efforts we're taking to protect the well-being of both our customers and our employees, and to let them know that their health and well-being are always our number-one concern.
What have you done about cash flow, PPP, etc.?
We've been very fortunate to not require any assistance during this time.
If you are in a state that reopened early, what was that like for you?
Fortunately, we were considered an essential business and did not need to close.
What else would you like to see from your franchisor or government?
The support from Outdoor Living Brands has been unmatched, and it's times like these that remind us of the benefits of being supported by a franchisor. We share resources, insights, and best practices with both corporate and the entire network of franchisees. Those relationships have been invaluable, especially during an otherwise uncertain time, and have helped all of us effectively navigate the pandemic and ensure we keep our businesses strong.
Published: July 25th, 2020
Share this Feature
Recommended Reading:
Comments:
comments powered by

Disqus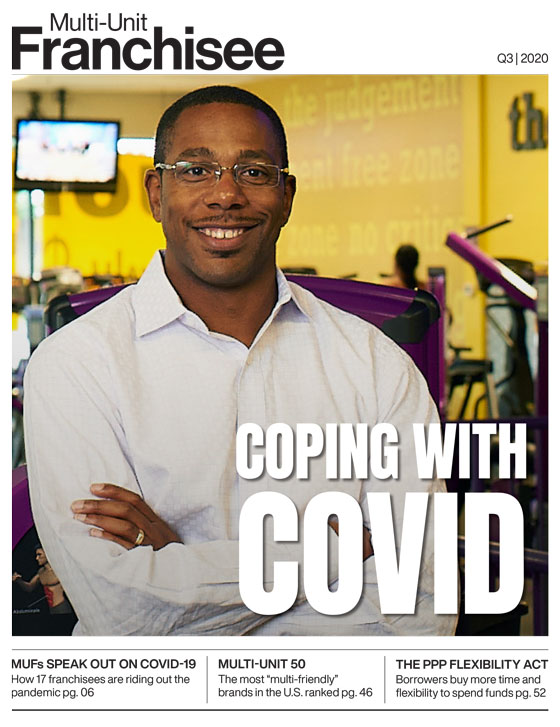 Multi-Unit Franchisee Magazine: Issue 3, 2020
Another Broken Egg is an upscale breakfast, brunch and lunch restaurant that specializes in Southern-inspired menu options and signature cocktails....
Cash Required:
$250,000
Impressive numbers, outstanding support and incredible pizza delivery create an opportunity you can't afford to miss. Join the pizza franchise...
Cash Required:
$200,000