Stories from the Covid-19 Front Lines: Q&A with Hungry Howie's VP of Marketing & Product Development
As part of our ongoing coverage of Covid-19 and its effects on franchising, we're asking franchise leaders what they're doing to help their franchisees with consumer marketing during the crisis. Here's what Jeff Rinke, Hungry Howie's Vice President of Marketing & Product Development had to share. If you have a story to tell about what you're doing to support your franchisees, please email us at stories@franchising.com.
What are you doing differently with your marketing program as a result of Covid-19?
We are heavily marketing touchless delivery and curbside pick-up. We have created multiple social videos showcasing these new services. We have created exterior signage encouraging customers to stay in their cars and call the store for curbside delivery. For those customers who still enter our stores, we have installed plexiglass shields and social distancing stickers on the floors.
What are your plans for April & May?
Continue to encourage touchless delivery and curbside pick-up for all transactions. In addition, we have added a "Quality Check" sticker to seal every order so customers know the product has not been tampered with. We have an "8-Point Plan" to combat Covid-19 and have posted this plan in our stores. Employees are encouraged to memorize the plan so if a customer asks, they are prepared to answer.
What are your plans for the following 90 days (June, July, August)?
Marketing plans will continue as normal but with the added assurance that we encourage touchless by encouraging prepayment through credit cards to avoid contact through currency. Social videos will continue to be used showing all we are doing to keep customers safe, whether it's carryout or delivery.
Have you made major changes to your marketing and media programs?
Only to the digital marketing aspects, such as social and email campaigns. We also have tagged a few television spots with this messaging. When it came to determining which programs to change, it is much easier to explain what you are doing in the stores with the use of digital and social campaigns than it is through television and print media campaigns. We will continue to be on a campaign of "Safety First" when it comes to all campaigns.
Have you made any changes to the roles or duties of your team?
With the exception of creating all these new elements, the marketing department has remained relatively unchanged.
Published: May 22nd, 2020
Share this Feature
Recommended Reading:
Comments:
comments powered by

Disqus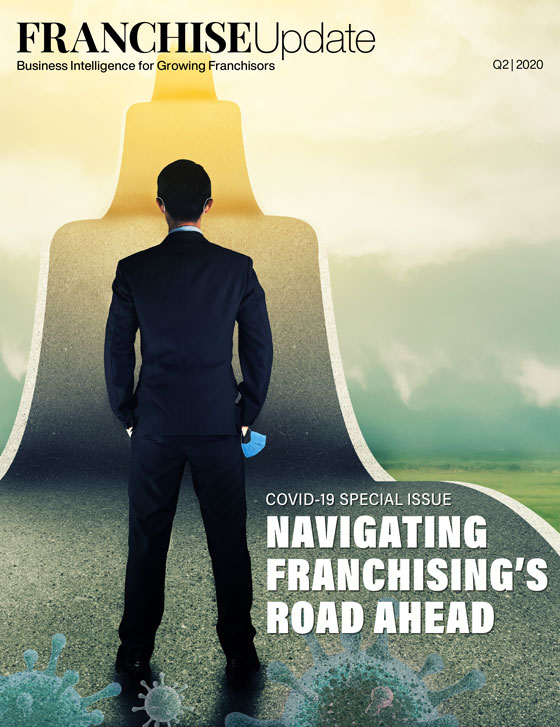 Franchise Update Magazine: Issue 2, 2020
Conferences
InterContinental, Atlanta
OCT 18-20TH, 2023
The Titus Center for Franchising, one of Palm Beach Atlantic's Centers of Excellence, offers a concentration in franchising to business students.
UMI has over 23 years of experience supporting fast-growing multi-unit brands. From strategic planning to design, execution to analysis, UMI...