Super-Sized!: Mega 99 franchisees grow bigger in 2011
There are some big franchisees out there, mega franchisees, in fact! We know because each year we rank them by number of units and brands in our "Mega 99" list.
Beyond these black-and-white numbers--which are especially impressive since many began working part-time in low-level positions, or started with a single unit--are their stories of passion, creativity, long hours, and sheer will and determination to succeed. Multi-unit franchisees have many stories to tell, and their journeys to where they are today are filled with ups and downs.
Multi-unit franchising is not for everyone. It takes a certain set of skills, drive, and initiative to build these large organizations. The risks and rewards to the ever-growing multi-unit franchisee base hinge on savvy decision-making, dedicated managers, and hard-working employees. Few can do it; even fewer can do it well.
To put a human face on the growing numbers of multi-unit franchise organizations and the people behind them, we profile six successful multi-unit operators who exhibit the best of franchising and entrepreneurship. In their personal stories about their successes and failures, goals and objectives, and plans for the future, they speak candidly about work, family, and their lives. One essential ingredient in their success? Their caring and insight into people, from their management team to their unit managers, employees, and customers. Then there are their own stories.
In 1980, Bob Chase was 22, with a small family, not much money in the bank, and struggling to get his new Chem-Dry franchise off the ground. Learning as he went, his determination and perseverance have paid off. Today he oversees 30 Money Mailer franchises that reach more than 1.5 million homes each week in metropolitan Phoenix and Denver, racking up annual revenues of around $13 million.
Working in Denver in the mid-1990s, Greg Willman found himself eating burritos three or four times a week at a busy new restaurant called Z-teca. Although the chain had only eight restaurants at the time, he and partner Phil Salsbery signed a development contract for 10 stores in the Indianapolis area. Today Z-teca is Qdoba, and the partners operate 27 Qdobas in Indiana and South Carolina, along with a Steak 'n Shake in Myrtle Beach, S.C.
Talk about mega franchisees! Iris Cohn and her husband Dick started from scratch with a single Taco Bell in Chicago the early 1980s and grew slowly and steadily to become one of the brand's largest franchisees. Fast forward to 2011, and she and business partner Terry Haseman oversee 47 Taco Bells, including 9 KFC, 3 Pizza Hut and 3 Long John Silver's multi-brand units. But it hasn't been an easy ride.
A successful career in advertising sales wasn't enough to satisfy the ambitions of 30-year-old Jason Mann. On the advice of his father, Mann became a franchisee for Planet Smoothie. To get his new business off the ground, Mann and his wife worked 14-hour days with only 3 days off a year, eventually growing to 6 units. Today Mann is an area representative for 28 other Planet Smoothie franchisees and still operates two units of his own.
Subodh Patel, with his father and two brothers, has been cornering the hotel market in Lubbock, Texas for two decades. The family holdings now include 14 lodging locations, including Days Inn, Holiday Inn Express, Comfort Suites, and Red Roof Inn. They're now trying to feed West Texas, too, opening one Einstein Bros. Bagels with two more on the way and plans for many more.
Tom Kazbour has found his secret to success in franchising: "Volume is key. Volume can cure a lot of problems," says Kazbour, who's been in the food business since he was 15. Born in Lebanon and raised in Michigan since he was 9, Kazbour has moved back to warmer climes and today operates 56 Hungry Howie's restaurants in Florida and Alabama, where he also is an area developer for the brand.
The backgrounds and backstories of these six multi-unit operators are as diverse as they come. But one thing these multi-unit franchisees have in common is a unique success story, overcoming all obstacles as they built their businesses. You're sure to find a fresh perspective--perhaps even a tip or two, an insight, or a renewed feeling of inspiration to help you on your own franchising journey. Sit back, relax, and enjoy the read!
Published: January 31st, 2011
Share this Feature
Recommended Reading:
Comments:
comments powered by

Disqus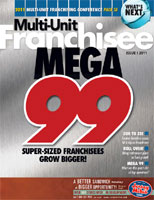 Multi-Unit Franchisee Magazine: Issue 1, 2011
Our commitment to developing the best drive-thru espresso led us to franchising. Unlike nearly all other franchises, we do not charge...
Cash Required:
$100,000
Signage has never been more important. Right now, businesses are looking for new and better ways to compete.
Cash Required:
$80,000