Survive and Thrive: Adversity Teaches Its Own Lessons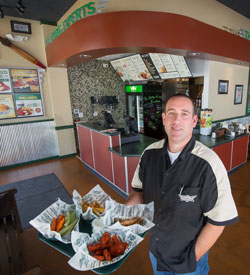 In 2009, Charles Loflin's life was in high gear and he was racking up one success after another. Then his wife got cancer.
"That was a real sobering wake-up call for me," says the 45-year-old multi-unit franchisee today, who quickly realized there was more to life than operating a successful business.
Together the Loflins faced the cancer, beat it, and his wife is now a cancer-free survivor. But that wasn't the only outcome of this life-changing event. Loflin had just opened two very successful Einstein Bros. stores and had five more to go in his agreement. He sold those stores back to the company, refocused exclusively on Wingstop, and began spending more time and energy enjoying his wife and two children.
"I'm a very driven person. I want to be the best franchisee, I want to be the most successful at what I do, I want the highest scores in the system," he says, "but not at the expense of passing up other good things in my life like my family." He says he has been blessed by "simplifying his life," and in fact, has been growing his Wingstop empire at a healthy clip since the last time we visited with him (MUF 2009, Q2).
His most recent activity has been his expansion into the Phoenix market. Five of his 35 stores are in Phoenix, and he plans to open between six and eight more there by the end of 2014. Loflin was the first franchisee to take Wingstop outside the Dallas market and has remained a dominant player in the system's Texas market. He's still based in San Antonio, with all his other units in South and Central Texas.
"The Phoenix deal just made sense for me," he says. "I'm always in contact with the corporate office and I'm always looking at opportunities. I'm pretty happy with what I've got, but if the right opportunity comes along I will definitely consider it, and that's what happened in Phoenix."
It's not just about making money for Loflin, who describes himself as a "boring person." He says, "I do like to compete and I love battling to be the highest-grossing store in the chain, but I also want to provide a great product and great service. I like to say at the end of the day that I don't put dollars in the bank, I put transactions in the bank."
Loflin's 35 stores provide jobs for more than 680 employees and serve thousands of customers each week. He's in his stores regularly, in his uniform, observing and encouraging his crews. "It's not a power trip. I like being there and being a part of a restaurant operating," he says. "Again, it's not about the money, but about creating opportunities and providing great food and service."
Today he's enjoying a well-balanced life, spending more time with his wife and attending his kids' sporting events. It's a good place to be.
As for his focus on his business, he's still doing well. One of his stores topped $2 million in sales last year and another is the top-grossing store in the Wingstop system. Says Loflin, "My goal is to finish each day at each store by being better than we were yesterday."
Name: Charles M. Loflin
Title: President
Company: San Antonio Wings
No. of units: 35 Wingstops
Age: 45
Family: Wife and 2 children
Years in franchising: 16
Years in current position: 16
Personal
First job:
Dishwasher/busboy, age 15.
Formative influences/events:
My first job.
Key accomplishments:
My family.
Biggest mistake:
Hiring family members.
Decision I wish I could do over:
Hiring family.
Work week:
5 to 6 days.
How do you spend a typical day?
Get into the office early and catch up on emails and then head out to the stores in uniform to work alongside our great team.
Favorite fun activities:
Golf, fishing.
Exercise/workout:
Walk a few miles a day.
Favorite tech toys:
iPhone, iPad and all Mac products.
What are you reading?
The Seed.
Do you have a favorite quote?
Treat people fairly!
Best advice you ever got:
Shake people's hands and look them in the eye.
What gets you out of bed in the morning?
My kids, and coming to a great place to work.
What's your passion in business?
Growing our brand and giving all staff members an opportunity to do better in their lives.
How do you balance life and work?
It is hard at times because I love family time, but I also enjoy working with our staff.
Last vacation:
Hawaii this summer.
Person I'd most like to have lunch with:
My grandfather.
Management
Business philosophy:
Treat people more than fair, be honest with them, and have fun!
Management method or style:
I am an aggressive person with lots of passion and sometimes it frustrates or confuses people.
Greatest challenge:
The younger generation of employees.
How do others describe you?
Fair and honest with a lot of passion.
One thing I'm looking to do better:
I am always looking for a better way to run our stores that will benefit our guests and employees.
How close are you to operations?
Extremely close. I have to go into my stores frequently or I feel out of touch. I am usually in uniform, so I just fit in and work with my teams.
What are the two most important things you rely on from your franchisor?
Honesty and integrity.
What you need from vendors:
A great relationship built on trust and understanding. We need each other and we treat them like partners.
Have you changed your marketing strategy in response to the economy? How?
I am a believer in marketing. Depending on the economy, we may decrease or increase budgets, but we are constantly advertising.
How is social media affecting your business?
Social media amplifies everything quickly. When we do something great, or when we do something not so great, it tends to be known quickly. Social media helps keep us on top of everything.
How do you hire and fire?
I have a team that does this now, but I try and meet all new managers before they start. We are patient with management and try not to fire, but at times it must happen.
How do you train and retain?
We're constantly training in the stores. We have a training manager in San Antonio and a two-month training process; 99 percent of it is in-store. As far as retaining, I have someone who works for me who does hiring and recruiting for managers and is always looking at ways to keep people. We have incentives, bonuses, and different things, it's not just financial. We've taken staff to play paintball. Once a year all employees get packages so they can bring up to four family members to Six Flags Fiesta Texas--the company pays $25 and the employee pays $7--and they love it.
How do you deal with problem employees?
We tell them they are messing up and give them a second chance if we can. If they break a big rule we must move on so we do not jeopardize the other 700 employees we have working with us.
Fastest way into my doghouse:
Being disrespectful to a guest or an employee and not staying true to our food.
Bottom Line
2013 goals:
We will open up 5 more stores this year. They are in various stages of construction.
Growth meter: How do you measure your growth?
We look at getting better with service, quality food, and clean restaurants.
Vision meter: Where do you want to be in 5 years? 10 years?
Doing the same thing and opening a concept that I have had in my head for a few years.
How is the economy affecting you, your employees, your customers?
Customers are more demanding, so we have had to make sure our service is even stronger.
Are you experiencing economic growth or recovery in your market?
We're experiencing growth throughout our markets.
What did you change or do differently in this economy that you plan to continue doing?
We increased focus on the operations and the day-to-day.
How do you forecast for your business in this economy?
We do not forecast.
Is capital getting easier to access? Why/why not?
I have a great lender that sees the future like I do and is willing to expand rapidly with me.
Where do you find capital for expansion?
I have one lender.
What are you doing to take care of your employees?
We do things like on-shift meals, vacation, discounts, a summer get-together, and big theme parks.
How do you reward/recognize top-performing employees?
Various ways: recognition, bonuses, and promotions.
What kind of exit strategy do you have in place?
Do not have one. Having too much fun to think about that at this time.
Published: December 30th, 2013
Share this Feature
Recommended Reading:
Comments:
comments powered by

Disqus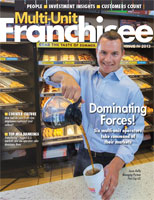 Multi-Unit Franchisee Magazine: Issue 4, 2013
Pronto Insurance is a leader in the Hispanic insurance franchising sector. Offering a wide range of comprehensive insurance products, we are uniquely...
Cash Required:
$70,000
Genghis Grill, the nation's leading create-your-own bowl concept, offers guests broad appeal and caters to various flavor preferences and...
Cash Required:
$750,000