Take (Measurable) Action!: Driving Sales, Transaction Counts, And Profitability
"How am I doing?"
That's a great question! In fact, none of us can get better without knowing how we are doing in key performance areas. For multi-unit franchisees, who are "managers of managers," it is crucial to focus your teams on the vital few things that matter most and are under the control of your managers. Reporting these key metrics gets people to pay attention to what's important. Done correctly, measurements answer the question for each store manager: "How am I doing?"
Measurement is more than information
An inspiring example comes from Broadbase, Inc., which operates 34 locations and was named "Operator of the Year" at the 2010 Jiffy Lube International franchise convention. Broadbase CEO Don Fowler says his company's remarkable sales growth, from $12 million to $31 million over the past three years, comes in part from highly motivating performance reporting systems.
At the Multi-Unit Franchising Conference in April, John Platt, CFO of Broadbase, put it this way: "The old saying is that you can't manage what you can't measure. And you sure can't improve what you don't measure. That's why we track and report sales, transaction counts, and profitability." Reporting on these numbers--and especially the trends on these key metrics--is a powerful way to improve performance where it is vital to your success as a multi-unit franchisee.
One of the surest ways to accelerate improvement is to report key metrics more quickly--to shorten the feedback loop from action/effort to results. Real-time reporting is ideal. Daily reporting is a minimum. Each day your unit managers start working, they should know how they performed yesterday. They should know where they are week-to-date and year-to-date.
Platt also believes in the power of benchmarking to foster competition among unit operators. Every day he deliberately reports every store manager's results to all store managers and the entire system. "When you see that you are number 34 out of our 34 stores, that will drive you crazy if you have any kind of competitive spirit," he says. In fact, for every manager who is not in the top 50 percent--who is not above average--that daily reporting is painful. And it stays painful until the situation changes. This type of benchmarking is a powerful management tool for multi-unit franchisees to motivate managers to perform better where it matters most.
Of course, it's not easy to improve sales, transaction counts, and profitability. After all, those numbers cannot be directly improved. They are outcomes of other actions.
To manage better, focus on better metrics
What are those actions that drive sales, transaction counts, and profitability? If you can go that one level deeper, you can focus your unit managers on better metrics. Better metrics are more clearly actionable by the store manager and employees. For multi-unit franchisees who are managing unit managers, these "one level deeper" metrics are most heavily focused on operations and customer satisfaction.
For example, in the automotive aftermarket business, there are service standards that apply to customers. For example, there may be system-wide standards such as: warm greeting, listen to understand, recommend solution, thank customer, and invite customer to take a survey.
Franchisors have usually spent considerable time and money to prove through statistical analysis that when these service standards are performed, two things happen. First, average sale amount goes up as the number of service standards performed goes up. Second, as the number of service standards performed goes up, the customer's overall satisfaction, intent to return and intent to recommend also go up. So when service standards are performed, the current sale amount goes up and future sales from each customer go up.
On the customer satisfaction survey, customers are simply asked: Did you receive a warm greeting? Yes or no. Did the associate listen to understand your issues? Yes or no. And so on, until each service standard has been measured either yes or no. How does this knowledge become actionable? The number that is reported for each unit shows how often--as a percentage--each standard was performed. It is rarely 100 percent on even one standard. There is always clear room for improvement.
These metrics on service standards should also be benchmarked across all units. When you can generate healthy competition to deliver on service standards, you'll get the kind of concrete operational improvement that drives sales, transaction counts, and profitability.
Your franchisor is almost certainly collecting data on service standards from customers. Are you using it to manage better?
SMG Vice President Jack Mackey helps multi-unit operators improve customer loyalty and drive growth. To request "Connecting with Customers Beyond the Survey," contact him at 816-448-4556 or jmackey@smg.com.
Published: June 27th, 2011
Share this Feature
Recommended Reading:
Comments:
comments powered by

Disqus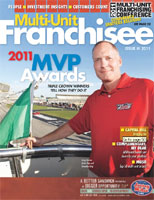 Multi-Unit Franchisee Magazine: Issue 3, 2011
Own a highly profitable business that impacts lives in your community by jumping into action as an Urban Air franchisee owner.
Cash Required:
$750,000
Own a slice of one of the fastest growing, profitable franchise opportunities available. Our UNIQUE business model equips our franchise partners with...
Cash Required:
$60,000