Taking Care of Business: 2018 Multi-Unit Franchising Conference Gets it Done!
The annual Multi-Unit Franchising Conference drew more than 1,600 attendees to Las Vegas this past April. Nearly 700 of them were multi-unit and multi-brand franchisees whose aggregate revenue topped $10 billion--and who plan to open a total of more than 2,000 new locations in the next two years, and 11,000 in the next five years. Quite a group!
Franchisees, franchisors, and suppliers gathered at Caesars Palace for the nation's largest multi-unit franchising event. Education, networking, and a packed Exhibit Hall provided ample opportunity for attendees to gain insights about their business, rekindle friendships, build new ones, and head home armed with valuable takeaways to help their organizations rise to the next level.
"The content of the conference was the best ever," said Therese Thilgen, CEO of Franchise Update Media, which hosts the yearly gathering. "Each year we strive to provide attendees with informative programs that will help them improve and grow their businesses." And thanks to input from the all-volunteer Conference Advisory Board, the programs were packed with strategies, tactics, and "war stories" about challenges and how to overcome them. Platinum sponsors this year were Inspire Brands and Jersey Mike's Subs.
Pre-conference
The conference proper kicked off on Tuesday morning with the annual Charity Golf Tournament at the Arroyo Golf Club. The yearly scramble-style event not only provides an informal setting for networking and some fun in the sun, it also serves as a charitable fundraiser. After a spectacular day in the desert, golfers returned to Caesars Palace to link up with their peers at a franchisee-only opening social at Carmine's in the Forum Shops. Hour one was reserved for first-time attendees, who got to meet Conference Advisory Board members met up-close-and personal before the room filled to the brim with franchisees for the next two hours.
Day 1 keynote
The conference proper kicked off the next morning with a welcome from 2018 Co-Chairs Cheryl and Joe Robinson, Supercuts multi-unit franchisees. They presented a plaque to 2017 Conference Chair Guillermo Perales, thanking him for his hard work and contributions last year.
George Will, Pulitzer Prize-winning columnist, author, and political commentator, next took the stage as the day's keynote speaker. Characteristically, he applied his wit, deep knowledge of history, and insightful observations to everything from the bitter partisanship in Washington, D.C., to the "angry discord in this country."
Will spent some time dissecting the entitlement culture and the "welfare promises we've made but can't keep." He told the group not to worry about socialism. "We've already got it," he said. "Just look at government regulation and the redistribution of wealth."
Addressing the spend now and worry later mentality currently reigning in the country, he said, "Today we're borrowing from the future. We used to borrow for the future." The real problem, he said, is in medicine as the U.S. ages and becomes what he called a gerontocracy, and healthcare businesses become larger and more powerful every year. "Longevity has become a problem. It's wonderful, but very expensive." Sparing no one, he said that much of the associated costs are from voluntary bad behavior resulting in obesity, Type 2 diabetes, and cardiovascular disease. "We have to make better choices," said the 76-year-old.
But it wasn't all doom-and-gloom from the sometimes acerbic observer. Will said the "entrepreneurial mind" has the power to change the U.S. "It's our choice, we can have a government-driven society or a market-driven society," he said. After taking shots at the immigration bill, the federal tax structure, and the government's regulatory overreach, he summed up his presentation by lauding the free market. Economic growth continues, he said, "in spite of our best efforts to stop it. Capitalism doesn't just make us better off, it makes us better."
Social media panel
Will was followed by a general session panel focusing on the challenges and opportunities social media presents. Cheryl Robinson moderated a panel consisting of Adam Pierno, chief strategy officer at Santy Marketing, Seth Mattison, generational workforce expert, and John Carroll, manager of business outreach at Yelp.
The panelists discussed both their successes and failures with social media and how franchisees can better use it to build brand awareness, engage a targeted audience, and create new customer relationships. The discussion covered everything from how different generations use and respond to social media, to the popularity of user-generated content and how it's reported to be outperforming brand-generated content.
In fact, Pierno cited a study showing that user-generated content is creating almost 7 times the engagement of posts from originating from brands. He also cited another study showing that three of four Millennials and Gen Z respondents objected to being targeted with ads and are moving to other forms of online interaction. So where are they going? To platforms, apps, and online vehicles offering conversational, 1-to-1 relationships with other social media users, he said.
Yelp's Carroll said big brands understand the value of direct feedback, pro or con. And while Yelp thrives on such feedback as users post comments online, he also pointed out the importance and value of what he called "indirect feedback." He said Las Vegas buffets are a great provider of indirect feedback: what food is left on the table or thrown away (vs. what was loaded onto consumers' plates) can tell you a lot--if you're looking. So is feedback from employees who deal face-to-face with customers. The key is to learn what to look for, how to gather that information, and adjust. "Small changes ultimately impact your business the most," he said.
Mattison focused on employee engagement and provided six drivers for creating it. He also spoke on the importance of culture to a brand's long-term success. "The customer and employee experience are a reflection of culture, and culture is a reflection of leadership," he said.
Lunch and breakouts
Separate franchisee-only and franchisor/supplier-only lunches followed before attendees got their first choice of breakout sessions. Topics included "Franchisee Case Studies--Real Solutions to Real Problems," "Protect Your Bottom Line," "Developing Multi-Unit Leaders," "Develop Leaders to Support Your Growing Enterprise," "Going from Management to Leadership," "Tough Lessons: Multi-Unit Franchisees Share Their Biggest Mistakes," and "Preparing for Second-Generation Franchisees."
The variety of topics drew packed rooms as multi-unit operators sought out lessons from the expert panelists and speakers. "I have been to this conference for the last five years and I find the content relevant, useful, and timely," said Rodney Shaver, a La Madeleine French Bakery franchisee. "The breakout sessions allow you to pick the topics that best support the needs you have."
The popular Money Room and Law Room were back again this year. The Money Room offered an opportunity for franchisees to meet one-on-one with potential lenders to discuss financial options suitable to their present stage of growth and goals for expansion. This year's sponsors were ApplePie Capital, Bank of America, Merrill Lynch/The Horowitz Group, Spirit Realty Capital, Sterling National Bank-Franchise Finance, TD Bank-Restaurant Franchise Finance Group, Texas Capital Bank, and West Star Capital.
Legal advice was freely available in the Law Room, where franchise attorneys provided one-on-one consultation on legal questions and concerns in a personal, confidential setting. Law firm sponsors were Einbinder & Dunn, Marks & Klein, Monroe Moxness Berg, Paris Ackerman, and Stark & Stark.
With the day's educational sessions and panels concluded, attendees headed to the grand opening of the Exhibit Hall. Exhibitors offered everything from new franchise opportunities to products and services aimed at benefiting franchisee organizations. Whether simply in search of refreshment after a long and thirsty day, or seeking solutions in technology, HR, financial management, public relations, social media, and more--it was all there for the taking.
"Excellent networking opportunities, generous people willing to share about their success and experience franchising," observed Daisy Meyer, a Supercuts multi-unit franchisee.
Day 2, the economy
The second day began with the annual economic outlook report from FRANdata CEO Darrell Johnson. With the aid of complex graphs and charts, he said the economic cycle was in a "Goldilocks period--not too hot, not too cold." The U.S., he added, should be able to weather any economic shocks that may come in the next year or two... although he did point out that the market is long overdue for a correction.
The global economic outlook is "pretty smooth," he said, adding that it's rare to have so many national economies humming along together like this, with steady GDP growth across the board. However it's not all roses, and never is. "Capitalism has recessions. It just happens, and maybe we're due for one," he cautioned.
Good news, said Johnson, is that consumer confidence is at its highest level since November 2000, driving increases in consumer spending, which accounts for 70 percent of the U.S. economy. Not-so-good news is that this spending also is driving "pretty high levels" of credit card and household debt. Yet, while these storm clouds are beginning to appear on the economic horizon, he doesn't see them raining on the parade for a couple of years.
"Small business optimism remains high," he said, while also pointing out that unemployment is low and minimum wages are rising. He noted the continued growth of multi-unit franchising and told attendees, "Emerging brands are a great opportunity for you."
Today's tight job market, with unemployment at its lowest level since January 2001, is "perhaps one of the most powerful opportunities for the franchise community to change its perception in the public eye," he said. Elaborating, he contrasted public perception of fast food jobs as minimum wage, dead-end jobs with the reality that they are job training centers for first-time workers, building foundational skills for career development.
Johnson challenged the franchisees in the audiences asking, "What if we had a standardized certification program of 6 or 12 months?" With such a program, he said, franchising would become recognized by the public--and by elected and appointed government officials--as the largest jobs training program in the U.S. It also would very likely reduce turnover, he added.
MVP Awards
Next up was the highly anticipated presentation of the annual Most Valuable Performer (MVP) Awards. These awards honor franchisee excellence in a number of categories. This year's winners are Angelo Crowell, Pro Athlete Influencer; Shahin Urias, American Dream; David & Joye Griffin, Single Brand Leadership; Alexander C. Johnson, Community Involvement Leadership; Joe Brumit, Noble Cause; Michael & Lou Ann McLaughlin, Influencer Award for Husband & Wife; Robert Middleton, Multi-Brand Growth Leadership; Paul Booth, Jr., Spirit of Franchising; and Jay Pandya, Mega Growth. (See full coverage beginning on page 10.)
Steve Young wows 'em!
The day's main keynote speaker was NFL Hall of Famer, two-time MVP winner, and Super Bowl MVP Steve Young. An attorney, motivational speaker, and managing director of private equity firm HGGC, he wowed the crowd with his humorous, inspiring talk on leadership and success, including personal tales his own difficulties getting there.
"When I realized I was too short to see over the offensive line and down to my receivers, I had to find a way to overcome and develop a gut instinct approach," he said. He also talked about how important it was to "take responsibility and accountability when things go wrong. Don't mitigate the failure," he said. "How good do you want to get? Do you want to find out?"
Joe Montana was a tough act to follow--for anybody--even the guy who spent years learning from "Joe Cool" as his backup quarterback. After taking over from Montana, Young had to endure cries of "Where's Joe?" and "What would Joe do?" for years and struggle inwardly before gaining confidence, coming into his own, and winning over the 49ers fans.
On successful people in life, on or off the field, he said, "If I could teach my kid one thing: if they mess up, they stand for it and they fix it."
Regulatory panel
The morning closed with a general session on "The New Normal--Legislation & Its Impact on Franchisee Business." Gary Robins, a Supercuts franchisee, facilitated a panel consisting of Rob Branca, a Dunkin' Donuts franchisee; Michael Lotito, an attorney with Littler Mendelson and labor counsel to the IFA; and David Barr, a multi-brand franchisee, investor, and IFA Secretary.
Panelists discussed external threats to the franchise business model, including the new tax law, the NLRB's joint employer rulings, new overtime rules, the growth of predictive scheduling, and minimum wage laws--and their actual and potential effects on franchise businesses across the country. They encouraged attendees to take their concerns to Capitol Hill, but also advised them to participate in local and state government policy-making and build relationships with their legislators at all levels. "Legislative awareness is as vital today as capital," said Robins.
Following this most sobering of presentations, attendees flocked once again to the Exhibit Hall for lunch, decompression, and more business before one last afternoon of breakout sessions. Topics included "Attract & Recruit the Best Talent for Your Franchises," "Retain & Grow the Best Talent for Your Franchises," "Build Digital Media Into Your Local Marketing Plan," and "Franchisees & Franchisors Working Together to Resolve Differences." ("Yes, really," cracked one wag.) Bookending the afternoon, the Exhibit Hall opened again for the Closing Networking Reception, serving refreshments and opportunity to all.
Day 3, get involved!
Thursday morning's closing session, "Franchisee Action Plan for Legislative & Advocacy Efforts," was a call to action by the IFA urging franchisees to get involved in educating their elected officials and shaping future legislation. Erica Farage, IFA's vice president of political affairs and grassroots advocacy, facilitated a panel consisting of Jeffrey Tews, Brightstar Care and Brightstar Senior Living franchisee; Tamra Kennedy, a Taco John's multi-unit franchisee who serves franchising through her participation on the IFA board, as vice-chair of the Franchisee Forum, as a member of the Franchise Relations Committee, and as Minnesota's state captain for the Franchise Action Network (FAN); and Tom Baber, a franchisee of IHOP and Money Mailer, serving on the Franchise Relations Committee and Franchisee Forum.
The panelists shared their own experiences of how they learned to participate in local and national politics, offering tips and advice on how other franchisees could get involved. The discussion made its way from NLRB joint employer issues and frivolous ADA lawsuits, to the critical labor shortage and rising minimum wage.
The 2019 Multi-Unit Franchising Conference will be held March 24-27 at Caesars Palace in Las Vegas. For more information, visit www.multiunitfranchisingconference.com.
Conference By The Numbers
Aggregated statistics from the 2018 MUFC.
Attendees: 1,600+
Franchisees: 670
Units: 11,000+
Exhibitors: 250+
Revenue: $10 billion+
Seek new brand: 75%
Published: August 9th, 2018
Share this Feature
Recommended Reading:
Comments:
comments powered by

Disqus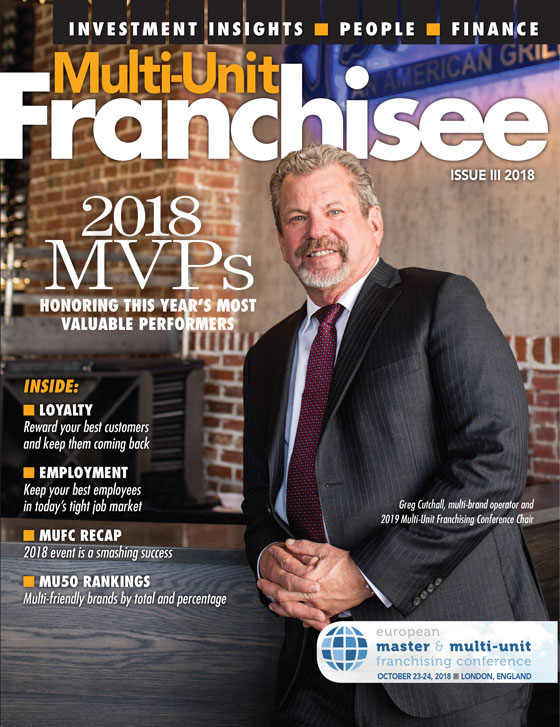 Multi-Unit Franchisee Magazine: Issue 3, 2018
Phenix Salon Suites is awarding our scalable, semi-absentee opportunity to motivated entrepreneurs. With no salon experience required, franchisees...
Cash Required:
$300,000
Founded in 2011 in Tokyo, RAKKAN Ramen specializes in authentic Japanese ramen made with a 100% plant-based broth. With a wide range of conventional...
Cash Required:
$200,000