Finders and Keepers: Retaining Employees in Today's Tight Job Market
"In America, the way people are treated at companies is despicable." -- Richard Branson
So how do we do better? Especially today, in a time when record low unemployment and rising wages are prompting employees to at least consider improving their job situation, if not downright jumping ship. In the competition for employees, what can a franchisee do to become an employer of choice in their market? We asked around. Here's what we found.
Being there
Don Robinson, the largest franchisee of Penn Station East Coast Subs, employs around 330 people at his 18 stores in the Louisville market. "Turnover in this industry is 100 to 150 percent. Last year our turnover was 84 percent," says Robinson. So how did he do it?
About 9 years ago, he made some changes in how he hires and trains his employees. For Robinson, it's all about culture, "being present," and following through. "It's people first. What we do is we don't forget about them," he says.
This starts immediately. After the initial paperwork, entry-level employees are not sent to a back room to watch training videos. "We spend a ton of time with them early on," says Robinson. "The most important thing we're doing is setting the foundation of our company from Day 1." This is just one way he differentiates his restaurants from the competition.
He also educates each new employee on why they are important to the brand. "The district managers, or operations directors, build the relationship from Day 1," says Robinson. He also makes it a point to speak with the new employees himself.
This personal attention continues after an employee is through orientation and working in one of his restaurants. He asks his operations directors to make a monthly visit to the store to see how each new employee is doing. "The number-one thing is checking up on the training and development of that employee. If they're behind, we ask the manager what's going wrong," says Robinson. "Is it the employee or the GM? Where is the breakdown happening, and how can we get them there?"
Nowadays he continues the personal touch himself. "I spend more time in the stores today than I have in the past to get to know the employees more, talking about anything, trying to be more engaged," says Robinson, twice named Penn Station's franchisee of the year.
"This generation's a little different," he says. "Money doesn't motivate as much as it used to. I think it's about experiences now--free time, what they're doing outside of work." So he does his best to understand them and meet their expectations, as well as encourage them to meet his.
"We try to do 'surprise and delight' things--a GM will buy ice cream, or at random buy pizza for the staff." Or he'll drop off a box Krispy Kremes himself. "We're doing small things more frequently; our competitors are not."
This year, for the first time, he closed his stores on the Fourth of July and took 265 of his employees to an area amusement park. One unexpected result--even before the trip--was a spike in applications from employees at other area businesses. "I hadn't really thought about that. The referral was amazing, kids telling their friends. We were just taking care of our employees." And every Christmas he buys employees a little gift.
Asked about those much-ballyhooed "generational differences" with today's entry-level workforce, Robinson said, "When I was 15 or 16. I remember my boss said, 'You kids don't have any work ethic today.' We hear this all the time. You've got to learn and adapt."
And he has. "I've been at Penn for 18 years building this market and I'm running into kids who used to work for me and have families now. It's so rewarding when one of them gives me a hug, or tells me what they learned working for me."
Reasons, not rules
"Everything we do in our company, we try to keep it as simple as possible," says Charles Keyser who, with his brother Jesse, operates 20 Sport Clips, 6 OxiFresh, and 5 Little Caesars locations.
When it comes to retaining employees, "It boils down to two things," says Keyser: 1) continuing to grow the company, and 2) focusing on the why of what they're doing.
On the first point, company growth means opportunities to advance for front-line employees and managers alike. "The number-one thing I keep hearing is, 'Where I'm at currently they've just been stagnant for a while,'" says Keyser. "People want to be around something that's moving forward. Progression is the remedy to most ills." Even if their part of the company is not growing, he says, growth elsewhere in the organization is infectious and tends to make people want to stay.
Second, he says, "We focus on the why of what we're doing, not necessarily the how. Of course, he says, for front-line employees the how is critical. But that's table stakes, the minimum of what every other employer must provide. Focusing on the why before letting new employees in front of customers makes a qualitative difference. "It gives a purpose to everyone, a little bit higher than just a paycheck. They feel they have a more important role in the company, almost a bit of a higher meaning, when they come in to work," says Keyser.
This is equally true on the back end for administrative staff, he says. "They also need to know why." For example, if the air conditioning goes out in a store, they should feel the urgency to fix it as soon as possible--not only so the customers aren't baking, but also for the employees. It's important, he says to show the company cares a lot about the employees, so they'll care about the customers.
"We've always stressed overdevelopment of the individual from the level they're on. Even if they don't necessarily have the skill sets to advance, they can get better at what they do," he says. He's made it a priority across his brands to make time to coach and develop his employees, or simply to ask how things are going. It's easy for that kind of employee nurturing to be lost in the day-to-day, he says.
One big change he's made in response to the tight job market is shortening the time between a front-line applicant's initial inquiry and a face-to-face meeting. "A year ago, we could call on a Wednesday and set an interview for Monday and the probability of them showing was high. Now if we talk to them on a Wednesday, we get them in on Thursday because they probably have five, six, or seven interviews lined up, where years ago they might have had two." This is so important, he says, that his area managers adjust their schedules accordingly. "It's really helped," he says.
When it comes to employee retention, rewards and recognition are huge, says Keyser. "But it has to be genuine, and done in a way that is genuine. Like anything in business, it can get routine. If the leaders in the organization truly want to recognize and make it a priority, it is incredibly impactful, but it has to be a priority."
Focus on development
"It's a scarce labor market and probably getting scarcer," says Susan Rather, who with her husband Jeff Tews, operates six BrightStar Care businesses and one BrightStar Senior Living facility, with a second opening in August. This means having to find two different groups of employees, as the former provides home care services and the latter work in an assisted living facility. Another wrinkle is that some medical care staff must be certified, but Rather says that hasn't really been a problem, although finding management staff has been a little tougher this year than last.
In all, they employ about 60 managers to run day-to-day operations, and about 700 home care staff in the field. For the managers, "Retention is about as good as we've ever seen," she says. "In the last 2 years we've done a lot of work revamping our personal development program." Part of that work, she says, is modeled on Google's Project Oxygen, which focuses on what behaviors make a great manager.
Before the revamping, she kept running into situations where a talented manger would work hard for a couple of years, and say, "What else?" Their job was managing the direct care staff, so there really was nowhere to promote them to. "So we put a lot of focus on telling them, 'We can't give you a promotion, but we can offer you special projects," she says.
"They were still doing their other job, but at the end of a project we'll award them with a bonus if it worked well," she says. For example, a group of four managers worked together to digitize the onboarding process for training new employees. "Working on a special project allows them to get re-engaged if they've mastered their job."
Another way to provide growth--and retention--for managers came when they expanded by taking over two BrightStar home care businesses and replaced the existing management with their own managers. "We haven't lost anybody in last 2 years because they were looking for shinier, brighter opportunities," says Rather. "It's not about a new title or more money, but we can afford to bonus them."
In the past, she says, "We always struggled with how do we develop our staff." Now they are taking a more active approach, and the results are paying off. One lesson that surprised her was learning that not everyone on the management side wants more. "Some were completely comfortable doing what they're doing. That was a new realization for me," she says. "People are individuals. What will work for engagement and retention for one doesn't necessarily work for another."
They've also made improvements on how they manage their direct care staff of 700, the ones "actually doing the work," she says. Two years ago they began using employee engagement surveys from Home Care Pulse, which makes telephone calls to about 10 percent of both clients and employees every month. "It's really good feedback," she says. "We can see how one office is knocking it out of the park and another is struggling a bit, and then use our experts to help them improve."
Front-line supervisors now meet with direct care staff in the field more frequently, and training has been enhanced on the front end. "We used to hire, train for two hours, and send them out. Now it's 10 hours working with a mentor," says Rather. And they've added more touchpoints between supervisors and staff after a shift, and after the first meeting with a new client about how to follow up and what the client said about the care provider.
All of this, she says, has brought employee engagement scores up significantly.
Ear to the ground
Luke Millikin gets around. As senior vice president, global commercial banking for Bank of America Merrill Lynch, he spends most of his time in the field with the bank's restaurant operator clients, seeing their business up close and hearing about their challenges. Based in Scottsdale, he covers most of the western region of the U.S. And yes, hiring and retaining employees in 2018 is a real problem.
"All my colleagues in the restaurant group have the same experience," he says. Asked about how the historically low unemployment rate is affecting those clients, many of them multi-unit franchisees, he sorted his response into five areas.
1) Demographic changes.
The decline in the teenage labor participation rate is the number-one challenge for QSR franchisees. Reasons include higher school enrollment, summer school, and competition from older workers. Teens also seem to be less interested in finding work, with the percentage of non-working teens seeking a job about half what it was two decades ago.
"When these teens do want a job, they want something differentiated, companies with a purpose, that they can be proud of," says Millikin. For many teens today, he says, a desirable job boils down to three things: culture, having a purpose and connection to a larger community, and an opportunity for growth and a career path.
Large, successful multi-unit operators, he says, place a lot of focus on disseminating their culture from top management to regional managers to district managers to store managers--and on following through on promises and being consistent at the store level, he says. "This is what I've been hearing from best-in-class operators."
2) Finding employees.
As workforce shortages continue to grow, employers will have to get creative in how they seek talent, he says. For restaurant operators, the growth in the number of seats nationwide has added another level of difficulty, intensifying competition for the best employees, whether managers or front-line staff. Success here also comes back to culture, he says. "It's tougher for franchisees to find employees if their culture is stagnant, or if the company is not growing or is in decline and doesn't have positive momentum."
After a new hire, follow-through and ongoing communication are critical. "It's what employees need or demand right now," he says. A problem with new hires that happens all too often, is that a new employee is told what to expect and what the job will look like, but then they show up on their first day and have problems clocking in, or the trainer's not there, or they're not on the schedule. "Almost right away there's a lack of trust. This has been pointed to as a driver of dissatisfaction," says Millikin. To avoid this, he suggests getting someone on board to ensure a smooth entry and ongoing follow-through.
3) Invest in technology.
To counter the shortage of qualified employees, restaurant franchisees must take advantage of new technology that can streamline processes and do the work that humans once did, says Millikin. In considering whether to use robots to automate some tasks, "I would encourage people to think about technology as an enabler of 1) a better customer experience, and 2) a better employee experience," he says. "If you position technology to your employees as something that makes their life better and easier, that's a more productive lens to see the technology through."
Whether it's Flippy the burger-flipping robot or customer-facing technology such as kiosks, tablets, and mobile apps to order and pay, it's essential to present it to employees in a positive way, such as eliminating repetitive or routine tasks. Also, he says, ensure your restaurant staff is trained in how to use any new tech, or it could create more problems than it's supposed to solve.
4) Generational differences.
Millikin says the restaurant operators he spends time with tell him that today's younger workers value purpose-driven companies, authenticity, connection, are more focused on communities than on loyalty to a specific company or career, like to solve problems, and are used to things happening faster, almost on demand. Whereas older generations might be more focused on being able to get their paycheck on time, healthcare benefits, and predictable schedules.
While a lot of focus is placed on Millennials and with Gen Z right behind, "What shouldn't be lost is that these older generations are still working in these restaurants and have their own sets of needs and desires. Everybody wants to be treated with respect and dignity," he says.
5) Employee benefits.
Providing comprehensive employee benefits is a challenge, especially with increases in both healthcare costs and minimum wage. The challenge for employers is to meet employee expectations and compete without sacrificing profitability.
"We hear that people are leaving for more pay, promotion, and benefits," says Millikin. Competing outside of compensation is one way to win this battle, he says, and points to three themes:
Try to understand what people want or need to feel appreciated and engaged. This could include recognition of punctuality, anniversaries, connection to community, etc.
Sit down with employees and map out what they want from their job and in their career--especially important with today's transient, younger workforce. Make a better connection with them by helping them toward their goals. Working with employees who want to grow will help keep them on board.
Offer innovative, useful benefits to help them with their lives outside of work. One example is what Millikin calls "financial wellness" programs. These can include topics such as anatomy of a paycheck, how to fill out a 1040, buying or leasing a car, and the value of starting a retirement fund when young. Major banks, including Bank of America, he says, do this for companies who make it available to employees at no cost--and online, making it easy and familiar to younger workers.
Published: August 23rd, 2018
Share this Feature
Recommended Reading:
Comments:
comments powered by

Disqus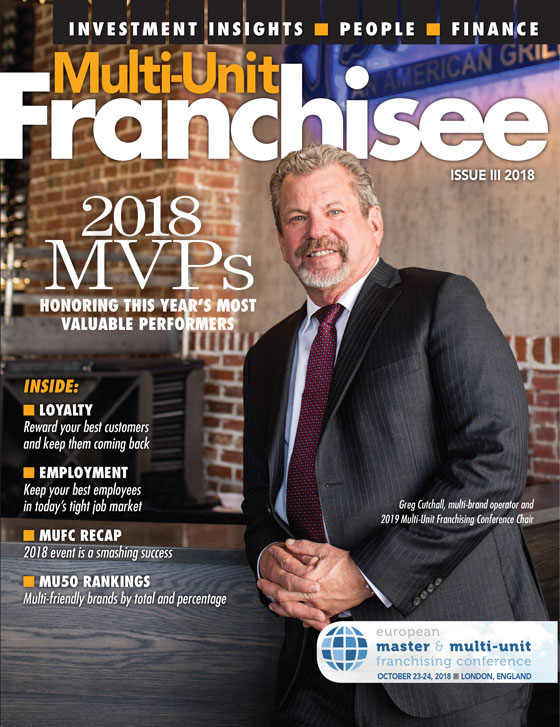 Multi-Unit Franchisee Magazine: Issue 3, 2018
PetWellClinic is a walk-in veterinary clinic offering basic health and wellness services to dogs and cats. PetWellClinic is the first vet clinic...
Cash Required:
$250,000
If you are looking for a business that is meaningful and fulfilling, you should take a closer look at Bruster's® Real Ice Cream Franchise!
Cash Required:
$125,000