Team Effort: 10-unit Sola Salon owner weathers the storm
Name:

Heather Safrit

Title:

COO/Operating Partner

Company:

Sola Salon Studios

Units:

10 open, committed to 5 more

Age:

49

Family:

Kate, Frances Olivia, and Annie, my three Cavalier King Charles Spaniels

Years in franchising:

8

Years in current position:

8
Covid-19 hit Heather Safrit with a one-two punch last spring. All 10 of her Sola Salon Studios in Florida and Georgia were required to close for up to 7 weeks. What's more, salon studios and suites were not eligible for PPP or EIDL funds in the initial rounds. Nevertheless, she and business partner Dave Donahower weathered the storm and are conducting business again and preparing to grow in the coming post-Covid environment.
"Now that I have been able to reopen all of my units, I'm faced with addressing the issues affecting my independent salon owners and their businesses," says Safrit. "Childcare and reduced client visits because of Covid-19 are critical concerns for our salon professionals, who are predominantly women and the primary providers for their families." For her part, Safrit notes that the SBA never did relent on PPP funding for salon studios, but Sola franchisees were eventually given the green light to apply for EIDL funds.
Sola Salon Studios is a business model in which the "customers" are independent beauty professionals renting studio space in Safrit's locations, which are located in Palm Beach County, Florida, and Savannah, Georgia. "Independent salon owners choose to operate at Sola for the same reason aspiring entrepreneurs turn to franchising—the support," she says. Sola offers beauty professionals just that by way of private studio space, marketing resources, technology, community, and more.
"If you share a common vision and people feel like they are part of something bigger than themselves, they tend to be happier and perform better," she says.
After 8 years in franchising, Safrit is optimistically looking ahead. She says she'd like to add two more Sola Salon locations this year, one in each of her markets.
PERSONAL
First job: I had summer jobs in retail during college, but my first full-time job after graduating was as the executive director of Junior Achievement in Savannah, Georgia.
Formative influences/events: I grew up in an entrepreneurial family. My father came from a small town in North Carolina and started delivering newspapers when he was 10. He has worked every day since then, first as an employee, then after college in his own real estate sales and development businesses. His entrepreneurial spirit, creative vision, and work ethic are qualities I have always admired in him and have tried to emulate. Without the support and encouragement of my parents, Brooks and Woodie, I would not be where I am today. I am extremely grateful to them both.
Key accomplishments: Opening 10 Sola Salon Studios locations in 7 years! Also receiving the Sola Newcomer Award, Growth Award, and MVP Award at our annual conference in 2014, 2015, and 2017, respectively.
Biggest current challenge: Work/life balance always seems to be somewhat of a struggle for me.
Next big goal: My business partner and I just signed on for another three Sola salons, so I will be focused on site selection and development of those locations in the near future.
First turning point in your career: Getting hired to work on the 2004 G8 Summit in Sea Island, Georgia, which led to my previous career in special event logistics. Working for both the U.S. government and private and public companies, I got to meet amazing people and travel to fantastic places. In fact, one of the people I met while working on a corporate event was the person who introduced me to Sola Salon Studios, as well as to my business partner.
Best business decision: Joining forces with my business partner Dave Donahower to become Sola Salon Studios franchisees.
Hardest lesson learned: Failure is just opportunity in disguise.
Work week: In the early years of running my Sola salons, I worked seven days a week. But as we have grown and I have developed a team, I try to limit my work week to Monday through Friday. However, since our independent salon owners have 24/7 access to their Sola salon, I am always on call for my team in case there are any emergencies in the salons over weekends.
Exercise/workout: Walking with my three four-legged children and Pilates twice a week.
Best advice you ever got: Match effort with effort. You cannot want something for someone more than they want it for themselves. My grandmother Flora also used to say, "Don't take any wooden nickels," which has proven to be good counsel.
What's your passion in business? I love building things—concepts, companies, and new Sola salons!
How do you balance life and work? I am still working on that aspect of my life. In making decisions, I like to use Suzy Welch's 10-10-10 rule. I try to consider how will I feel in 10 minutes, 10 months, and 10 years about the choice in front of me.
Guilty pleasure: Spending the day on the beach under an umbrella reading a good book.
Favorite book: <Excellence Wins> by Horst Schulze.
Favorite movie: I loved "We Are Marshall." It is a great story about the triumph of the human spirit in the face of tragedy. It also offers a great leadership lesson. If the environment has changed and one is to succeed, sometimes you must change old behaviors.
What do most people not know about you? I love to garden. I find it very relaxing to be outside in nature, and it is rewarding to see the finished product in bloom.
Pet peeve: Selfishness.
What did you want to be when you grew up? I wanted to be in the fashion business, which I eventually did. I opened a women's clothing boutique in Atlanta in the late 1990s. It was a great learning experience, but after 5 years in the industry, I was ready to move on. Since then, I have avoided industries with high inventory costs.
Last vacation: Palmetto Bluff in Bluffton, South Carolina.
Person I'd most like to have lunch with: Supreme Court Justice Amy Coney Barrett. I would love to hear about her journey and how she has created balance in her extremely full life.
MANAGEMENT
Business philosophy: Work hard and you will succeed.
Management method or style: Collaborative. I believe the most successful companies are those in which their team members take ownership of their responsibilities. If you share a common vision and people feel like they are part of something bigger than themselves, they tend to be happier and perform better. It is important to me that my team knows I value their opinions, trust them, and feel their contributions are important to the overall success of the company.
Greatest challenge: Although it sounds clichéd, one of my biggest faults is that I am a perfectionist. As such, delegating has always been a challenge for me. There are times in my career I have been pushed to my limits, and in those moments I have been forced to delegate or cease to grow. It is hard for me, but as I get older and continue to gain life and business experience, I am getting better at it.
How do others describe you? Focused. Dedicated. Loyal.
One thing I'm looking to do better: I am always looking at how we can improve the customer service aspect of our business. In Sola's business model, our customers are independent beauty professionals renting studio space in our locations. Independent salon owners choose to operate at Sola for the same reason aspiring entrepreneurs turn to franchising: the support. At Sola we provide high-level support that includes not only offering luxury, private, turnkey studio space, but also marketing resources, technology, business tools, community, and much more. It is important to me that the independent salon owners in my locations feel like I have their back.
How I give my team room to innovate and experiment: With independent beauty professionals as my customers, my team includes property managers, maintenance workers, and others who keep the day-to-day operations of my locations running smoothly. I make sure they know what I expect of them personally and as a team. I also provide them with thorough training and the opportunity to always ask questions. Then I give them room to handle situations as they see fit. Sometimes we have great success and other times not. But the key is we learn something to make us better going forward.
How close are you to operations? I work in the business daily. Currently, my primary focus is on development and leasing studio space to independent beauty professionals. But I speak with my operations team every day to monitor conditions in the salons and our plans for handling major maintenance issues that arise, as well as studio move-in/move-outs.
What are the two most important things you rely on from your franchisor? Marketing and technology, and Sola prioritizes both. We have access to ready-to-launch, nationally branded marketing campaigns to help us drive leads in our markets, and we also receive step-by-step training on how to most effectively execute those marketing campaigns on a local level. Sola is attractive to beauty professionals as well, because of the exceptional technology-driven tools the brand offers them. Tools like SolaPro and SolaGenius allow them to run their businesses more smoothly, which makes our lives as franchisees easier because we're able to dedicate our focus to business development and operations.
What I need from vendors: Honesty and the ability to deliver on time.
Have you changed your marketing strategy in response to the economy? How? The economy was doing great before Covid-19, and I think it will come back even stronger as government restrictions continue to be lifted. Although indicators might reflect a recession, the problems with the economy are not related to economic principles, but rather the impact of an unprecedented pandemic and forced business closures. I am continuing to spend the same amount of money on marketing. However, our marketing messages have changed from promoting entrepreneurship to more safety-related issues, as well as support for beauty professionals who may have been displaced by permanent salon closures, or salon owners who need to downsize and are looking for a seamless transition.
How is social media affecting your business? Social media is an amazing marketing tool for our business. Most of our leads come through social media, rather than traditional print paid advertising. Our existing customer base produces a lot of organic content to promote their small businesses, and they have a huge extended reach in their networks. This content produces a lot of customer engagement and we can even repurpose their content for our own content. Most would classify this as influencer marketing, but ours is more authentic: happy customers tell their friends. We get a lot of word-of-mouth referrals.
How do you hire and fire? Hire slowly, fire quickly.
How do you train and retain? As a franchisor, Sola provides great training resources, including in-person and ongoing training as well as video resources. I also do shadowing with my team. For a number of years early on I was a one-woman show and have performed every task required by my managers. I generally like to spend some personal time in the field with a new team member and encourage the team to spend time shadowing and talking with each other and other Sola managers within the system. We have an extremely supportive franchisee community and we all work together to help each other with training and problem-solving when necessary.
How do you deal with problem employees? A typical multi-unit Sola franchise owner does not have more than five employees, so a bad apple can cause significant problems. Generally, if I see an employee is not working out I let them go quickly.
Fastest way into my doghouse: Lack of communication, particularly not asking questions when you are not sure how to handle a situation.
COVID-19
What are the biggest impacts of Covid-19 on your business? The mandated closures of all 10 of my Sola locations for between 5 and 7 weeks, which obviously greatly affected our bottom line. Salon studios/suites as a business model were not eligible for PPP or EIDL funding in the initial rounds, which made it hard to manage cash flow. Additionally, Sola franchisees made the collective decision to stop collecting rent from our independent beauty professionals since they were forced out of work. Now that I have been able to reopen all of my units, I'm faced with addressing the issues affecting my independent salon owners and their businesses. Childcare and reduced client visits because of Covid-19 are critical concerns for our salon professionals who are predominantly women and the primary providers for their families.
How have you responded? We are helping our independent salon owners navigate through the government rules and regulations for the reopening of cosmetology salons, which can be confusing at times. We are also trying to support them in handling the financial and emotional pressures of operating a business and balancing family obligations such as home schooling during Covid-19. Working with top educators in the beauty industry and mental health practitioners, Sola's home office has provided us an array of resources including blog posts, webinars, and podcasts with valuable information to assist us in this effort.
What changes do you think will be permanent? I think increased cleaning and sanitation practices in the salons will be permanent and will result in increased janitorial costs.
BOTTOM LINE
Annual revenue: $4 million.
2021 goals: Develop at least two new Sola locations. My business partner and I have two markets, one in South Florida in and around Palm Beach County, and the other in Savannah, Georgia. We will add at least one new salon location in each market by early to mid-2021.
Growth meter: How do you measure your growth? Number of units and both physical and economic occupancy rates.
Vision meter: Where do you want to be in 5 years? 10 years? 15-plus salons running at full occupancy would be my hope.
Do you have brands in different segments? Why/why not? No, my business partner and I want to stay focused on Sola, which is our core business.
How is the economy in your regions affecting you, your employees, your customers? The Covid-19 restrictions in our area are affecting business more than the economy itself. Although there is a concerning unemployment rate at this time, it is primarily because of occupancy restrictions placed on restaurants, salons, and other public establishments. Once the restrictions on salons are lifted and business can go back to full occupancy, I think we will see more customers seeking beauty services. The demand is there, but the occupancy restrictions and ongoing uncertainty around the virus are reducing client visits.
Are you experiencing economic growth in your market? Yes, particularly in South Florida. We are seeing a tremendous number of people move to the region from the Northeast because of Covid-19, so there is an increase in the number of clients needing beauty services. Salon professionals, who are in fact Sola's customers, are also deciding to move into private studios at an increased rate as they look to move out of crowded salon environments or traditional salons that have had to permanently close as a result of the pandemic.
How do changes in the economy affect the way you do business? As a salon studio business model, Sola is relatively recession-proof. No matter what the economic conditions, hair continues to grow and gray, as do nails, among other personal services. Although our customers' clients might not come in quite as often, they will still get these vital personal grooming and "feel good" services done. Also, you cannot outsource personal grooming services overseas, so we feel good about the longevity of the business.
How do you forecast for your business? With more than 545 units nationwide, our franchisor is able to provide us with data on expected occupancy ramp-ups. We use those metrics to help us forecast our salon occupancy and related cash flow.
What are the best sources for capital expansion? Banks have great rates right now.
Experience with private equity, local banks, national banks, other institutions? Why/why not? My business partner and I do not have any experience with outside funding sources to date. However, given the money we lost during the mandated closures of our salon locations and the rising cost of building, we are considering looking at some level of outside funding going forward. If we go that route, we will probably look at banks that have previous experience in funding Solas.
What are you doing to take care of your employees? We do annual reviews and give raises and bonuses accordingly. We are also providing them with all of the resources they need to interact with the public safely during Covid-19, including masks, hand sanitizer, and other sanitation products.
How are you handling rising employee costs (payroll, minimum wage, healthcare, etc.)? Because of our business model where independent beauty professionals are the customers and most franchise owners typically employ only five people, these common issues don't affect our employees in the same way.
What laws and regulations are affecting your business and how are you dealing with it? Right now, the main things are that we remain ineligible for federal relief through PPP and the ongoing occupancy restrictions. In regard to PPP, our CEO Christina Russell spoke with more than 30 legislators to underscore the SBA technicality that excluded salon studios/suites from the program, as well as share the impact it was having on Sola's independent beauty professionals. Unfortunately, the SBA was intractable on PPP, but Sola franchisees were eventually given the green light to apply for EIDL despite previous loan denials. We remain positive, and Sola has continued working with the IFA to help educate legislators about franchising generally and about the specific challenges to small-business owners like myself and the independent salon owners operating within my four walls. The hope is that forthcoming relief opens up forgiveness beyond PPP, whether it is in the form of tax credits, grants, or other federal relief programs.
How do you reward/recognize top-performing employees? We give verbal recognition and have a bonus structure in place.
What kind of exit strategy do you have in place? My business partner and I have not thought about it a lot as we are still building. Until if or when the right offer comes around, we plan to hold and harvest.
Published: June 12th, 2021
Share this Feature
Recommended Reading:
Comments:
comments powered by

Disqus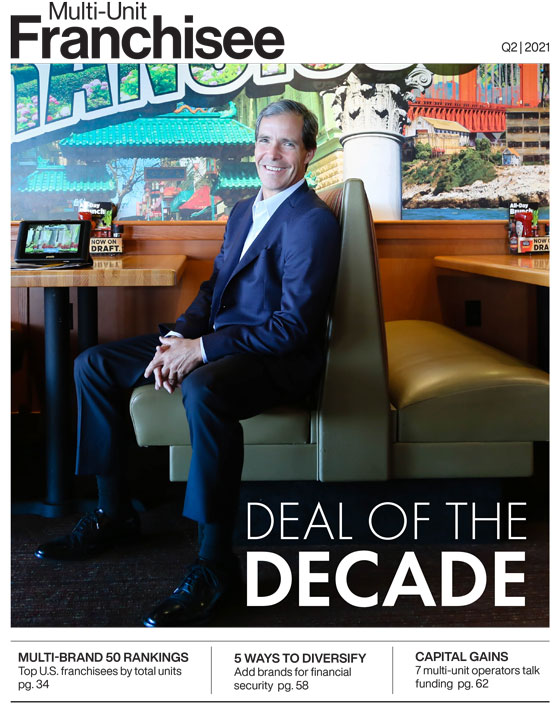 Multi-Unit Franchisee Magazine: Issue 2, 2021
BoConcept was born in Herning in 1952 and has grown from a small firm to Denmark's most global furniture brand, with over 300 stores in more than 60...
Cash Required:
$500,000
Class 101 college planning franchise helps high school students get into better colleges and qualify for higher amounts of scholarships and financial...
Cash Required:
$50,000