Team Players: Former NFLers Make Big Gains in Franchising
Not surprisingly, winning in professional sports has a lot in common with winning in the franchise business. If there's to be any chance of victory, individuals must work together, follow a strategic plan, and remain devoted to a collective cause. Seen in this light, it makes perfect sense that a number of former professional athletes--most of whom have competed in sports since they were tots--turn to franchising when their time on the field runs out. They understand hard work and dedication, and they know how to follow a system where each individual has a role that benefits the greater good of the team.
Multi-Unit Franchising tackled four former NFL players who are now winning at multi-unit franchising. Each has a unique story to tell, and all have found satisfaction and stability in franchising.
Mr. Bojangles'
Tim Biakabutuka was born in Kinshasa, Zaire. His family moved to Canada when he was six years old. Growing up in a country that's hockey crazy, he was 16 before getting his first experience playing U.S. football. But this late-bloomer was destined for the pros.
From 1993 to 1995, Biakabutuka played college ball at the University of Michigan. In '95, he rushed for 313 yards, helping his team upset an undefeated Ohio State squad. His ability to deliver under pressure is an attribute that comes in handy today in his shift into a life in franchising.
After his junior year in college, Biakabutuka was drafted in the first round by the Carolina Panthers. The running back played for the team from 1996 until a career-ending foot injury in 2001.
"I've been lucky enough to have some good mentors around me, like Mr. Richardson , who have offered advice. And I've listened," says the 36-year-old, who recently married. "Following my football career I needed to learn how to operate a business."
His first post-football venture was in the real estate business with a partner in San Diego. He then tried his hand in the jewelry business in Charlotte for about 5 years. "I admit, I was struggling a little bit," he says. "So I talked to Mr. Richardson and brought up the idea of owning a Bojangles'." Richardson has a franchise history himself, involved in both the Hardee's and Bojangles' brands.
Biakabutuka had wanted to stay in the Charlotte area and, as fate would have it, the nearby Augusta, Ga., territory was available, just two hours away. He opened his first Bojangles' in 2008. Today he operates two units, with a third under development. "My goal is to open one more location over the next 12 months," he says.
For Biakabutuka, several characteristics he absorbed through his years in team sports have helped him make the transition into franchising. "A strong work ethic that is typically found in team sports is key," he says. "Also, just like sports, a franchising team has lots of positions and different skilled people necessary to carry out the mission. It's everybody working together that gets the job done."
Like most franchisees, he has faced the challenge of hiring and retaining quality employees. "This was probably the single biggest challenge I faced coming into franchising," he says. "Employees don't make a lot of money, and it's difficult to motivate them. I just try to be open, convince them of their important role on this team, and listen to what they have to say."
Biakabutuka is a hands-on operator. He's in his stores at least twice each week, regularly samples the food for quality, talks with staff and customers, and keeps a sharp eye on his financials. His business philosophy is "Honor God, be fair to all, and be a good steward," and he believes a good career should be marked by "enjoyment, cash flow, and exit strategy."
At the rate he's going, it's first-and-goal(s) for this former running back.
Tackling pizza delivery
Kory Minor was too small to play football when he was a youngster growing up in Southern California. A late growth spurt, combined with his work ethic, led to a blossoming football future. Heavily recruited out of high school, Minor had always wanted to attend Notre Dame. He got his wish and started on the defensive side of the ball all four years. His biggest influence during those years was legendary coach Lou Holtz, who taught him about discipline, hard work, and dedication, and more.
Minor was selected by the San Francisco 49ers in the seventh round of the 1999 draft. Within months, he found himself traded to the Carolina Panthers, where he spent the next four years as a linebacker.
"I knew that a long career in professional football was not in my future, and so I made sure that I was exploring other opportunities," says the 33-year-old. "It was a great thing to be a part of, but I knew there was something else for me." In the off-season, he began exploring business opportunities.
"I didn't want to wind up being one of those broke former pro athletes," he says. Minor says he enjoyed meeting all kinds of entrepreneurs and business people in and around Charlotte during his playing years. "I saw how happy and fulfilled many of them were, and I said 'I want some of that.'" As his pro football career was winding down, he worked as a financial planner for Northwestern Mutual for a short time in Charlotte before returning to California with his wife. His first full-time non-football business endeavor was with E&J Gallo Winery, where he spent three years working as a wine consultan. It was during this time that he really began exploring franchising opportunities.
"I had looked at probably every FDD out there," he says. "My wife joked that I had reached the end of the Internet for researching franchises and that I just needed to make a decision."
He was drawn to Domino's and liked what he saw there--although initially he wasn't excited about the company's policy of incoming franchisees serving in the management program before purchasing a store. "But I did it and I loved it," he says. He absorbed everything he could about the Domino's culture and business operations.
In August 2007, Minor opened his first Domino's store. Three years later, he oversees 5 units and says his goal is 50 stores within the next 7 years. He has financed his franchise career with his own money.
An actively involved operator, Minor says that he loves the flexibility the franchising lifestyle offers. Still, he's not averse to working weekends and visits his stores every week.
With his gregarious personality, it's easy to see and feel the optimistic spirit he brings to his organization. "In this company, we talk about 'us' and not 'I'," he says. "I'm here to help my team be successful, encouraging people to stick with us, to see the vision we've cast, and grow with us."
Minor says he tries to praise his people wherever and whenever he can. "There's greatness within us. The key is to unleash that. Some of these employees may even own their own stores someday."
Sack of Donuts
Dewayne White is planning ahead. He knows he wants a secure future when his pro football career ends. As that time is nears, it seems his future will be in franchising.
The defensive end played his college football at the University of Louisville before being drafted by the Tampa Bay Bucs in 2003. After four years in Tampa, he was picked up by the Detroit Lions, where he played three seasons before being released this spring. Now a free agent, he's looking to extend his pro football career this season.
Either way, he already has two The Athlete's Foot franchises in Tampa and recently inked a development deal for eight Dunkin' Donuts in South Bend, Ind., and Kalamazoo, Mich. "My plan right now is that I'm an investor in the Dunkin' deal," says the 30-year-old. "That's a better role for me while I'm still looking to finish out my playing career." The name of the company for the quarterback-sacking defensive end? Sack of Donuts, of course. His first store is due to open in the first quarter of 2011.
White has teamed up with operational partners Mike and Andy Knapick, who have a proven track record in franchising and currently operate eight Jimmy John's in the same territory. "Mike and Andy have the franchising business operations experience to get the stores up and running. That's great for me because, beyond investing, I can start small and watch and learn how the operations part works," says White, who is in regular contact with the brothers to discuss ideas and strategies.
For White, who doesn't have the time to devote to the enterprise right now as he pursues another season in the NFL, it's a savvy approach. Also, he readily admits that he's still new to the franchising game: he has operated his two The Athlete's Foot franchises for only about six months. He's a licensed real estate agent and also has been dabbling in that for the past three years.
What he brings to the game, beyond a willingness to learn, is the ability to work with a team, strong communication skills, and a competitive spirit. "That's all come from playing football," he says. "The franchising model is great, because just like in team sports, there's a system in place and there are key roles that must be executed. Just follow those rules and you'll be successful."
White says he understands the importance of having quality employees, and the managers to guide them. "If you take care of these people, they'll take care of your store and everybody wins."
As his pro football career nears it end, White says he'll become more of an overseer more actively involved in day-to-day operations, and that he'll be looking to expand and grow the business. "I'm going to make this a successful career transition."
Wing man
Ron Stone knows what it's like to be a part of a winning team. The 39-year-old played 13 seasons in the NFL. He has two Super Bowl rings from his time with the Dallas Cowboys in the 1990s, and he was invited to Hawaii to play in three Pro Bowls. He knows how to win, has the track record to prove it , and has brought that passion and dedication to his four Wingstop locations in the San Francisco Bay Area.
"When my football career began winding down, I knew I needed to have some kind of business to keep me occupied and generate revenue," he says. Stone and his business partner, his wife Roxanne, liked the idea of franchising and explored all types of opportunities. Although most of his playing career was with the New York Giants, he and Roxanne had spent many off-seasons in the Dallas area, which is where they wanted to open a franchise.
Wingstop, based in Dallas, initially looked like a good choice but there were no available territories there at the time. There some in the Bay Area, though, and since he had finished his NFL career with the San Francisco 49ers and Oakland Raiders, it was a logical choice. He opened his first Wingstop in 2006, has added three more, and says he'd love to add a fifth in 2011.
"It's been a great business and for me. The transition from football into Wingstop was fairly easy," he says. "In both, you're in an organization that has a system in place, everybody gets on board, executes, and you succeed."
The real key, says Stone, is the employees. "Employees in franchising are the same thing as the players on a football team. Everybody plays a part, and it rests on their shoulders to get the jobs done. I depend on them to execute our strategy." Finding the right employees for his franchise team is challenging, though, even in this economy.
"No question that good employees are hard to find. Some are just there for a paycheck, and that doesn't help us build a strong business," he says. "We really emphasize the importance of customer service with our employees. That customer may have had a bad day, but if you can greet them with a smile and treat them respectfully, you can build a business." When he does find strong employees, he works hard to recognize and keep them.
Stone says he likes his franchises because he doesn't have to micro-manage them. "We stay involved enough in the stores to always know what's going on, but we try to stay out of the way enough so that our employees can do their jobs," he says. Roxanne works closely with each location, which frees up enough time for him to be the offensive line coach for the Valley Christian High School football team in nearby San Jose. This is his third year as coach.
"Franchising is a business just like football was a business," says Stone. "You show up every day, everybody does their job, and you'll find success."
Making a Smooth Transition
For most athletes, a professional sports career is relatively short-lived. Whether it's a career-ending injury or the never-ending competition from younger players, most athletes spend only a handful of years playing at the professional level, especially in the NFL. As a result, many find themselves in need of a new career when their playing days come to an end.
The NFL has become more active in providing off-the-field assistance for players making the transition into a post-sports career. For the past 10 years, the league has sanctioned the Player Networking Event (PNE) at each Super Bowl. The goal of the networking event is "to help players explore and identify post-football opportunities that are realistic and meaningful," according to Dallas-based Troupe21 & Associates, which organizes the annual event in tandem with the NFL.
The PNE provides opportunities for current and former players to mix it up with team and league executives, corporate guests, and exhibitors. This year, the four-hour event featured more than 40 businesses, many of them player-owned and operated, in a career fair setting.
"The PNE provides a great venue for athletes to learn more about franchise concepts and what's involved in operations, training, and more, says Bev Rich, senior director of franchise development for Wingstop. "These events educate players on what opportunities exist outside of their NFL experience, and bring awareness to how important it is to begin planning for life after football and professional sports."
Wingstop has been involved in the PNE for the past few years and was a title sponsor in 2007 and 2008. "Events like PNE can have a strong influence on professional athletes," says Rich. "It's commendable that they're committed to providing the next step in player's futures."
Other franchise brands that have been involved with the PNE include Carl's Jr., Pretzel Time, MaggieMoo's, KFC, Hardee's, EmbroidMe, Buffalo Wild Wings, The Athlete's Foot, and Baskin-Robbins.
NFL Player $tats
They're still young, full of drive and ambition, have been paid well for years, know all about passion and teamwork, and are hungry for post-career business opportunities. Franchisors seeking well-financed candidates and multi-unit operators looking for financial partners, take a gander at these numbers:
 13,000: number of former players
 1,920: number of active and practice squad players
 $1.3 million: average signing bonus for active players
 $770,000: median salary of active players
 $1.8 million: average salary of active players
 $3.9 billion: total salaries of active players
Published: October 18th, 2010
Share this Feature
Recommended Reading:
Comments:
comments powered by

Disqus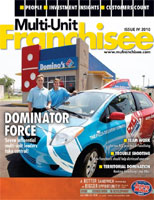 Multi-Unit Franchisee Magazine: Issue 4, 2010
Discover franchise opportunities with one of the world's largest chains of ice cream specialty shops.
Cash Required:
$100,000
Blend opportunity with success and join the nation's #1 health and fitness smoothie brand today!
Cash Required:
$100,000