Teaming Up To Amass Market Share
Building a franchising empire in the restaurant industry takes a good deal of planning, commitment, and expertise. Fortunately for the industry there still are leaders out there who can bring all those qualities to the table.

Dallas-based Consolidated Restaurant Operations (CRO), Inc. is an example of such an effort. Led by three innovators, John D. Harkey, Jr., Gene Street, and John Cracken, CRO operates and franchises 135 casual dining restaurants in 18 states and Canada.

CRO's eight brands encompass the Mexican, Italian, American grill, and steakhouse segments. They include El Chico Café, Cantina Laredo, which features gourmet Mexican cuisine in an upscale atmosphere, the Spaghetti Warehouse, Good Eats, Lucky's Café, Silver Fox Steakhouse, III Forks Steakhouse, and Cool River Café.

El Chico Café, CRO's largest brand, was founded in 1940. CRO operates 57 company-owned and 24 franchised El Chico Cafés in 11 states, with 2004 sales of $124 million.

The three owners have divided the labor to suit their talents. Street is the company's chairman. In 1975, he founded the Black-eyed Pea chain of family restaurants before selling it in 1986 for $45 million. Street and CEO Harkey oversee CRO's day-to-day operations, which employ more than 6,000 full- and part-time employees and had system-wide sales of more than $250 million in 2004. Cracken handles CRO's special projects.

Harkey, who has an MBA from Stanford University and a JD from the University of Texas, worked for Goldman Sachs on Wall Street. Both Harkey and Cracken entered the restaurant business in 1998 when they purchased El Chico, a Dallas-based and publicly traded casual Tex-Mex concept. After purchasing the system, the CRO team spent the next five to six years assimilating the brands, improving operations and food quality, and getting a system in place to grow the business.

"When we purchased El Chico, we realized very quickly that we needed to reach an economy of scale," says Harkey. To reduce administrative expenses, CRO consolidated back-office functions of all the acquired chains. As a result, administrative expenses that ate up 12 percent of every dollar in CRO's early years were reduced to 5 percent. In addition, because it can leverage its multiple brands, CRO has increased buying power with suppliers, among other efficiencies.

Re-energizing franchising
Harkey says the team realized they needed to build a core platform of restaurant segments. They did that by acquiring Mexican, Italian, steakhouses, and American grill restaurants. Today they are focused on growth through additional acquisitions of proven, long-term performers in those four segments.

Harkey says franchising offers an opportunity to build a brand quickly, once you have a proven system. CRO has focused on strengthening each brand by making sure that each restaurant serves exceptional food, provides excellent service, and has extraordinary people. Because the appeal of Mexican cuisine continues to grow, CRO has strong growth plans for both El Chico Café and Cantina Laredo and is looking to open 20 units of each concept annually.

CRO's recently opened El Chico Café in Granbury, Texas, established a franchise record for first-week sales volume, serving 7,000 customers in a community with 5,700 year-round residents. Overseas, Cantina Laredo restaurants are part of a multi-unit franchise development agreement in Egypt.

Harkey says that both El Chico and Cantina Laredo concepts provide a strong investment opportunity for existing restaurant operators who already are single-unit or multi-unit franchise owners: "Franchisees can take advantage of the systems, infrastructure, and expertise we have to allow them to expand and be successful without having to re-create a lot of infrastructure."

The initial franchise fee of El Chico Café is $35,000 per restaurant with the total estimated initial investment ranging from $1.5 million to $2.4 million. The continuing royalty fee is 4 percent of gross sales with a continuing marketing fee of 1 percent of gross sales.

CRO supports its franchisees with an experienced corporate team of 130 professionals, including concept presidents, a chief financial officer, general counsel, vice president of real estate development, vice president of marketing, and a director of franchising.

The company has developed an unconventional marketing technique called Show Them Our Restaurant Magic (STORM), which focuses on contacting customers in local communities. CRO has assembled a marketing toolkit to help its restaurant managers make contact with the community in different ways. For example, every Thursday across CRO's system from 2 to 4 p.m., managers in each of its restaurants call on customers. At El Chico, they deliver tortilla chips to local businesses. "It is a good way to establish and build personal relationships with our customers. It tells these businesses that we're your neighbor and appreciate that you are in the community," Harkey says.

CRO's managers also spend time developing perpetual guests or groups who come to the restaurants on a regular basis, such as the local Kiwanis club, Corvette club, or garden club. CRO aims to add one perpetual guest each month.

Building team spirit
Having volunteered with Habitat for Humanity, Harkey believed a similar operation would be useful in renovating some of the El Chico restaurants. CRO decided to tap the home-building experience and skills of its 6,000 employees.

One rebuilding project was slated to cost CRO approximately $225,000, but by using the company's own workers, who were paid for their efforts, CRO was able to accomplish the renovation for $75,000. "This remodeling project brought many of CRO's employees together, boosted team spirit, and helped save the company $150,000," says Harkey.

CRO's team shares an abiding belief in the power of franchising. Says Gene Street: "The key ingredient is our team spirit and attitude that we can do anything." The three partners are using sound decision-making and a strong commitment to service excellence to ensure that CRO is a force to be reckoned with in the restaurant industry.

Jooan Szabo is a Virginia freelance writer specializing in fussiness and finance.
Published: December 6th, 2005
Share this Feature
Recommended Reading:
Comments:
comments powered by

Disqus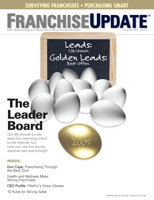 Franchise Update Magazine: Issue 3, 2005
June 20-22, 2023 Marketing-Operations-Technology. Be a part of this ground-breaking new space for ideas, inspiration and networking for Franchise...
MSA provides domestic and international franchise advisory services to franchisors and companies seeking to establish franchise and licensing systems.