Texas Twosome: Multi-System Couple Share Love Of Business And Life
Long before they met and married, Donna and Jim Wade grew up working in their respective family businesses--Donna in Southeast Texas, and Jim in a small town in West Tennessee. Both families owned restaurants and grocery stores.

Their paths crossed when Jim, a University of Memphis graduate who went to work in accounting for Binswanger Glass, was transferred to Houston as a controller. She was selling copiers for Xerox, and he called one day for a quote. "Not long after he completed the purchase, we started dating," recalls Donna. "We realized instantly that we shared a passion for business."

Within three years, they had moved back to Donna's hometown, married, and opened their first video store. They--and all of their businesses--have been in Southeast Texas ever since.

The Wades got into franchising when they owned a local chain of video stores in a market that Blockbuster wanted to penetrate. "They contacted us, saying we were known as good operators, and they offered us the opportunity to franchise our stores and complete a development agreement to open more stores," says Jim.

After they built out their development agreement, the couple started looking for another concept. "We found PODS when we saw a commercial on TV. We looked at each other and knew that this was our next concept," says Donna. "Within a week, we were in Clearwater, Florida, at PODS headquarters doing the deal."

Not the type to sit around much, the Wades are also looking at concepts in Houston, but don't anticipate expanding beyond Texas.

Their two decades together as both spouses and business partners have gone smoothly--and have been great fun--because they settled the division of duties very early, says Donna. "Jim's background is accounting and construction, and mine is marketing and management, so that is where the lines are drawn. Jim and I have a deep respect for each other's talent, and we are generally each other's biggest supporters. So when there's a decision to be made, we consult each other and then respect what is decided. It took us the first five years of our marriage to learn that valuable lesson."

Name: Donna and Jim Wade
Title: Owners
Company: Wade Companies
No. of units, by brand: Blockbuster, 6; PODS, 1
PERSONAL
Age: Donna 48, Jim 57
Family: Married 21 years with one daughter, Kelly, now an accounting major in college.

Years in current position: 24
Years in franchising: 9

Key accomplishments: Building our business from one video store into multiple stores and franchises with commercial real estate investments.

Biggest mistake: Not opening our PODS franchise before Hurricane Rita hit our area.

Smartest mistake: We built a center to open a Blockbuster. The store did not perform and was closed, but the center turned out to be our easiest to lease.

How do you spend a day, typically? Our day starts at the gym at 5 a.m. for spinning. We drive to our office and go where the day takes us.

Work week: It varies, but mostly Monday through Friday, 8 to 8, and Saturday, 8 to 4.

Favorite fun activities: Our favorite activity is travel. We find the only way to really get away is to be away.

Exercise/workout: Spinning (stationary bike)

Favorite stuff/tech toys: We couldn't live without our Blackberries or our DVR.
What are you reading? Our last favorite book was Good to Great by Jim Collins.
Do you have a favorite quote or advice you give? If it is to be, it is up to me.

Best advice you ever got: Donna's dad ran a grocery store and restaurant for most of his life and got into commercial real estate. He told us if he knew then what he knows now, he would have focused on real estate much sooner. So we did.

Formative influences/events: We both grew up in our family businesses and knew from an early age that we wanted to do that.

How do you balance life and work? It helps that we work together, because we see a lot of each other. When our daughter was young, we "officed" at home to make it easier for us to be there for her.
MANAGEMENT
Business philosophy: We try to invoke a retail philosophy in everything we do by making the customer our number-one priority every day. Our central theme for all of our businesses is, "We Rent Boxes!" We rent boxes with movies in them (Blockbuster), boxes for people to put their stuff in (PODS), and boxes that people put their businesses in (shopping center lease spaces.) We also try to select brands that are number-one in their industry.

Would you say you are in the franchising, real estate, or customer service business? Why? In all businesses, including our commercial real estate, we are in customer service. In all that we do, we try to deliver the best customer service, which has served us well over time.

What gets you out of bed in the morning? The idea of embracing the challenges that face us that day and moving our business forward.

What's your passion in business? Our passion is our business. Since we were both very young, we have had a burning desire each day to grow our business and achieve success.

Management method or style: We hire well, train well, and leave them to do their jobs with clear-cut expectations and measurable results that are well rewarded. We believe in positive reinforcement and in being honest about an individual's results. So often, we hear business owners complaining about their employees. We make sure that if we are unhappy about someone's performance they are the first to know about it, and to know what they need to do to meet expectations.

Greatest challenge: It is challenging to run two franchises because there is no way to really separate the two. One minute, we're dealing with something with Blockbuster and the next with PODS.

How close are you to operations? We are not as close to the day-to-day operations for our Blockbuster stores now that we have opened PODS. Since we opened PODS two years ago, we are still very hands-on.
Personality: We're both people people.

How do others describe you? Crazy and fun! We both love to laugh and to have fun with the people around us. Every day is a new adventure.

How do you hire and fire? To grow beyond one store or one franchise, you have to have people. I believe you must take a long time to hire someone and then make the most of them through proper training and motivation. When a person is coached and motivated effectively, they are loyal and productive. We promote only from within, and the stars rise to the top.

How do you train and retain? Same as above.
BOTTOM LINE
Annual revenue: Proprietary

2009 goals: To continue to grow PODS, while maintaining our revenues in Blockbuster. In this tough economy, we also want to keep our shopping centers 100 percent leased.

Growth meter: How do you measure your growth? We compare same store sales and compare annual revenues in each entity.

Vision meter: Where do you want to be in 5 years? 10 years? We are still looking at other concepts, but are hoping to have most of our growth completed so that we can spend more time traveling within 10 years or so.

How is this economic cycle affecting you, your employees, and your customers? Our local economy is not as affected as much, because our area has just gone through Hurricane Ike and we are experiencing a lot of expansion in the petrochemical industry.

What are you doing differently in this economy? Again, since we are dealing with hurricane cleanup and plant expansions, our local economy is not experiencing the downturn that our national economy is facing.

Where do you find capital for expansion? At one of the Multi-Unit Franchisee shows, I (Donna) heard someone speak about doing the "Bank Dance." Until then, we'd only used one bank. When we decided to do PODS, we did the "Bank Dance" and brought the proposal to eight different banks and ended up finding our best deal at a local credit union that offers commercial lending. They offered the best interest rates and terms and have been great to work with as we experienced rapid expansion because of Hurricane Ike.
Published: June 8th, 2009
Share this Feature
Recommended Reading:
Comments:
comments powered by

Disqus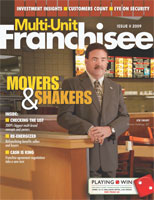 Multi-Unit Franchisee Magazine: Issue 2, 2009
The #1 fast casual Mexican franchise in the industry offering flexible formats with ample white space to grow.
Cash Required:
$350,000
Demand for The Bar Method continues to grow as more people discover the benefits of a barre-based workout and feel the empowerment after each...
Cash Required:
$125,000