Texas-Sized: Michael Knobelock is Well on His Way to 100 Units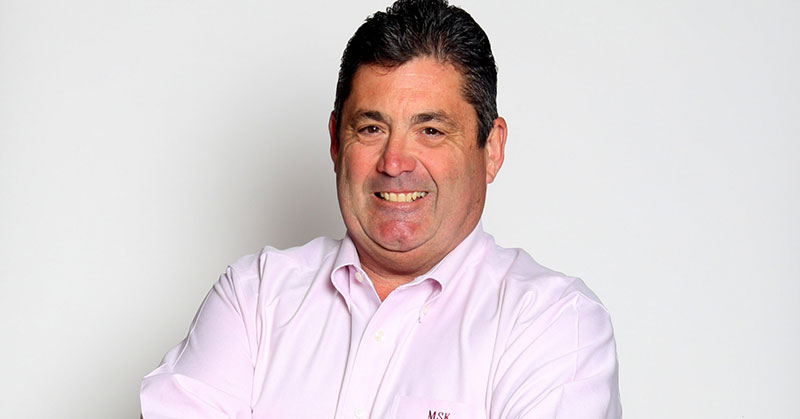 They say everything's bigger in Texas. It's definitely bigger for Texan Michael Knobelock, whose Houston-based MSK Enterprises operates nearly 70 franchise locations spread across 4 different brands and 7 states. Since we profiled him 5 years ago, Knobelock has added Captain D's and Sears Appliance & Hardware stores to his Church's Chicken and Little Caesars stores. He also has his own restaurant, Dekker's Mesquite Grill, located in an affluent suburb of his hometown, along with plans to start building his own Italian restaurant this year.
He's come a long way since the 1980s, when he borrowed $10,000 from his parents to re-open a shuttered convenience store in Houston. He succeeded in that early business venture, which he eventually sold, and in 1992 used the proceeds to open his first Church's in Houston--becoming the first Church's franchisee in the city. "I loved the Church's Chicken brand," he says. "I ate there, and I knew I could sell that." In the nearly 25 years since, he has continued to add more Church's locations and today he dominates the market with 41 units.
As Knobelock's franchising empire continued to expand, it was time to reconnect and ask him to tell us about the changes. Today, in addition to his 41 Church's, he operates 21 Little Caesars, 2 Captain D's, and has diversified beyond food with 3 Sears Appliance & Hardware stores. His own concept, Dekker's Mesquite Grill, is a full-service seafood and steakhouse restaurant serving upscale Southern fare and drinks in the Houston suburb of Fulshear.
He's also expanded geographically and is now in 7 states (Texas, Arkansas, Alabama, Florida, Mississippi, North Carolina, and Virginia) since adding 2 Captain D's in Mississippi and buying 11 Church's in North Carolina and Virginia from a retiring franchisee. His next move is to open a couple of Captain D's closer to home.
Franchisors have taken notice of Knobelock and have him firmly on their radar. "I get approached all the time about my interest in additional brands," he says. "That happened with Captain D's a couple of years back. When I started investigating, I couldn't believe how much the brand had changed and repositioned itself since I remember going there as a kid." He says the expanded menu of boiled and baked fish and other fresh alternatives to the traditional fried fish dishes made him take notice. "I love the fast-casual approach they now have, and I'm looking to bring a couple of locations to Houston."
All this activity and growth have kept his construction department hopping. He had previously told us that he can do about 90 percent of the building himself, which allows him to do it for about half the cost a typical franchisee would have to pay to get started. Since 2011 his crew has been busy reimaging some Little Caesars stores and are preparing to do the same for some Church's locations.
"We can get things done quicker and save money," he says. They recently finished an addition to Dekker's that added more than 70 seats and a bar that can now be used for private parties and receptions--and don't forget the outdoor deck. He says there's more building on the horizon. His Dekker's has done so well that he has plans for an Italian restaurant on a plot of land overlooking a river in suburban Houston. "We are looking to get that under way this year," he says.
When he's not working, Knobelock loves to get away to relax and hunt at his ranch on the Rio Grande near Laredo. "It's full of white-tailed deer, wild hogs, and other wildlife," he says, providing him with a great opportunity to unwind and spend time with his family. He and his daughter have traveled to Africa for exotic safaris and hunts. Another African trip, this time to Namibia, is in the works.
He still loves his work and has no intention of letting up anytime soon. "We plan to keep building Church's Chicken and Little Caesars locations as well as continuing to handle the reimages," he says. "We've got plenty to keep us busy, and I like it that way."
Name: Michael Scott Knobelock
Title: Owner/CEO
Company:> MSK Enterprises
No. of units: 41 Church's Chicken, 21 Little Caesars, 3 Sears Appliance & Hardware, 2 Captain D's, 1 Dekker's Mesquite Grill (independent)
Age: 54
Family: Wife Patty and 2 daughters, Torrey and Kally
Years in franchising: 25
Years in current position: 25
Personal
First job:
Sold subscriptions for the Houston Post newspaper.
Formative influences/events:
My grandfather and my parents.
Key accomplishments:
Opening my first business at the age of 23.
Biggest current challenge:
Federal regulations.
Next big goal:
Continued development of our brands.
First turning point in your career:
When I acquired my first Church's Chicken in 1992.
Best business decision:
Diversification of my brands.
Work week:
Six days a week. I spend Sunday with my family.
Exercise/workout:
No.
Best advice you ever got:
My grandfather told me to go into business for myself. It's worked out well.
What's your passion in business?
Development and growth.
How do you balance life and work?
Having a great team around you helps keep things running smoothly at work and allows time for family and life.
Guilty pleasure:
Hunting at my ranch near Laredo on the Rio Grande River and internationally in places like Zimbabwe and Namibia.
Favorite movie:
"Top Gun."
Pet peeve:
Bad landscaping.
What did you want to be when you grew up?
An entrepreneur.
Last vacation:
Safari in Africa.
Person I'd most like to have lunch with:
My grandfather, so he could see what I've accomplished.
Management
Business philosophy:
A culture of internal promotion. I have to hire good employees, provide clear job descriptions, and give them the tools to accomplish their jobs. It is very important to give employees career opportunities by promoting from within.
Management method or style:
Fast-paced and results-oriented. I hold people accountable for their actions by being straightforward and clear when discussing what and when actions should be taken.
Greatest challenge:
Overcoming the challenges of multi-state regulations.
How do others describe you?
Passionate, driven, tenacious.
One thing I'm looking to do better:
Have more fortitude.
How I give my team room to innovate and experiment:
Not to micro-manage and allow them the freedom to be creative.
How close are you to operations?
With technology I am able to stay in touch on a daily basis. I spend much of my time looking for acquisitions and ways to grow the company.
What are the two most important things you rely on from your franchisor?
Training and product innovation.
What I need from vendors:
Partnership mentality.
Have you changed your marketing strategy in response to the economy? How?
The three main brands are value-driven brands. We are constantly changing based on regional competition and LSM opportunities.
How is social media affecting your business?
Customers now have a more direct line to us and we have a more direct line to the customer. We listen to the feedback and make adjustments when necessary.
How do you hire and fire?
We use many sources for candidates. We rely on places like local job service centers. When we part ways with an employee, we ensure that all local and federal guidelines are followed so the parting employee will still be a loyal customer.
How do you train and retain?
We follow the established training systems for each brand. Good training will lead to retention.
How do you deal with problem employees?
Coaching them directly about the opportunities that are presented.
Fastest way into my doghouse:
Procrastination.
Bottom Line
Annual revenue:
$60 million.
2016 goals:
We are seeing commodities relief, so we are sharing that with the customer to increase transactions and help improve incremental profits.
Growth meter: How do you measure your growth?
Last year we measured by average check. This year we are measuring transactions as we are seeing commodities reduced.
Vision meter: Where do you want to be in 5 years? 10 years?
In 5 years, 100 stores. In 10 years, I'd like to transition the business over to my children.
How is the economy in your region(s) affecting you, your employees, your customers?
In our home base of Houston we are hoping the oil industry will rebound. The Affordable Care Act caused many of our employees to go from one full-time job to two part-time jobs. The unemployment rate still has not decreased in many of the inner city markets compared with the national average, thus our customers have less discretionary income to spend with us.
Are you experiencing economic growth in your market?
No.
How do changes in the economy affect the way you do business?
It depends on all the economic variables. We focus on controlled growth by taking advantage of profitable opportunities, while improving our margins and maintaining adequate cash reserves.
How do you forecast for your business?
Through complex models we have used in the past and input from all levels.
What are the best sources for capital expansion?
I prefer to use GE Capital.
Experience with private equity, local banks, national banks, other institutions? Why/why not?
We've used local and national sources of funding. We use local banks when possible to help our community. But we use GE Capital to help with cash flow.
What are you doing to take care of your employees?
Paying competitive wages and making sure we provide a clean and safe environment. We also provide advancement opportunities.
How are you handling rising employee costs (payroll, minimum wage, healthcare, etc.)?
We have reduced the hourly workforce from predominantly full-time to predominantly part-time.
How do you reward/recognize top-performing employees?
We have quarterly bonuses for our salaried employees. We do period sales incentives for our hourly employees. We have done yearly holiday bonuses.
What kind of exit strategy do you have in place?
To hand over the reins of operations to the next generation in my family.
Published: July 11th, 2016
Share this Feature
Recommended Reading:
Comments:
comments powered by

Disqus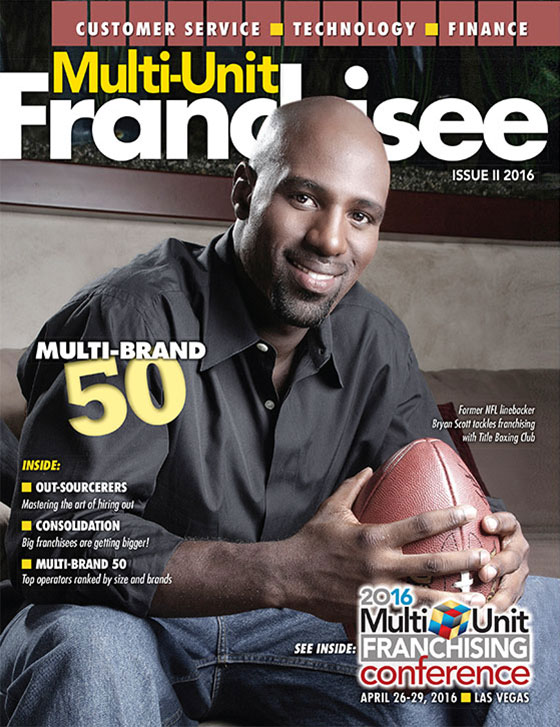 Multi-Unit Franchisee Magazine: Issue 2, 2016
When simplicity is the essence of your business model, clients and owners benefit. Clients want a predictably wonderful experience with every visit....
Cash Required:
$100,000
Blend opportunity with success and join the nation's #1 health and fitness smoothie brand today!
Cash Required:
$100,000