The 5 E's: Customer Engagement is a Contact Sport
Don't just tell your employees to be present or to provide genuine hospitality without telling them Make it black-and-white, and make it measurable. One of my favorite hospitality systems for making a customer connection is the "5 E's": 1) eye contact; 2) ear-to-ear smile; 3) enthusiastic greeting; 4) engage; and 5) educate.
Eye contact. This eliminates the head-down, uncaring, robotic feeling of a front-line employee just saying, "Next." A great training method for this is to audit the employees by periodically asking them, "What was the color of the customer's eyes?"
Ear-to-ear smile. A smile is part of the uniform and a smile has teeth. Demonstrate a positive attitude and let the customers know you are happy to serve them.
Enthusiastic greeting. Your greeting must demonstrate genuine warmth and not just a trained greeting. It should be one that has enthusiasm in the voice, coupled with a smile and eye contact. We need to be providing genuine hospitality, as if the customer were an old friend visiting our home.
Engage. Many companies provide little direction to employees on how to engage a customer. This doesn't have to be a 10-minute conversation. Every single customer can be engaged within the time it typically takes to serve them, be it 90 seconds in a fast food environment, 2 minutes on a phone call, or 45 minutes in a meeting. This action demonstrates to the customers that they are not a herd of cattle, or one of a hundred customers. It eliminates being too task-focused on the transaction and replaces that approach with real interaction, which starts with using our names and our customers' names. Use any customer intelligence you can: information in a database; a name badge; a picture of their twins on the desk, a hat, college shirt, tie, glasses; or do anything else that helps you connect with the customer.
Educate. This is the one that may slightly affect time of service in industries built around rapid pace (fast food) and may have to have an "above and beyond" action when it is warranted (e.g., a new customer unfamiliar with a menu). For the rest of us, it should have no impact on productivity and be demonstrated every single time. Think of stores like Nordstrom and Apple. Their employees are brilliant about their products and applications.
I love the 5 E's for the following reasons. They are so simple to do. They can be effective with every customer. The first four take no time to execute. They demonstrate genuine hospitality. And practically no one else is doing them even 25 percent of the time. The 5 E's also apply to professional service providers or internal customer service, support, or call center environments.
3 ways to engage customers
Not all 5 E's should be used in every customer encounter, as some might be unrealistic in certain circumstances. Employees engage with customers in three ways:
Incidental contact -- This is traditionally very brief, like a walk-by, seeing the customers (coming within 10 feet), but not necessarily coming in direct contact with them where you are going to have a conversation. This can be absolutely anyone in your business, from the president to the maintenance personnel. In these cases, only the first two E's (eye contact and ear-to-ear smile) should be executed every time and take a total of 2 seconds to execute.
Secondary contact -- This type of contact with the customer is usually some type of support team such as a hostess, greeter or receptionist. The first three E's (eye contact, ear-to-ear smile, and enthusiastic greeting) should be executed every time. These also take a total of 2 seconds to execute simultaneously.
Primary contact -- This encounter is more involved. It is typically with the main person who is providing the service, such as a service provider, account executive, consultant, or customer service rep. All five E's must be executed every time. The first three only take a few seconds to execute (see above). The fourth and fifth (engage and educate) are a little more detailed, but can be done extremely quickly and efficiently--and are where the relationships are made and expertise is demonstrated. To engage, use your name, the customer's name, and provide "Secret Service" (family, occupation, recreation, and dreams, or FORD) along with customer intelligence. Finally, to educate, ask "Is there is anything else I can do for you?"
Pre-hiring screening tool
If you are looking for people with the potential to be customer-centric service providers, evaluating them using the 5 E's might be your most powerful tool. Many of our clients have incorporated the 5 E's into their interview process, counting the times an employee candidate demonstrates each. During the interview process, if candidates are not smiling, making eye contact, and showing enthusiasm, then pass. They do not have the potential to be even average at providing good customer service. No amount of customer service training will change them. The biggest key to trusting this engagement indicator is having an interviewer who constantly displays the 5 E's.
John R. DiJulius III, author of The Customer Service Revolution, is president of The DiJulius Group, a customer service consulting firm that works with companies including Starbucks, Chick-fil-A, Ritz-Carlton, Nestle, PwC, Lexus, and many more. Call him at 216-839-1430 or email info@thedijuliusgroup.com.
Published: December 31st, 2015
Share this Feature
Recommended Reading:
Comments:
comments powered by

Disqus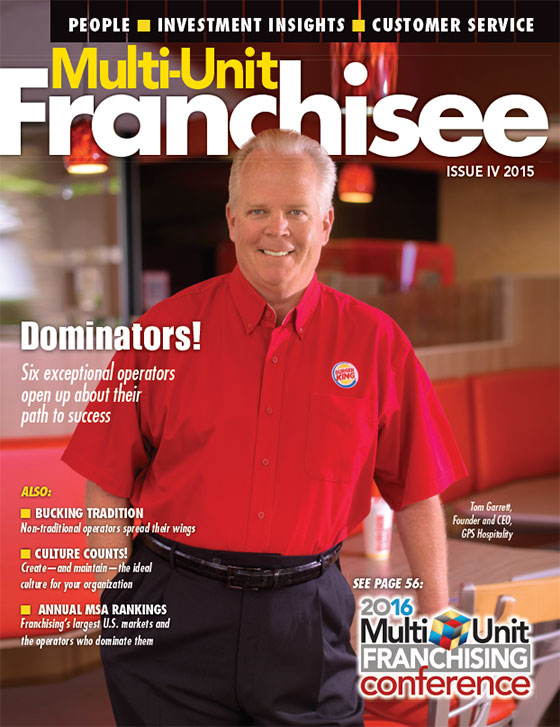 Multi-Unit Franchisee Magazine: Issue 4, 2015
Invest in a legacy brand with 40 years of experience serving up crave-able food in a fun environment. Here's all you need to know
Cash Required:
$1,500,000
Another Broken Egg is an upscale breakfast, brunch and lunch restaurant that specializes in Southern-inspired menu options and signature cocktails....
Cash Required:
$250,000