The Gift of Organization: A Six-Step Action Plan to Prepare Your Business for Sale
The decision to sell your successful multi-unit business is now firmly on the horizon. You have come to terms with the lifestyle implications and changes. What, specifically, can you do now to prepare?
First, contemplate which very real vision of the future you would prefer to have:
Feeling stressed-out in a room full of cardboard boxes trying to sort through reams of paper to determine what is the "final-final" signed version, to then photocopy and send to your investment banker, while answering questions from your auditors, during a break from your district managers meeting.
Calmly hitting "Send" on an email to your investment banker, inviting them to your impeccably organized, cloud-based "data-room" that has been created, updated, and groomed over the past four months.
We've seen both scenarios, and many in between. The choice is yours. We can work with them all. However, as most investment bankers, advisors, and buyers will agree, working with an organized, well-prepared seller of a multi-unit business significantly enhances the likelihood of a successful outcome. In addition, it creates value, in that your business is perceived as a well-organized machine that one can confidently acquire and operate.
Correspondingly, one of the most frustrating--and entirely preventable--aspects of the sale of your business is inadequate preparation and organization of key data. This situation is actually detrimental to the value of your business, as buyers lose confidence in the integrity of the data and take pause, wondering what they will discover next.
So are you ready to get organized? You cannot start too early, but you can start too late. Do it. Start now. Here are six steps to get you started:
Organization plan. Inquire with an investment banker/advisor and obtain a detailed informational requirement checklist. A specific, detailed multi-unit business checklist is going to be much different than a general business checklist from the Internet. With a plan of data requirements in hand, you can determine what resources are needed.
Resource team. Under the guise of estate planning or a refinance if necessary for confidentiality reasons, assign a resource to each item of data you must gather. Typically you will involve the services of the following:

Advisor/investment banker. Overall plan and framework, format of data, comparative data, opportunities, custom report, abstract creation, and the like.
Accountant/CPA. Financial records, historical statements, tax returns, digital presentation of data, and other financial aspects.
Attorney. Articles of incorporation, permits, franchise agreements, lease agreements, licenses, liquor licenses, vendor contracts, and other legal matters.
Key management. Background bios on your key leaders, organizational chart, responsibilities, key initiatives, POS systems, image and remodel status, new site expansion opportunities, and the like.
Franchisor. Remodel requirements, franchise agreement transfer and renewal requirements, pending initiatives, any issues or minor defaults, and any other franchisor matters. (No disagreements on the facts.)
Governmental entities. Assess needs that require the cooperation of governmental agencies, such as updated business licenses, zoning, easements, environmental issues, and other regulatory requirements.

Data format specifications and organized digital storage. Over the past 10 years, evolving technology has resulted in a shift toward the acceptability and requirement of digitizing virtually every document to meet today's buyer expectations. Most buyers today demand unit-level data in Excel or accounting in Great Plains or similar formats, so they can model to their own assumptions without reams of data entry. Your CPA, for example, will appreciate understanding exactly what format is required, along with adequate time to prepare it.

Accordingly, scanned PDF versions of all key documents (final versions, signed and dated, not various incomplete working drafts), neatly organized, has become a base expectation, not a luxury. Additionally, agreement on where the data will be securely stored (cloud-based servers, data room services, hard drives, flash drives) should be a thoughtful consideration. Your investment banker/advisor can work with you to evaluate the most up-to-date best practices and the benefits of each. Depending on the nature of your relationship, you may ultimately choose to use your advisor, attorney, or CPA for organization and safekeeping.
Custom data and report requirements, preparation, and creation. Certain data and reports are mandatory and must be created from scratch. These are not used in your daily affairs--for example, a franchise agreement abstract. This is a very specific, highly customized summary of key elements of a series of current franchise agreements, including current dates, historic renewals, expirations, pending renewals, actions required for pending renewals, current parties to the agreement, and current franchisor version of the agreement, to name a few. This is prepared in summary and tabular form. It's a significant amount of work to prepare, requires access to digital data, and must be 100 percent accurate. Add in other examples such as lease abstracts, facilities abstracts, POS system summaries, and you quickly see that access to organized, up-to-date, accurate digital data is paramount.
Commitment from your resource team. Each professional needs to understand the necessity of meeting the requirements within a specific, mutually agreed-upon time frame. Flag the areas and items that must be updated regularly (period or monthly P&Ls) or occasionally (store image level, key managers) versus those that generally don't change often (leases, title insurance, environmental reports). Document any issues (environmental issues at a site, for example) from the governments and any third parties.
Execute the plan. Create and populate your data room, and assign your team to create a rhythm of updating data and information to your central location. It is important to clearly let your team know the precise specifications and format of your data requests, along with your timing needs. The courtesy of a longer lead time is appreciated by any professional. Documentation is critical, as you may both be right with the data you have, but dealing with different documentation that may not have been updated or was not entered by the person who had the job last. It not only happens, it's fairly common with both government and franchisors.
Summary
Organized information is your friend, and documentation is your best friend.
Disorganization is your enemy, and incorrect information presented to a buyer and discovered in diligence is your sworn enemy.
Give yourself the gift of organization. Give yourself the gift of increased value. Start small, but start--and chip away at the six steps.
---

Dean Zuccarello, CEO and founder of The Cypress Group, has more than 30 years of financial and transactional experience in mergers, acquisitions, divestitures, strategic planning, and financing in the restaurant industry. The Cypress Group is a privately owned investment bank and advisory services firm focused exclusively on the multi-unit and franchise business for more than 22 years. Contact him at 303-680-4141 or dzuccarello@cypressgroup.biz.
Published: October 29th, 2012
Share this Feature
Recommended Reading:
Comments:
comments powered by

Disqus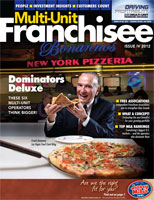 Multi-Unit Franchisee Magazine: Issue 4, 2012
Daddy's Chicken Shack believes in simple, high-quality ingredients with a lot of love.
Big Frog's proven-and-tested business model allows you to take charge of your financial future with a business concept that offers unlimited revenue...
Cash Required:
$50,000