The Multi-Unit Franchise Revolution
Franchising's great strength has always been that it is adaptable. Combining two kinds of ownership, one general, the other close to the ground, has given these systems quick reflexes in an ever-changing economy.

The latest big change is the move-ment of more systems to multiple unit operators.

Based on recently released FRANdata statistics, about 30,000 or 11 percent of all franchisees in the FRANdata database operate more than one unit, and approximately a third of those multi-unit franchisees (about 7,000) operate multiple concepts. "These statistics evidence the growing trend toward multi-concept ownership and are expected to grow dramatically over the coming years," says Lane Fisher, partner in the Philadelphia franchise law firm Fisher & Zucker.

The reasons for this growth are not far to seek.

Franchise companies actively seek strong franchisees who can develop an entire geographical area-hence the name, area developer. Area developers have strong organizations of their own and can take advantage of economies of scale in hiring, promotion, training, accounting, real estate, legal, and planning.

Economic Pressure

There are also economic reasons for multiple units and multiple brands.

"I'm seeing the multi-unit franchisee grow from 10 to 50; I've seen a lot of regional franchisees growing," says John McGrath, a multi-concept franchisee and area developer in Charleston, SC. He has multiple KFCs, Taco Bells, Pizza Huts, and Black Angus Burgers. "The squeeze is on single-unit operators across the board; it's that much more difficult to make a good living out of one or two units. Traditional mom and pop operators are being bought up. It's just too difficult now to run a single unit and make a living."

The positive side of that pressure is the advantage gained from having multiple units and brands in a given area: you can spread the risk. It's unlikely that all the stores and all the brands will have a down period at the same time. When times are slow for one, the others will pick up the slack.

"I have found that the larger number you have, the easier it actually gets," McGrath says. "You can afford better leaders, better systems, and then, of course, your G&A costs per store unit drops."

Not all multiple-unit operators have quite so positive a view. Tom Larson, whose Larson Companies operate units of eight different lodging and restaurant brands in the Eau Claire, WI, area, says, "There are demands placed on an operator associated with running multiple brands as opposed to running one brand. It would be much more efficient to have them all in the same brand. I can't articulate in an objective way how much more time it takes to run multiple flags effectively, but it takes a different level of commitment. It adds another layer of complexity."

Growing the Brand

Despite the cautions, franchisors want the huge advantages that area developers can give them. Rapid expansion while conserving capital is a major one. Finding a strong area developer allows the franchisor to focus on protecting and extending the brand rather than dealing with the nitty-gritty of opening individual stores.

In turn, the fast expansion gives the franchisee a great advantage in rapid brand awareness. The value of that kind of expansion isn't limited to franchises, of course; Starbucks is opening upwards of 1,000 stores a year, but it already has the advantage of extremely high brand awareness. It's A Grind, a relatively new franchise competing with Starbucks, is only selling areas. The company believes it is the best way to gain market share and recognition against a huge established competitor.

Area developers bring an interesting change to the franchise equation. Many of them are larger than the franchisor. They are usually financially strong and sophisticated, and bring that strength to the system. On the other hand, if they don't approve of a course of action the franchisor is taking, they are much stronger in opposition than a group of single-unit owners would be.

Most area developers are, however, not inclined to argue with the franchisor. They know that their best chance of success is to duplicate the stores exactly. They are not brand entrepreneurs, and are far more likely to follow the franchisor's lead than single-unit owners.

Dennis Waldron, an area developer for Ruby's Diner in the Seattle area, and former president of Cinnabon, says "our best franchisees at Cinnabon, those who did the best in growth, sales, and profits, were the ones who did everything exactly the way we did at company stores. And that did not go unnoticed by me. And I'm attempting to do that with Ruby's."

"Don't just franchise to people who have money. Money is easy to find," says Wayne Harris vice president of training for Captain D's. "What's not easy is to find is people who are dedicated. You pay a royalty for two reasons. One is because you put a brand name on your building that immediately attracts customers. Second, is you're investing in a brand that has a system, and you're investing into that system because you want to follow that system."

Harris recalls a potential area developer who was very, very financially secure. "It had been a long time since I saw a portfolio like this gentleman had. In our initial interview we started talking and he said, 'Y'know, I'd really like to put an aquarium into the restaurant, serve some different desserts or seafood.' But that's not what our brand is about," Harris says.

"My point is that it's not just about having money, it's about having a cultural fit, people who are interested in growing the brand and how the system operates. They're getting into a franchise because they want to use the system and see the value in not having to create that system."

Attracting the Area Developer

Given that the number of area developers is necessarily limited-the level of sophistication and financial strength needed is not that common-franchisors are making a lot of effort to find the match. One example is Knights Inn, a Cendant brand with 196 hotels in the U.S. and Canada. Knights Franchise Systems is offering an incentive program to encourage development by first-time franchisees and current Knights Inn owners.

Instead of the usual monthly percentage of sales, the program offers a $20.80 per room, fixed, flat monthly charge that covers royalty and marketing fees. The agreement, offered to first-time franchisees and current Knights Inn owners who sign a franchise agreement for another Knights Inn property, features a three-year renewable term for up to four renewal terms. The contract sets a fixed $1 fee for each voice booking made through the Cendant central reservations system.

"The new program is easy, practical and in tune with the economy segment's needs," said Rajiv Bhatia, Knights Inn president. "This offer is attractive because there are no surprises: developers know what their fees will be each month."

New patterns for contracts like this are likely to grow as the competition for area developers also grows.

It is not, however, quite the limited market it might seem. Since an area developer can have multiple brands, there is (theoretically) no limit to the number of franchise flags he or she might take on. Practically, of course, it would strain credibility to think that anyone would sign up with 3,000 different brands.

Still, franchise companies are finding that they themselves can take advantage of a multiple-brand approach. Cendant, Yum brands, AFC, and Allied Domecq are just a few of the large companies that offer multiple brands, in effect keeping their area developers in house.

Allied Domecq Quick Service Restaurants offers Baskin-Robbins, Dunkin' Donuts, and Togo's under a single management umbrella. From its current base of about 10,000 units worldwide, AD-QSR wants to add 5,000 new units, at about 1,400 locations, in the next five years.

To accomplish its goals, the company is targeting large multi-unit operators in its 17 selected U.S. markets. This allows for higher quality development, more rapid development, and sustained growth in operations once the units are open. The ideal candidate is an experienced QSR operator with an infrastructure already established in the territory and an organization poised for growth.

Many multi-unit operators have brands that can't expand anymore in their geography. They've maxed out on what their current brands can offer them. If they had more opportunity, they might not even be looking at other brands. But once a major QSR development is on the ground, then you have an infrastructure that needs to be sustained. Anything not growing is moving backwards.

Corporate vs. Franchise Stores

For many, traditional wisdom has it that 1) corporate stores mean competition for franchise stores, 2) a concept and system dedicated 100% to franchising is a positive thing, and 3) having exclusive rights to an area is best. For others, that's a load of hooey.

"I get frustrated when I hear about franchise companies that are just a franchise company. They don't even own corporate stores, or they just own two or three," says Todd Beckman, founder and owner of The Tanning Company in St. Louis. "It's impossible to keep up with your industry if you're not doing it yourself. That's my philosophy," says Beckman, who owns and operates 20 stores himself.

Beckman is adamant on this point. "If you're looking for a franchise and they have only one corporate store or two, what kind of franchise can they really be for you? Because they're not really out there learning the industry from day to day, making sure they're staying on top of it," he says.

"We'll never stop opening stores. It's the best way to understand your industry and make sure you're doing the best job for your franchisees," he says. "We're not just going to just be a franchise company and sit here and take royalties. We're going to be out there opening up our own stores too, helping our brand grow together along with our franchisees and always working on making our program better."

Stability, Vision, Leadership

When it comes to cars, "Don't buy a first-year model" is often good advice. The same holds when shopping franchisors. Let them work out the kinks on someone else before you invest your hard-earned dollars. It can be good to get in early, but pioneers have a much higher fatality rate than those who follow.

"You want to make sure that the leadership in the organization has been stable, and that it's not a revolving door-from the operational standpoint as well as from a marketing standpoint," says Clarence A. Mitchell III, a multi-unit franchisee of Captain D's in the Memphis and Jackson, TN, areas. "If an organization every couple of years is finding a new marketing agency, they don't have a focus yet." He says to look at their commitment and their history for growth, what they've done in the past, and what their future plans are.

Leadership and experience lay the foundation for a franchisor to provide the everyday support required for the brand to grow.

At Krispy Kreme, "There is support from every department: marketing, finance, operations, real estate, construction. Every piece of their company has been available to me and I have had access to it on an unlimited basis," says Rocco Fiorentino, a Boston area developer. "I think you need to understand the ability of the franchisor and their own ability within their team; their ability as operators and their financial ability as investors," he says. "The last thing you want to do is sign to build 20 stores and hope you have the money when you get there. You've got to have a franchisor that has the ability to support you based on your needs."

Developers, too, must step up and support the franchise organization with their own resources. After all, at the multi-unit level, it's often a partnership of equals.

The advantages of multiple units and multiple brands are clearly compelling. There are drawbacks, but the advantages outweigh them. And it looks as though the sky's the limit. As McGrath says, "I've tried to retire twice and it didn't work. So I hesitate to put any limits on it. I thought when I got my first 13 restaurants I was finished. Then 50 was my stretch goal, and now I've reached that. I will expand where it makes sense, and grow smart."
Published: October 10th, 2004
Share this Feature
Recommended Reading:
Comments:
comments powered by

Disqus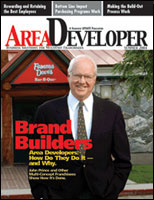 Multi-Unit Franchisee Magazine: Issue 3, 2004
With 500+ restaurants in development worldwide, Wayback Burgers is America's favorite hometown burger joint and one of the world's fastest-growing...
Cash Required:
$250,000
When simplicity is the essence of your business model, clients and owners benefit. Clients want a predictably wonderful experience with every visit....
Cash Required:
$100,000