The Power of More: Multi-unit Operators Branch Out, Brand Up
Franchising is easy: all it takes is a lot of blood, sweat, and overcoming fears to open and successfully operate a franchise unit--not to mention multiple units of a single brand. But for a certain breed of entrepreneurs, one brand is not enough. Usually, they're seeking to minimize risk. But sometimes it's the challenge of managing several brands, providing a variety of products and services, and learning best practices from different systems. Or maybe they're just gluttons for punishment (ask any multi-brand operator).
Multi-brand franchising offers not only a diversified portfolio that reduces organizational risks, but also the economies of scale that make a big difference to the bottom line. But as with any successful business, it takes talent, hard work, capital, and a healthy, functioning infrastructure.
For the past 8 years we have called on FRANdata for the latest data on multi-brand franchising. In this issue you'll find their list of the top 50 multi-brand franchisees in the country, along with a list of their 25 favorite brands. Restaurant brands continue to dominate. Some of the most popular this year are Pizza Hut, KFC, Taco Bell, Burger King, and Hardee's. You'll find the rankings on page 72.
While stats can be useful, even fun, the real stories are the human element, the people behind the numbers. We tracked down a group of dedicated multi-brand operators who represent a mix of small to large organizations, each with at least two concepts. Their stories are unique, yet they have common threads: a passion for great concepts and products, a customer-driven focus, an eagerness to provide jobs and opportunities to their employees and communities, and a burning passion to grow their business. Here's a preview of what you'll see in their profiles:
Steven Taylor and Chris Smith say that operating more than one brand just makes their business better. The partners, who operate 3 Smashburger locations and 14 Moe's in the Carolinas, are aiming to reach 50 restaurants and/or $50 million in sales by the time they're 50 (they're 40 and 42). It's a tall order, but one they're certainly on track to reach.
Craig Comer was a successful tax accountant with Deloitte & Touche in Detroit. But he had a dream to pursue his own business. In 2003, he walked away from a six-figure income to open his first Liberty Tax location. He now has five units and is the area developer for Liberty Tax in northern Indiana and Ohio. Recently, to balance out his seasonal tax business, he's added six Mosquito Joe territories.
Judy Ewing-Lonetti and Sandy Dunn, friends and business partners for three decades, operate three brands in North Carolina's bustling Charlotte Douglas International Airport: Brioche Dorée, Cinnabon, and TCBY. Says Dunn, "I think it has succeeded because we both have the same work ethic and vision of what we wanted to accomplish. It didn't hurt that we were friends before we were business partners."
Harsh Ghai thinks big: big family, big plans, and an ever-growing stable of brands. The California-based family business operates 56 Burger Kings, 9 Taco Bells, and has signed on with Corner Bakery Cafe to develop 8 units. His company did $70 million in business in 2014 and is shooting for $81 million this year. Not enough? He plans to have as many as 200 restaurants within the next 10 years.
William Bruce has been busy with major changes since we profiled him in 2012. Early last year, he left Abundant Brands, where he had spent a half-dozen years and was overseeing more than 250 Subways and a dozen-plus Costa Vida restaurants, to join Encore Enterprises, a Dallas-based commercial real estate company. Today, as president of Encore Restaurants, the $2 billion company's restaurant division, he is overseeing 8 Five Guys Burger and Fries with 45 more in development in central California, and 2 IHOPs with 2 more under construction.
Randy Merrill is feeling good about his health and wellness-focused franchise brands. When we profiled him in 2011, he was operating a Massage Heights, a Cartridge World, and 14 Solar Dimensions Tanning salons (non-franchised). He's since sold the Cartridge World and has opened a second Massage Heights unit and four Joint Chiropractic Clinics, and has signed a deal to open four Amazing Lash Studios this year.
Published: August 27th, 2015
Share this Feature
Recommended Reading:
Comments:
comments powered by

Disqus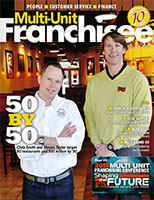 Multi-Unit Franchisee Magazine: Issue 2, 2015
$1M+ Avg. Revenue per Location. No medical experience necessary. Manage the manager franchise. Comprehensive training and support. Unique business...
Cash Required:
$75,000
Own a franchise that takes you to the "Bayou" every morning and gets you home for dinner every night! Operating Hours 7 AM – 3 PM!
Cash Required:
$350,000