The Right Fit The Three "P's" of Choosing a Money Manager
As noted in the last issue, investing is not for the faint of heart. It takes time and an ability to integrate an expansive range of information--as well as a steady head and a strong stomach. This combination often means that seeking outside help makes the most sense. But how do you go about finding an investment manager that's the right "fit" for you?
Before interviewing your first prospective manager, make a list of questions that are important to your specific situation. You will quickly discover that you can listen to a multitude of well-honed and entirely different pitches--each of which sounds plausible. However, the long-run success of your financial relationship will be how perceptive your manager is at determining what inspires, scares, and motivates you. To get you started, here are questions from three key areas.
1) People
Chemistry is vital. After all, you'll be sharing some of the most intimate details of your financial affairs with this person. The primary questions you are trying to answer include: Who will manage my account. How experienced are they? What motivates them? How are they compensated, and how will this drive their actions? Do they understand me? Do I trust them? More specifically, ask:
What are the credentials and continuity of the firm's professional staff?
Who, specifically, will manage my relationship? What are their credentials, experience, and age? What is their longevity and future with the firm?
How many other clients are the individuals responsible for? What is the average size of each manager's existing relationships? How accessible will they be?
How is the manager compensated?
Does the manager or firm have current clients willing to serve as references?
2) Process
You will want to determine if the manager and firm have an investment process that is well thought-out. You'll also want to know if they have modified their investment "style" or considered modifying it, and for what reasons.
Ask your potential manager to outline the investment decision-making process. Are "rules" in place regarding when to buy and sell? How does he or she determine which specific securities will be appropriate for you?
Do all managers at the firm use the same process? How flexible is it? Do all accounts hold the same stocks or bonds?
Investment styles (such as growth stock investing or value investing) come and go. Does your manager have a style that has been tested over several market cycles? How was this style derived, and has it been altered? What lessons were learned from recent bubbles and busts?
What technological, research, and trading resources do the firm's managers have?
If I transfer assets in, how will decisions be made about what to keep or sell? What can I expect my "turnover" to be?
How is investment performance measured? How often will it be reported to me, and against which benchmarks? Will it be adjusted for taxes and fees?
3) Philosophy
Investigating a firm's overall philosophy will help you better understand why the firm was formed, its current and targeted size, its defined niche, and its pricing structure. Be sure to ask:
When and why was the firm formed? Does it focus on individual or institutional investors? How big is it (i.e., assets under management, number of relationships, and employees)? How has it changed in recent years? Who are the firm's competitors? How long have the portfolio managers been with the firm?
What asset classes does the firm regularly use? Why? Does the firm "outsource" the management of certain asset classes? What percentage of the firm's total assets is in each category?
Can a multitude of planning and investment needs be addressed within this firm? If not, will you help me coordinate with other advisors?
What is the fee schedule? Are there separate base account fees or minimum charges? Are there account opening or closing fees? Administrative fees? Will you keep track of what I pay for each asset and periodically report gains (both realized and unrealized) in a way that facilitates annual tax planning?
How often will you communicate or meet with me? What will my statements look like? What types of reports or customized information will you provide? How will I be able to monitor the "big picture" of all my accounts?
Conclusion
While these considerations are by no means exhaustive, they should enable you to better control any given presentation and gather the information you need to make an informed decision. After each meeting, you should also think about who did more talking (you or them), whether the potential advisor(s) asked appropriate questions and listened carefully to your answers, and whether they have a true grasp of what you expect. At all times, remember that it's ultimately your money, not theirs.
Carol M. Clark, CFA, is a partner and investment principal of Lowry Hill, a private asset management firm that provides proprietary investment management and financial services to families, individuals, and foundations with wealth greater than $10 million. The firm manages approximately $6 billion in assets for nearly 300 families and more than 60 foundations from offices in Chicago, Minneapolis, Naples, and Scottsdale. She welcomes questions and comments at cclark@lowryhill.com.
Published: September 27th, 2010
Share this Feature
Recommended Reading:
Comments:
comments powered by

Disqus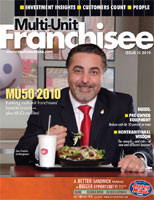 Multi-Unit Franchisee Magazine: Issue 3, 2010
Start your own one of the fastest-growing chicken hot wing franchises. East Coast Wings & Grill is an award-winning wing restaurant franchise...
Cash Required:
$200,000
Get more than 35 years of experience behind you and the opportunity for years of success ahead of you as a Jackson Hewitt franchise owner. Our...
Cash Required:
$50,000