The "Smoking Gun"
Linking customer experience management and growth

More and more multiunit operators are recognizing that customer experience management delivers the organic growth that drives:
Higher same-store-sales increases
Continuously higher average unit volume
Greater profits
More shareholder earnings and value.

Now comes top customer service consultant John DiJulius III with a newly published book, What's the Secret? to providing a World-Class customer experience. He opens the very first chapter with several powerful proofs of the return on investment for providing superior service.

For example, from 1996 through 2003, the top companies as tracked by the American Customer Satisfaction Index (ACSI) earned a total cumulative return of 40 percent. The Dow Jones Industrial Average delivered only a 21 percent return on investment. That's about double the return to the business owners who manage the customer experience best.

In addition, research published in the Harvard Business Review shows that public companies that earned customer satisfaction ratings in the top 50 percent of the ACSI added almost double the market value of the bottom 50 percent in customer satisfaction.

Finally, studies by Service Management Group (SMG) specifically with retail, restaurant, and consumer-service companies show that businesses with higher customer satisfaction have much higher growth in same-store sales. The figure below shows the effect customer satisfaction has on same-store sales.

In this example, stores with the lowest "recommend scores" average same-store sales growth of 0.3 percent compared with those at the highest end of the range, which grow at an average of 4 percent. In this chain, winning a loyal customer base—at the unit level—drives top-line growth rates by more than 13 times.

DiJulius calls these corroborating studies the "smoking gun" that proves the linkage between great service and sustainable, long-term business and financial success.

Though I would bet that almost every franchise concept says that customer service is important, what tools and systems do you have in place to assure great customer service in every location? This is what customer experience management is all about.

Superior customer service is the result. Customer experience management is the process.

You can't manage what you can't measure, so it is vitally important to measure how the customer experience translates into customer satisfaction and loyalty. In fact, if you don't know exactly which employee behaviors and customer experiences create customer loyalty in your stores, you are competing with one hand tied behind your back.

Because the best restaurant, retail, and consumer-service companies do know. They track customer satisfaction and loyalty in every unit, every day, just like they track sales and costs and inventory.

They link customer experience data to financial metrics such as average transaction amount, lifetime customer value, and same-store sales growth. That means they can calculate the value of superior service and invest their dollars deliberately to increase sales and profits from the customer experience. If you are not doing that, be afraid. Be very afraid.

The foundational principle of customer experience management is that when you improve their experience, customers not only remain loyal, they give you a larger share of their wallet. They also refer others to you. And whether you call it viral marketing or word-of-mouth advertising, it's free. So your customer acquisition costs drop as your brand gets stronger.

Data from a best-in-class customer experience management program does more than measure; it gives you insight into which parts of your customer experience are the secrets to winning customer loyalty. For example, franchisees at McAlister's Deli know which customer touch-points are most powerful in getting customers to return. By listening to customers and paying attention to how they rate their experiences, they've uncovered specific opportunities for increasing sales through superior service.

McAlister's Deli does many things right to have grown more than 20 percent in each of the last five years. Here's one example.

Every McAlister's Deli franchisee gets actionable reports showing which areas of service improvement will matter most to their customers in their stores. And they receive specific guidance on how to assure a great customer experience. Where does this guidance come from? Directly from the most successful operators who have received the highest customer scores in each specific area. That is possible only in a multiunit company that measures the customer experience and reports the results back to franchisees.

As an area developer, you know how difficult it is to win a truly sustainable advantage in your market. But building a great reputation among customers in your market is a proven strategy and there is ample proof of the financial rewards (DiJulius's "smoking gun"). So the power of customer experience management is huge.

This may be the strangest secret in business. Everyone knows about the rewards of excellent customer experience management—so it's not really a secret. That's what makes it strange. But operators ignore this basic principle so often that it seems like a secret!

Contact your franchisor to learn which customer experience measurements are available to help you win in your market. Or contact me to request the SMG customer experience management summary, "Five Things We Learned from Talking To 100 Million People."

Jack Mackey is vice president of Service Management Group. Contact him at jmackey@servicemanagement.com or (816) 448-4556.
Published: November 11th, 2008
Share this Feature
Recommended Reading:
Comments:
comments powered by

Disqus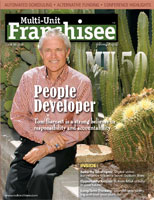 Multi-Unit Franchisee Magazine: Issue 3, 2008
Loyalty Brands has launched an exciting new franchise concept, Loyalty Business Brokers. This brand is focused on connecting buyers and sellers of...
At Twin Peaks, expect to enjoy scratch-made food, sports on TVs from every angle, frosty 29° beers, and the fun and friendly Twin Peaks Girls....
Cash Required:
$2,000,000