Thinking big in South Texas pays off for this team player
Until he hit 40, Rick Guerra ran hotels and restaurants "making a lot of money for other people," he says.

About 15 years ago, developer and attorney Larry Fallek approached his McAllen, Texas, neighbor about going into business together to open restaurants and hotels in the fast-growing area of south Texas. "Larry is the kind of guy who sees five-star properties where everybody else sees a sea of dirt," Guerra says. "He's a dreamer, a great idea man."

Fast forward to 2007, and Fallek the dreamer, Guerra the operations guy, and Bob Wallace the builder are successfully involved in several brands and companies together. Guerra is CEO of Costillas, Ltd., which operates four Tony Roma's restaurants and is opening three Macaroni Grills. He also is vice president of operations for Castle Hospitality, Ltd., which builds and operates hotel properties, primarily Hilton and Marriott products.

"I made a lot of money for other people, and they took good care of me. But it's a lot better working for yourself," says Guerra. "I don't know if I'd have had the gumption to go out and do it if it hadn't been for Larry and Bob and other team members like Alter Holand, who's been with me for years on the restaurant side; and Tommy Joyner, who's been in the hotel industry for so long. They all taught me to think bigger."

The men met through their involvement in local community groups, including the Chamber of Commerce and the Boys Club, and found that they were like-minded, Guerra says. "When you have a partnership that works, you share the risk and depend on each other to catch nuances in contracts. Nobody knows it all, but as a team, we have it covered. We know what we don't know, and we trust each other."

Early affinity
Guerra's affinity for the hospitality industry developed early. As a teen athlete, he started working as a bellman at the four-star La Posada Hotel in his hometown of Laredo.

"I worked my way up to desk clerk, then worked in the kitchen cooking, and then as maitre d'," he says. "I worked throughout the hotel and learned a lot from the owner. He taught me very critical things about maintenance and housekeeping. I'll never forget one thing he told me: 'If you wait until a wall needs painting or a carpet needs cleaning, you've waited too long.'"

After high school, Guerra graduated from the highly regarded University of Houston's Conrad N. Hilton College of Hotel and Restaurant Management. He dived into the industry, managing Hiltons, Holiday Inns, and others, and opening up Embassy Suites, all in his home region in Texas. During the launching of the Embassy Suites, he learned from management guru Bob James how to put projects together and the importance of accounting and marketing. "He really helped me fine-tune what I knew about controlling costs, too," Guerra says.

As he started dealing directly with different franchisors, Guerra says he realized that the franchising industry wasn't as complicated as he'd feared. "It wasn't that the systems were so complex; it was more that they had different goals," he says.

Guerra admits he was a bit intimidated by their first large development contract with a major franchisor, complete with reams of requirements and small print. "There's so much legalese in there that it scares people to death," he says. "But Larry got through it all, and once we got started, I saw that they're all basically the same situation: they want to make money and you want to make money."

Standing up for franchisees
Guerra has become an advocate for franchisees and area developers, and is currently Franchise Advisory Council president for Tony Roma's. "I think some of the franchisors need to wake up and write agreements that are clear and accessible and fair. After all, people are putting up their life savings and it's very scary when you start signing those checks," he says.

"I'm not talking about cutting back on standards. I'm talking about changing the slanted kinds of contracts that most lawyers would tell you not to sign. I'd encourage franchisees not to be afraid to mark through or question aspects of the contracts that they don't understand or like. That's just good negotiating."

He also encourages franchisors "not to be afraid of ideas from their franchisees and company people when it comes to making changes for the sake of improvement."

He cautions would-be franchisees against being too hands-off with their units. "If you're not willing to be there, with your eyes on the floor and in the kitchen, don't get into franchising," he says. "Just in the South Texas market, there's a big gap in the mix of sales from one restaurant to another. I don't know how people who have units all over the country do it."

Guerra says it's a constant challenge to find the right people for the group's restaurants and hotels. "I admit I'm pretty old-school, so I challenge my younger employees to think outside the box to reach out to the younger generation."

Over the years, he's been a bit disappointed by the amount of franchisee turnover. "It's a business based on relationships, and a year and a half later, they're gone. But that's just the real world," he says. "Our turnover rate is down, but we need to get better at employing the right people and keeping them."

He says he tries to walk the line between being profit-oriented and taking care of people. "If you take good care of them, they'll take care of you, and long-term, it will make life a lot easier," he says. "I'd rather have a good long-term franchisee for a 15-year period than to make a lot of money early on and then lose the franchisee."

Guerra and his team continue to participate in the McAllen area. "I think a lot of people miss the boat by not being active in community activities and projects. Although it's not why we do it, it brings us a lot of business. People want to work with people they know."

His best gift to himself as his business ventures prosper and grow? "I fish once a week, and I golf once a week, and the world really does go on without me," he says. "Even as recently as two years ago, I never took time off. Now my quality of life is better, and I'm healthier. It's about stress relief and having good friends outside the business, too. Every week my golf group - a diverse bunch of guys - solves all the problems of the world."
Published: October 26th, 2007
Share this Feature
Recommended Reading:
Comments:
comments powered by

Disqus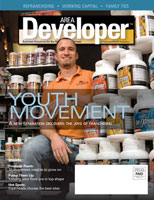 Multi-Unit Franchisee Magazine: Issue 4, 2007
The opportunity to grab a slice of the pie and partner with Perkins Restaurant & Bakery, a tried and true concept, is ready for the taking for...
Cash Required:
$600,000
Vitality Bowls specializes in acai bowls, smoothies, juices, salads, grain bowls, wraps, toast & panini, made with unique superfoods like pitaya,...